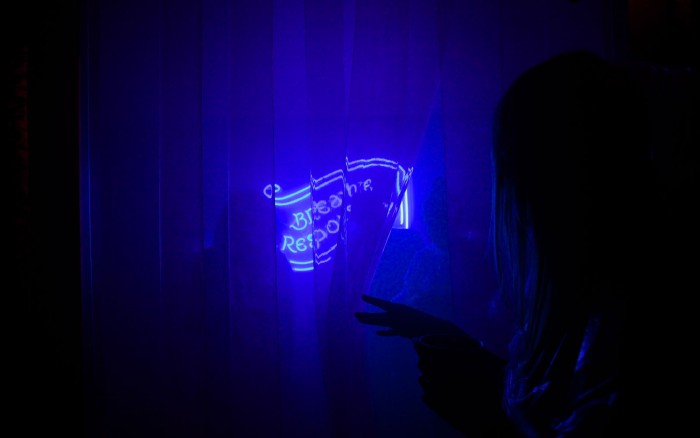 Alcoholic Architecture is breathable cloud of alcohol.
For an hour at a time, food designers Bompas & Parr will welcome guests into their specially designed aphrodisiac cloud in celebration of Valentine's Day. Partners Sam Bompas and Harry Parr are well known for their exploits in the field of food architecture, and this time, they're set to launch the world's first aphrodisiac cloud at Alcoholic Architecture in Borough Market, UK.
Alcoholic Architecture is one of the pair's most celebrated projects. Launched in October 2015, it was a walk-in cloud of breathable cocktail that saturated the air. The celebrated installation saw patrons spend an hour at a time ingesting gin and tonic through their lungs and eyeballs while sipping on monastic-inspired cocktails.
For their next iteration, called Atmospheric Aphrodisiacs, Bompas & Parr have specially tweaked the cloud to fulfil a romantic need. The aphrodisiac cloud is made of gin infused with sassafras bark, noted for both its aphrodisiac and psychoactive properties.
Sassafras bark, or the "love tree", promotes stimulation, erotic excitement, perceptual changes, and particularly a more profound sensitivity in the emotional domain. According to Bompas & Parr, if consumed in excessive amounts, the sassafras bark elicits enlargement of the pupils, cramping of the chewing muscles, cold sweats, nervousness and unease.
"Rest assured these levels will not be reached over the course of a single visit to Atmospheric Aphrodisiacs," says Bompas. "Dosage will be carefully controlled across the installation. This is all the more crucial with both the gin and sassafras oil being absorbed through the body's mucus membranes such as the lungs and eyeballs."
Patrons will also indulge in a specially designed cocktail at the event. Called the "Horn of Desire", the drink is described as a fertility ritual and is made of horny goat weed and angelica infused vodka, passion fruit juice, vanilla, lemon.
Hour time slots are priced at £10.00 off peak and £12.50 peak. Each visitor is limited to one hour of entry per day to ensure alcohol is enjoyed responsibly. The exhibition will run from 11 February to 13 February.