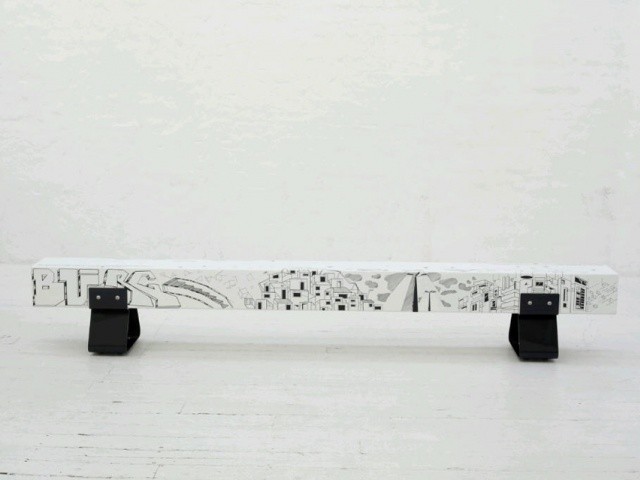 A "lover of mad style" has given South Africa innovative and creative solutions in bold colour.
Graphic designer and graffiti artist Atang Tshikare, founder of Zabalazaa customises sneakers, stilettos, furniture, machines and clothes, while also making desolate areas of South Africa more colourful through street art.
Earlier this year, Zabalazaa teamed up with Laurie van Heerden of wiid design to create a bench symbolising where South Africa is at present, and where the country is heading. The three-metre steel bench designed by wiid is made unique and representative of South Africa through the graffiti done by Zabalazaa. Tshikare uses 127 HS Molotow markers for the designs and a clear lacquer finish to give it a high-gloss look as well as protecting it from outside elements. The bench is currently on show at the Southern Guild exhibition at the Everad Read Gallery in Johannesburg.
In the last three to four months Zabalazaa's creativity has become a focal point of keen interest around South Africa. The artist's work has been featured in Elle Décor, VISI, Wanted Mag, Mail & Guardian as well as on SABC1, CNBC Africa and Summit TV.
Zabalazaa was part of the Emerging Creatives programme at Design Indaba Expo 2012. This served as a platform for the designer to showcase his work, meet a French man named Fabrice who was attracted to his creative potential offering him a free studio for five months, and where he met Laurie van Heerden, a fellow exhibitor and now creative associate.