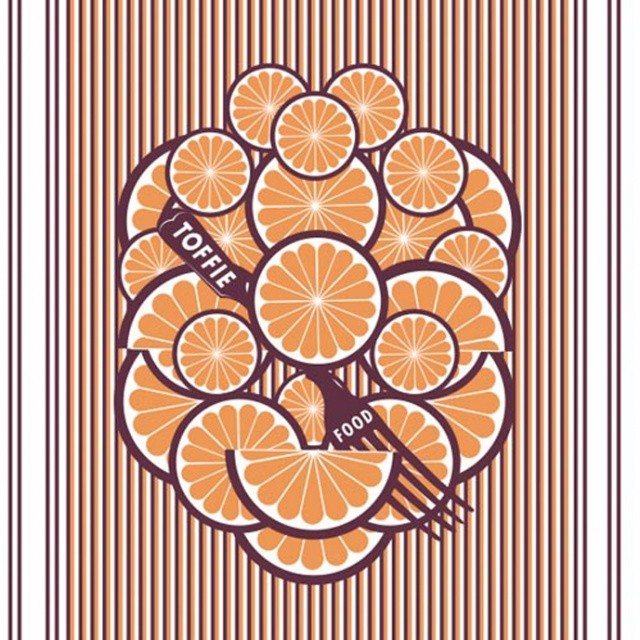 The Toffie Food Festival in Cape Town is running this weekend on 3 and 4 September in the City Hall. It is organised by The President, who also organised the Toffie Pop Culture Festival earlier this year. Read an overview of Day 2 here.
For day visitors, there is a piñata exhibition, a food statistics exhibition visualised through cakes, a beer hall of local microbreweries, a Spier wine tasting room and a market of local food producers. The Argentinian braai tomorrow afternoon is also open to the public for R150 per ticket.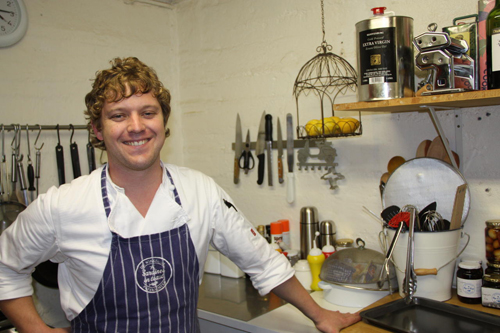 On the conference side, the day opened with Kobus van der Merwe. A chef based in Paternoster, we first came across him at the Toffie Pop Culture Festival and also featured him in the April 2011 "Youth" edition of Design Indaba magazine. Van der Merwe described some of his indulgent meals made from local indigenous plants and had the audience drooling out of his hand, so to speak.
One-time editor of the UK's ID fashion magazine, Eloise Alemany was up next to talk about her self-reinvention as Argentinian cookbook writer and food stylist. One of the things that attracted her to Argentina in 2001 was the underdeveloped food scene. She quoted Sir Terence Conran: "People don't know what they want until it is presented to them. It's about cultivating taste."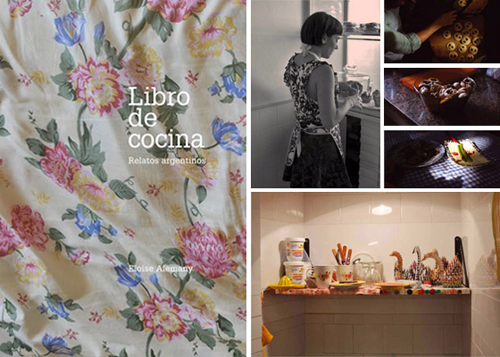 As with most distinctive creatives, she doesn't like boxes and her books are more cookbook, food journal, picture book, storybook and cultural chronicle in one.  It's difficult to describe the distinctively casual "look" she encapsulates in her first book, Libro de Cocina, but I for one have never seen people wearing boardshorts in a linoleum-decked kitchen in a cookbook before. Pretentious is not a word in Alemany's visual dictionary.
Charmed by odd knickknacks, mismatched china and eccentric crockery, her second book collects her mother's dessert recipes, called Cuaderno Dulce. She says: "The simpler a concept, the more thought you have to give the execution." As a parting gift, she shared her mother's recipe for caneles:
After the break was Anna Trapido with a taste tour through Nelson Mandela's life, based on her book Hunger for Freedom. She admits that she wasn't sure if "this is in bad taste" and asked an ANC official who laughingly told her to get over herself.  With levity, emotion and humour, Trapido guided us through a fascinating sensual experience of Madiba's life. She likened the experience to Proust's Madeline who through a smell and a taste had a memory of something she had never experienced.
Starting with the amasi made by his mother, Nosekani Mandela, in Mvenu in the Eastern Cape, the 19-course tour ended again in the Eastern Cape with umphokoqo. Trapido says: "If you're lucky in life, you end up back in your mother's kitchen."
Trapido filled the talk with fascinating little titbits other than the actual food, each bite neatly packaged and numbered by Woolworths and presented to each delegate. For instance, Trapido related that Winnie Madikizela Mandela cannot eat bacon because of a traumatic prison experience after which the secret police made her eat a bacon sandwich.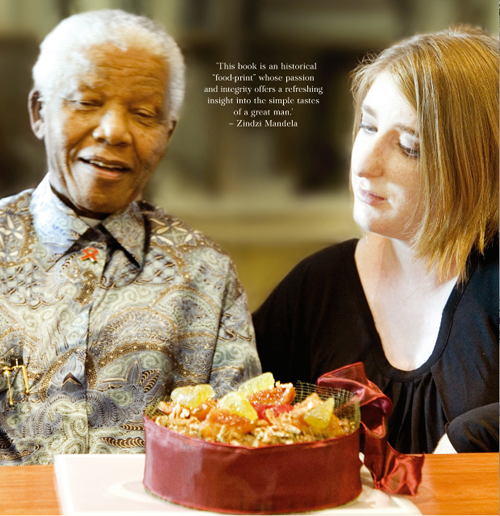 One of the most endearing tales was of a teenage Madiba who went to his girlfriend's house for lunch and was made to eat a chicken wing with a knife and fork. It went flying across the room. At the age of 80, Madiba still blushed a deep purple when telling Trapido the story.
From the wedding cake at Winnie and Nelson's wedding, the besan ladoo made by Thayanagee Pillay during the treason trial, and the last meal he ate in freedom – Mrs Naidu's lamb kebabs; to the chicken curry roti smuggled into Pollsmoor by Farida Omar and the first meal he ate after being released – Bishop Tutu's rum and raisin ice cream truffle… Finally the koeksister he ate with Mrs Verwoerd in Orania. A pointed remark by Trapido, was that the food version of history recognises a lot of the little people, not hallmarked in official history, and especially the little women.
"I was not born with a hunger to be free. I was born free," said Nelson Mandela once, a man whose favourite breakfast is frosties and warm milk.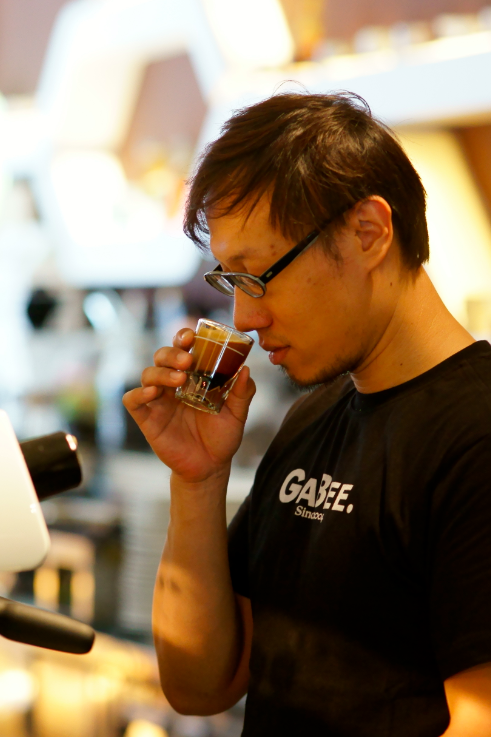 Speaking of warm milk, the next speaker was the world's top barista – Tung-Yuan Lin from coffee shop GaBee. I was skeptical, I mean, seriously, you're going to tell me about making coffee for an hour? But Lin is no ordinary barista, Lin is the Ferran Adrià of coffee.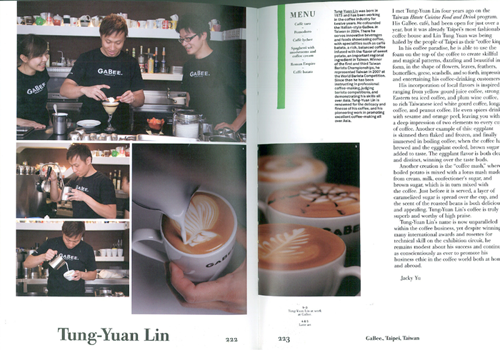 He started out as a cocktail mixer and got into coffee through his fascination with drinks. Obsessive detail is key – he says that there are 30 things to take into consideration in just an espresso.  First he revolutionised latte art, adding numerous designs to the genre. Then, after winning best barista in Taiwan, he pioneered what I will call coffee gastronomy. For instance, one of his creations is a frozen, peeled, pitted tomato that seeps into the coffee. Other creations include such unlikely coffee combinations as melon, lemon, lavender, grapes, avo, sesame seeds, beer, sweetcorn soup, curry powder, chrysanthemum, lemongrass and more.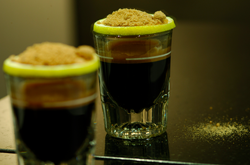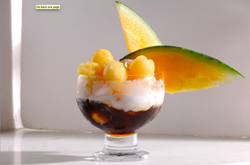 "You have to throw out the norm and bring in new possibilities to discover creativity," he declared. He went on to give us his eight ingredients for creativity: professional expertise; continuous learning; mix-and-match experimentation with an appreciation of unexpected results; communicating a message or idea so as not to be soulless; effective execution otherwise it's just a dream; superman resilience and determination; innocence – "to think like a child and not be obstructed by knowledge"; and passion, which is what will get you through the tough spots.
Passion to get you through the tough spots really exemplifies the final speaker of the day Renata Coetzee, who recently won the Gourmand World Cookbook award for her book Koekemakranka about the Khoisan food culture. However, to truly appreciate the gravitas of this woman you have to know that she has been investigating traditional South African food cultures for the past 60 years, starting long before the idea of a foodie was even perceived.
Coetzee told a fascinating story beginning with the origin of man being in Africa and how it is hypothesised that brain development is the result of eating Omega 3 rich shellfish off the South African coast. The Khoisan of South Africa and the Pygmies of West Africa have the oldest DNA in the world, which by default means that she is investigating the oldest food culture and origins of cooking accessible.
When you think about it, how did cooking come about? And I'm not talking about cooking as in fire. Consider that when Jan van Riebeek landed in the Cape in 1652, the Khoisan ate the wild almonds on Table Mountain. When the sailors ate them, they died of arsenic. Inexplicable at the time, it has since been discovered that the Khoisan would first burn the almonds in the fire and then soak them in a stream for a week before eating. How did they figure that out?
There must be some primal urge for preparing food, for refining taste and for culturing effects that came with that Omega 3 brain development. As Coetzee laughed: "I've never heard of any group of people who didn't find something they could ferment and drink."
Now Coetzee is assisting with developing a Khoisan restaurant based on her research on Solms-Delta Wine Estate. The biggest problem she has found though is that many of the plants are near extinction. They're developing a wild garden alongside the restaurant, but they can still only have enough plants to "flavour" the food.