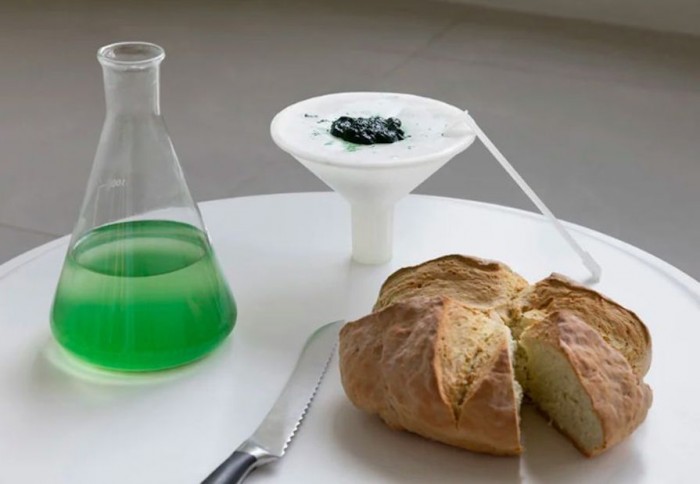 BioBombola is a pioneering project by ecoLogicStudio founders, Claudia Pasquero and Marco Poletto, that enables you to cultivate algae inside your home as a sustainable source of vegetable protein.
This project explores interaction and collaboration between high-tech cultivation and peoples' everyday lives.
"We believe that this product will contribute to re-design some of the logic that led us to the current health crisis," says Claudia Pasquero and Marco Poletto, founders of ecoLogicStudio.
"If we, collectively, transform air pollutants into highly nutritious aliments there will be fewer opportunities for viruses to exploit unsustainable food supply chains and for polluted atmospheres to reach and attach to us."
What does BioBombola consist of?
BioBombola consists of 15 litres of living photosynthetic Spirulina strain - this is referred to as blue-green algae. This Spirulina strain is combined with culture mediums and nutrients to make it more edible.
Harvest process
BioBombola also practices zero waste with its photobioreactor which adapts to its environment. The bioreactor utilizes a light source to absorb the equivalent of two young trees in CO2, while producing the same amount of oxygen as seven indoor plants.This allows for an easy harvest process that can be performed several times per week, allowing you to collect up to one tablespoon of Spirulina per day for daily consumption.
Credit: ecoLogic Studio