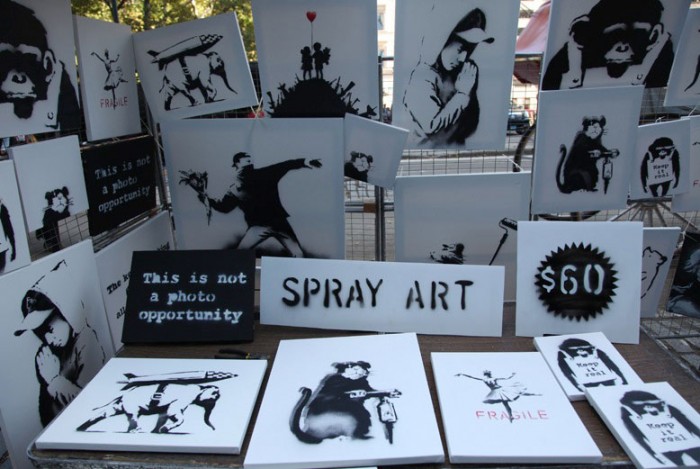 Banksy originals on sale recently in NYC's Central Park.
He's the most famous graffiti artist in the world and his work sells regularly for tens of thousands of dollars. But on Sunday 13 October, in New York City's Central Park, original canvases by Banksy on sale at a booth for one day only managed to fetch just $420 – with the first sale reportedly taking place at 3.30pm when a woman allegedly negotiated a 50% discount for two pieces. Two more customers reportedly bought the others. With countless reproductions of the artist's work on sale around the world, New Yorkers who stumbled across the unassuming booth labelled "spray art" could be forgiven for being suspicious.
According to the artist's website:
Yesterday I set up a stall in the park selling 100% authentic original signed Banksy canvases. For $60 each.
Banksy is in NYC for a month-long residency entitled "Better Out Than In" – an exhibition that combines his signature stencil designs and quirky comments sprayed onto walls with installation art in mobile trucks. Every day a new street artwork is revealed by the anonymous British artist around which crowds of smartphone wielding fans later gather.
The stall selling original white canvases with black spray-painted images was a one-off, Banksy said. He has often vocalised his displeasure with the high sums paid for his art. He announced the sale on his website the day after it took place.