Danish–Icelandic artist, Olafur Eliasson has teamed up with Kumi Naidoo, former Head of Amnesty International and Greenpeace to create artwork that highlights the collaboration between press freedom and its reader.
With this collaboration, Olafur Eliasson and Kumi Naidoo wanted to draw attention to the fact that press freedom is a matter of trusting journalists, independent news outlets and other platforms to bring urgent and accurate news and stories to the world while securing their safety.
"It is also about trusting the readers – themselves reflected in the act of reading – to read, listen, deliberate, and draw their conclusions about the world, based on the news delivered to them" he explains.
The collaboration came ahead of World Press Freedom Day (3 May 2020) and saw Eliasson develop the artwork in dialogue with Naidoo. Described as a magnifying glass and mirror - the artwork represents an instrument for perusal and self-examination.
"While the reader examines a text on the freedom of press closely through a convex lens, he or she is reflected in the concave mirror in which the lens is mounted," explains Eliasson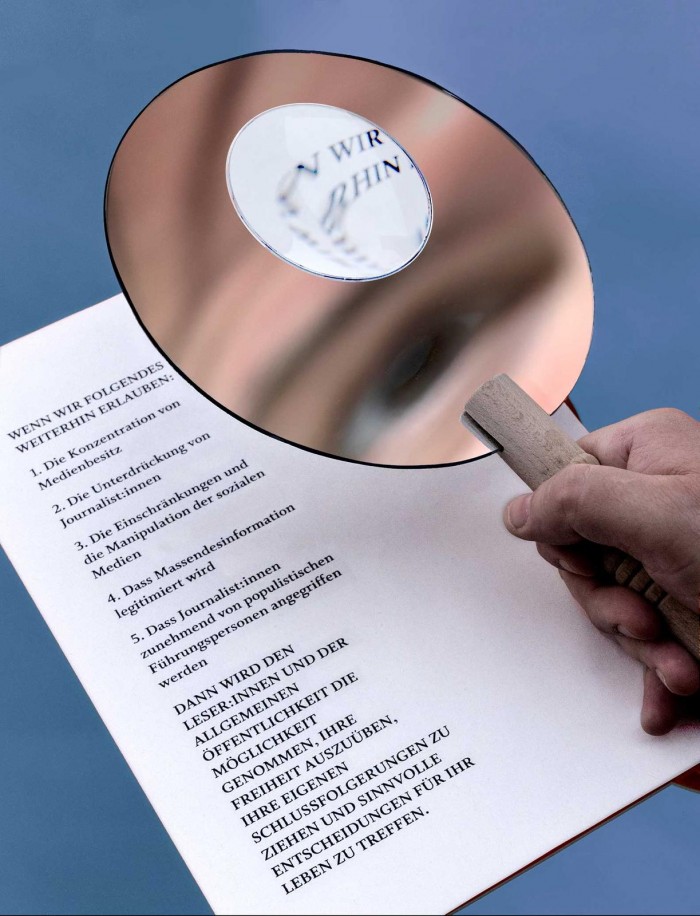 Translation of the text underneath the magnifying glass in Weltlupe, by Olafur Eliasson, in collaboration with Kumi Naidoo, 2020.
IF WE ALLOW THE FOLLOWING TO CONTINUE:
1. concentration of media ownership
2. repression of journalists
3. restrictions on and manipulation of social media
4. mass disinformation being legitimized
5. journalists being increasingly attacked by populist leaders
THEN READERS AND THE GENERAL PUBLIC ARE DEPRIVED OF THE ABILITY TO EXERCISE THEIR FREEDOM TO DRAW THEIR OWN CONCLUSIONS AND MAKE MEANINGFUL CHOICES IN LIFE
Olafur Eliasson is a Design Indaba Alumnus, watch his talk here.
Credit: Olafur Eliasson, in collaboration with Kumi Naidoo, Weltlupe, 2020.