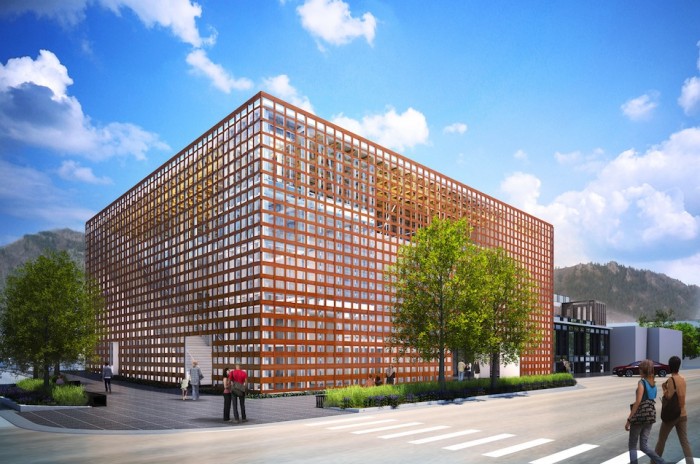 The new Aspen Art Museum by Shigeru Ban. Image: Tony Prikryl.
An architectural model of Shigeru Ban's proposed Aspen Art Museum building has been unveiled. The structure will aim to bridge the gap between a man-made building and its surrounding natural environment.
The new Aspen Art Museum is Japanese designer Ban's first US museum and is located a short distance from Aspen's main skiing and snowboarding mountain, Ajax Mountain.
Ban's vision for the 10 058-square metre building is based on transparency and open view planes ­so that people outside the building see into the building's interior, while simultaneously providing visitors inside the building with a magnificent view of its surroundings. This also provides ample natural light.
Designing the Aspen Art Museum presented a very exciting opportunity to create a harmony between architecture and Aspen's surrounding beauty while also responding to the need for the dialogue between artwork, audience and the space itself, says Ban.
The new museum features triple the amount of space. The current museum has 3810-square meters of flexible exhibition space in six different galleries spread throughout the building. Visitors will go into the museum through a main public entry point, which allows access to the main reception area, as well as the first two gallery spaces. Thereafter, visitors are able to choose their own route throughout the gallery. Once visitors have made their way through the building they are able to climb a grand set of stairs, which takes them to a roof deck sculpture garden where they experience the unparalleled views of the Ajax Mountain range.
An exhibition titled Shigeru Ban: Humanitarian Architecture will be one of the first exhibitions presented in the new museum. Since Ban began his pioneering designs for United Nations refugee shelters in the mid 1990s, he has devoted himself to humanitarian efforts in the wake of some of the most devastating natural and man-made disasters of the past two decades. The exhibition will highlight his efforts and present four full-scale examples of his designs for humanitarian relief, allowing viewers to walk around as well as enter these structures.
The new Aspen Art Museum will open its doors in mid 2014 with a free 24-hour celebration.