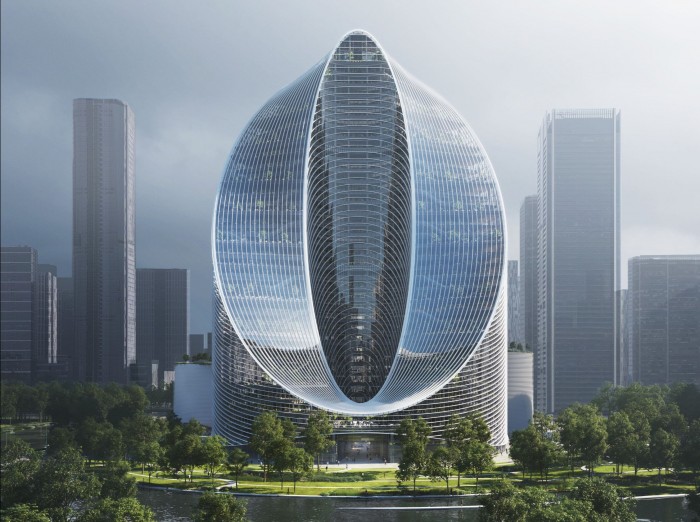 From Hangzhou and Hong Kong in the East, through to London and Norway in the West, this week's design overview focuses on architecture's best. We also look to our emerging design talent, what with Youth Day falling on June 16.
Circle of Life

A future landmark on the Hangzhou skyline, O-Tower combines architectural prowess and cutting-edge sustainability. It was designed by #DI Speaker Bjarke Ingels of BIG to embody his smartphone client OPPO's philosophy of balancing refined aesthetics and innovative technology. The series of triple-height void spaces and interconnected terraces under a striking sloping O roof surface offer visual and physical connection between floors, and the opportunity to introduce green social spaces and human interaction throughout the space. Watch Ingels talk about his work and find out more about O-Tower here.
Follow: @big_builds
Unspoken Dialogue
Presented by Pace Gallery in Hong Kong, the new two-person exhibition by renowned American artist Adam Pendleton and Ghanaian-British artist and architect Sir David Adjaye coincides with Art Basel. The exhibition merges Pendleton's paintings with a set of sculptural works by Adjaye and explores questions of language, identity, and monumentality. Watch Adjaye speak at #DI and find out more about his Pendelton collaboration here.
Follow: @pendleton.adam @adjaye_visual_sketchbook @pacegallery
Meeting of Minds
A much-anticipated moment on the annual design calendar, and an especially big one for the South African industry, the Serpentine Pavilion has just been unveiled. Counterspace principal architect Sumayya Vally, who is based in Joburg, is the youngest architect ever commissioned. She has created a pavilion that includes diasporic and multi-cultural communities via a series of sites. Read more here.
Follow: @serpentineuk
Strong Foundations
Groundbreaking Norwegian firm Snøhetta has been exploring ways to redesign the materials we build with, rather than just the buildings themselves. With concrete contributing substantially to the climate crisis via carbon emissions, Snøhetta has decided to zero in on this material and develop new, eco-friendly alternatives to the materials that are integral to construction, but detrimental to the planet. The result is two pioneering projects – Biocrete and Geopolymer Concrete (in collaboration with Saferock). Read more here.
Follow: @snohetta
Generation Now
The cultivation of young talent - tomorrow's icons - is something Design Indaba believes in very deeply. The success and prosperity of the world rests on their shoulders and our role is to support and foster their potential. Through our #DI Global Graduates, Antenna, and our Emerging Creatives programmes, we see the potential for greatness through the eyes of the youth.
This Youth Day we celebrate pioneering young stars embarking on their careers and wait with much anticipation to see what they do next! They are the ones to watch. Take a look at our #DI Emerging Creatives playlist – a round-up of talented creatives, who, over the years, have soared to great heights. Luminaries include Crystal Birch, Thebe Magugu and Duma Mtimkulu, to name a few…