Undercover agents
Renowned for their work in wrapping global monuments and natural landmarks, a posthumous project by husband-and-wife duo Christo Vladimirov Javacheff and Jeanne-Claude Denat de Guillebon has the Arc de Triomphe wrapped in silver-blue fabric. The project was first conceptualised by Christo and Jeanne-Claude in 1961, but plans were only set in motion by Christo in 2017, prior to his passing. Wrapping this monument was the pair's lifelong dream, and it was covered by 25 000 square metres of material for sixteen days.
Wrap legends
The iconic duo's previous wrapped projects include Wrapped Coast - One Million Square Feet, Little Bay (Sydney, Australia, 1968–69); Surrounded Islands (Miami, 1980–83); and Wrapped Reichstag (Germany, 1975-1985).
Getting the sack
Ghanian artist and former #DI Speaker Ibrahim Mahama is no stranger to wrapped installations, having draped many significant buildings in historically rich jute sacks. These sacks represent Ghanian trade and connections to the rest of the world. Mahama's work includes A Friend, Porta Venezia, Milan; Out of Bounds, 56th Venice Biennale; Liberty Please No Enter by Police, Kanda 37, Accra, Ghana; and An Age Of Our Own Making, Kunsthalle Charlottenborg, Nyhavn, Copenhagen Denmark.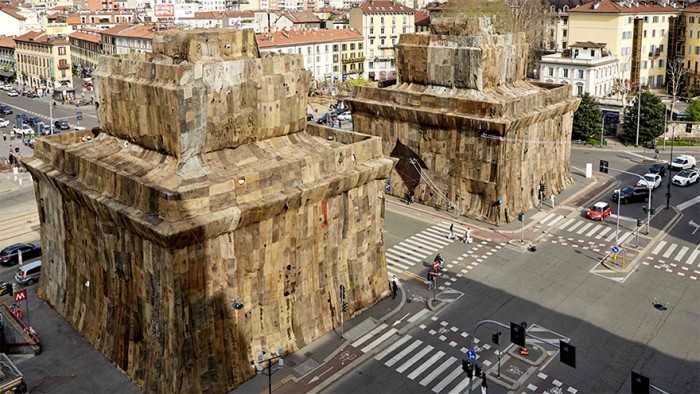 Selfie-worthy Selfridges
Earlier this year, Birmingham-born multidisciplinary artist Osman Yousefzada wrapped the Selfridges store in his home city to create a public art installation entitled Infinity Pattern I. The pattern symbolises the interconnectivity and formation of migrant communities, being the son of a Pakistani-Afghan himself. Measuring a staggering 10 000 square metres, Yousefzada wanted to create something that couldn't be ignored.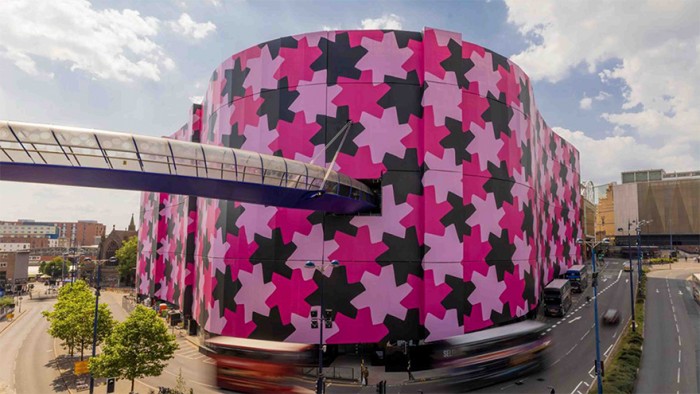 On the dot
Japanese contemporary artist Yayoi Kusama is known for her bold and vibrant installations. This year, she wrapped the New York Botanical Gardens' trees in polka dots in an exhibition entitled Kusama: Cosmic Nature, inspired by the artist's lifelong fascination with the natural world. The exhibition is still open to visitors until 10 October 2021 and features Kusama's immersive work including sculptures, greenhouses, and an Infinity Mirrored Room.
El Claustro by Penique Productions
In 2011, Barcelona-based ephemeral installations company, Penique Productions created the El Claustro exhibition in Querétaro, México. The artist collective transformed a courtyard by wrapping it in a custom-crafted plastic balloon, allowing visitors to discover what living inside the balloon would feel like. The plastic material allows light to enter the space, creating shifts in colour and texture.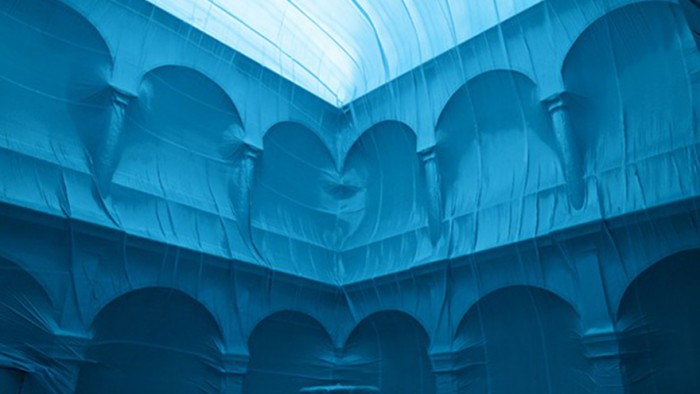 Read more:
Ribbon-like bridge by Christo and Jean-Claude lets public walk on water