2014 has been the Joe Public Group's year. The independent communications agency had the biggest overall number of Loeries winners this year with 21 awards across Joe Public (ATL Agency), Shift Joe Public (Brand Communications Agency) and Ignite Joe Public (BTL Agency). They won six gold, six silver and six bronze awards, as well as two Craft Certificates over all and a Gold for Young Creative of the Year for art director Freda Raubenheimer.
And if that wasn't enough, the agency recently scooped the Advertising Agency of the Year and the Agencies' Agency of the Year awards at the inaugural Financial Mail The Annual AdFocus Awards. It was the second consecutive year they earned the latter title – the first time that any agency has won this award twice.
The Agencies' Agency of the Year Award is significant because it is decided by other agencies, who cast their vote in a survey conducted by independent market research company, TNS.
So what's all the fuss about? The group shows tremendous breadth in the types of campaigns it creates, and executes them with originality, humour and an authentic style of storytelling. It has also pioneered innovative ways of engaging with consumers – and making a social impact along the way.
The creative team behind the award-winning campaigns "Fonts for the Future" and "Antalis: Start Your Day with Paper" include executive creative director for brand communications Maciek Michalski and creative director Simone Rossum (Shift Joe Public). Creative director Roanna Williams executed the brilliant Bobtail campaign while chief creative officer Pepe Marais and executive creative director Xolisa Dyeshana provided creative guidance in the agency's above-the-line creative department. Marais and Dyeshana will speak about the group's work on stage at Design Indaba Conference 2015.
In the meantime, check out these three Loerie award-winning campaigns, which exemplify the group's approach:
Fonts for the Future: One School at a Time
The Fonts of the Future project, which won a Gold Award at the Loeries, was created by Shift Joe Public, the group's brand communications agency, for One School at a Time, a non-profit organisation that works with schools in South Africa to improve the standard of education. The initiative was founded by Marais, who now chairs it. Shift Joe Public came up with a campaign to produce a series of fonts based on the handwriting of a group of underprivileged students.
These are available for purchase, the proceeds from which fund educational upgrade initiatives. The project targets the graphic design community, inviting its members "to write a better future, one letter at a time".
To create the font system, One School at a Time asked pupils at Forte High School in Soweto about their future career aspirations, then invited them to provide a sample of each handwritten letter of the alphabet. They scanned, traced and programmed the fonts and divided them into career categories according to the students' dreams. There are 10 sets of fonts, with names such as "Law", "Engineering & Technical" and "Arts & Culture".
Streetpole Posters for Dogs: Bobtail
In this Silver-winning campaign for Foodcorp dog food brand Bobtail, Joe Public put a mischievous twist on streetpole posters by positioning them at dogs' eye-level attached to poles on popular dog-walking routes. Two series of posters were posted: those depicting the brand's dog food were injected with Bobtail gravy whilst another showing an unnamed, alternative brand were sprayed with dog pee. As predicted, the dogs stopped to urinate on the competition but began avidly licking the Bobtail posters.
Start the Day With Paper: Antalis
In another innovative use of media, this campaign for paper brand Antalis used paper coffee cups to cut through the clutter of the hundreds of direct mailers that graphic designers get sent. Antalis wanted to showcase its range of Arjowiggins papers to agency staff and get them to stop treating paper as an afterthought in the design process. Shift Joe Public created a series of 25 paper cup designs, each with its own characteristics drawing on the properties of the paper it was showcasing. It was an attention-grabbing invitation to get designers to "start their day with paper". The campaign earned a Craft Certificate for exceptional work at the Loeries.
Pepe Marais and Xolisa Dyeshana will speak at Design Indaba Conference 2015, which takes place from 25 to 27 February 2015. Secure your seat before 9 December 2014 and qualify for a 10% discount. Book here.
Watch the Trailer with Pepe Marais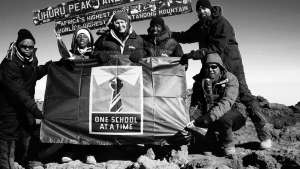 Trailers
• Duration: 00:01:35
•
1 Sep 15