Download
options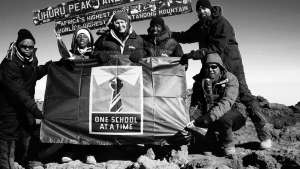 Download: Trailer: Pepe Marais and Xolisa Dyeshana on how purpose drives creativity and change
Click on a link to download the video file
It takes guts to stand up in front of an audience and perform a Michael Jackson routine, but Joe Public's Pepe Marais and Xolisa Dyeshana (chief creative officer and executive creative director respectively) are no strangers to jumping in and taking a chance. The two ad men and their team are in the business of creating ideas, and as Marais says, "an idea will never, ever, ever work unless you try it". After an entertaining introduction, the duo introduce the main focus of their talk, "how purpose drives change".
Watch the full conference talk.
Joe Public is driven by a greater purpose: growth – growth for its clients, growth for the people who work there and growth for South Africa. With this approach to advertising, the company seeks to create positive social change through its work – quite a noble objective considering the sometimes self-serving nature of the industry.
The common thread, which runs through the agency's insightful campaigns, is human connection, as it strives to align its clients with what they value rather than what they are selling. This helps the brands grow economically, and connect with their market.
The Joe Public team lives and breathes this idea of growth, not just in the work they produce but also as individuals. The wealth of experience, creativity and drive amongst them is a testament to this.
For Marais and Dyeshana, the growth that matters the most is not measured by statistics but the social development of the country. As communicators, they are perfectly positioned to create awareness about an important issue or rally people for a cause. Their commitment to seeing change in the country goes beyond the work they do for clients, to the establishment of an NGO aimed at improving education in South Africa.
Watch the Interview with Pepe Marais, Joe Public