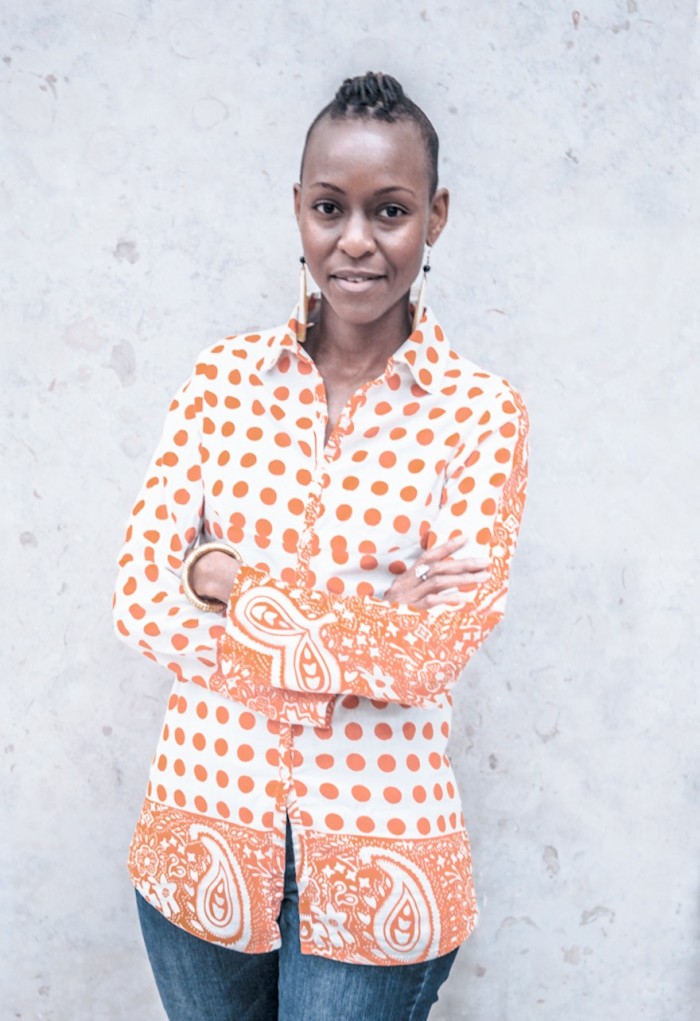 Ng'endo Mukii. Image: www.bilselbattal.com.
We first fell in love with the work of Kenyan animator Ng'endo Mukii two years ago, when we discovered her debut film, Yellow Fever, and have kept track of her since. She was a powerful and poetic voice at Design Indaba Conference 2015, where she spoke about her highly textured approach to telling Kenyan stories.
Mukii uses an evocative, lyrical style to filmmaking that tackles weighty topics – such as the heritage of colonial oppression she still sees playing out in Kenya –with a delicacy and authenticity that keeps them feeling fresh.
We caught up with Mukii post-DI2015 to find out what how she juggles running a business with being creative and what she's got up her sleeve next.
Was there anything you experienced growing up that steered you towards having a career in filmmaking?
From the moment any of us could hold a pencil, my father would set plates of fruit on the table and ask us to draw them. He really encouraged us to draw, and I was the one who stuck with it. As I got older, I came to love drawing and painting, and it truly soothed and satisfied me in a way that nothing else could.
It was while studying illustration at the Rhode Island School of Design that I tried out some video and animation projects, and I ended up changing my major to film, animation and video.
What was your lucky break?
I recently released my film, Yellow Fever, on Vimeo and it got selected in the "Vimeo Staff Picks" which brought a lot of traffic to it. Following this, The Huffington Post featured the film on its website and Solange Knowles tweeted about it and featured it on Saint Heron. So far, the combination of these elements has helped bring 80 000 viewers to my film in two weeks. Some exciting conversations are under way as a result. So, hopefully, this is my big break and some brilliant things come out of it.
How do you juggle running a successful company with being creative?
My skill set is varied, which has really helped in terms of finding work in different capacities. Every year I learn an important skill that I require to move my career forwards. I also have been learning where to cut back and what paths are worth following. Everyone has a plan for you in a way, if they see that your work or medium can be useful to them. It's important to figure out which plans are mutually beneficial in the long run, and which of those you want to pursue.
Do you prefer working alone or collaborating? Why?
Filmmaking and animation need multiple people with multiple skills and many (wo)man hours. You can do it alone, but you will age faster.
Describe your workspace...
I have a large desk with a library full of books and DVDs, a High 8 camera, a model train and some dung beetles husks. There are storyboards and lists on the wall to my right. This is where I do all my writing and grant applications and schedules and computer-based animation and editing… It's my digital realm. I have a second desk where I draw, paint, scratch, sketch and work on my projects physically. My analogue work so to speak, happens here.
Which of your fellow artists do you admire? And why?
The Design Indaba conference this year really opened me up to a group of amazingly talented and hardworking artists and designers. From within this pool alone I found so much inspiration. I'll start with Omar Victor Diop, whose photography I have been stalking for a while online. I love the way he has been using himself in his new project, embodying and recreating different African personalities from the past. I was blown away by Sindiso Khumalo's designs and the beautiful way she translates traditional patterns into iconic elegant pieces. And then there is Dominic Wilcox, who is a kind of"uncommon" thinker. His ideas are minimalist and seem to sit comfortably within this world without belonging to our everyday practices and behaviours.
Which of your films are you most proud of?
Ummm.... there are parts of each of my films which I really love, whether it's a beautiful moment in the story (interview with my niece in Yellow Fever), or the medium and the content just fusing perfectly (handdrawn animation of a woman dreaming in Hasidi), or just something working visually in an unexpected way (using found film, bleaching, scratching, painting, lace, dry and petals in Untitled: Mr Rabbit). It's difficult to choose. I guess Yellow Fever is my 'break out' film in a way. It was the first time that I created a film and it generated its own energy and travelled and created conversations, arguments even, where its reach was much further than I had thought possible.
What is the most rewarding thing about being an animator?
Seeing your ideas come to life.
And the most frustrating?
Trying to breath life into your ideas… sometimes it just doesn't work.
What are you most passionate about in your down-time?
I read and write a lot. I just read Chimamanda Ngozi Adichie's We Should All Be Feminists essay this morning, and Ben Okri's Stars of the New Curfew this week. Unfortunately I gave away Ngugi wa Thiong'o's Wizard of the Crow before I finished it, so I'm looking for another copy of it. I have a blog and sometimes I write my dreams on it (ngendo.tumblr.com). If I have an extremely lucid dream I usually wake up and start typing it into my phone immediately and post it there so that I don't forget it. When I need to get away from work and computers and desks, I usually go for a walk with my friends, picnic in the forest, drink rosé slowly as the sun sets, and pat my cat, Chairman Meow.
What are you currently working on?
I just shot my new fiction short film, Birika (The Teapot), and I am raising money for post- production. It considers what sort of world Nairobi would be if all of our emotions had a physical element to them. There's a lot of surreal imagery, magical realism, blooming flowers and endlessly pouring coffee.
I have been developing a documentary animation, called My Normal Kenyan Family (SOS Kofi Annan), and in February I went to the Berlinale Talent Campus where it participated in the short documentary station. This film looks at Kenya's political history through a very personal lens as experienced by my extended family.
Watch the Talk with Ng'endo Mukii