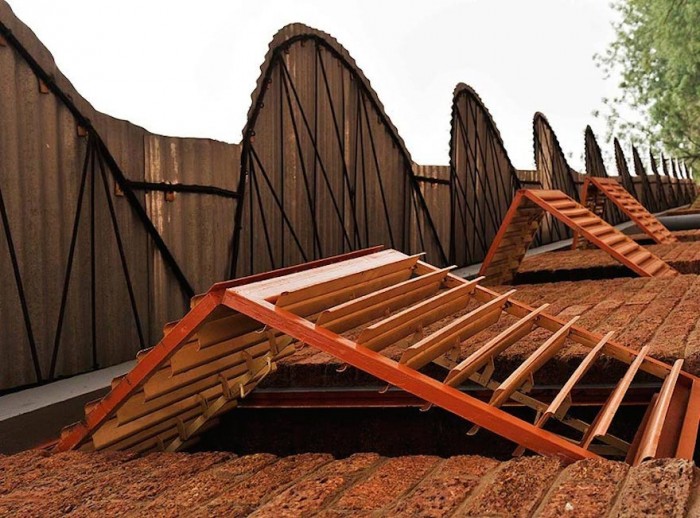 Dror Benshetrit
The first day of the 2011 Design Indaba Conference was filled with inspiring thinkers who are sure to set the tone for the rest of the week.
Here are three of our first-day favourites:
Dror Benshetrit
Product designer Dror Benshetrit revealed that he would be "giving birth on stage in about 20 minutes" by unveiling a new product – the QuaDror – that has been four years in the making.
Through large-scale models of Styrofoam he explained how he happened upon a new structural system that simply consists of four modular, L-shaped members that sit together in a unique geometry.
He then started to look at what the potential of this could be – either using it as a solid modular piece or just a frame. Cast in concrete, the stacked modules become an effective highway barrier wall with excellent acoustic properties. Modules in a lightweight material such as plywood can be stacked to make flexible room dividers.
But it is as a structural frame that the QuaDror has the most revolutionary possibilities for deployable architecture. It could be applied for emergency housing as part of disaster relief, but it can also be used for top-end, luxury homes.
Locally, the system could bring structurally safe homes to shack-dwellers. Not only is it exceptionally strong, but you only have to produce one component. This component can be flat-packed so that it is easy to ship.
We sincerely hope that the system will become available, accessible and affordable to countries where this design could have a huge impact.
Francis Kéré
The endearing architect from Burkina Faso, Francis Kéré, had the crowd in silent admiration for his work. Francis, who studied at the Technische Universität Berlin, returned to his homeland to apply his knowledge in a regionally appropriate manner.
Here he set out to create sustainable projects that are based on the principles of designing for climatic comfort with low-cost construction, making the most of local materials and adapting technology from the industrialised world in a simple way.
Overcoming prejudices against local materials such as clay has also been a big part of what he does.
With a motto of "help to self help", Francis is also a great believer in empowering people and involving local communities in the process of actualising the building.
Charlie Todd
As 22-year old aspiring actor in New York, Charlie Todd's career as a master of Improv was born quite by chance when he decided to impersonate a musician he was mistaken for.
Now Charlie has made a name for himself by playing public pranks. From his now infamous annual No Pants Subway rides, to his new MP3 experiments and seemingly impromptu Food Court musical, his projects offer a moment of wonder in the unsuspecting viewers' lives.
Charlie sees his projects as opportunities for people to connect, not only the participants but also the audience members who have a unique shared experience. "I hope that it gives people stories that they will be telling for the rest of their lives," he says.
Charlie will be doing a project sometime during this weekend. If you want to be part of it, follow Charlie on Twitter @charlietodd.

http://improveverywhere.com
Watch the Talk with Dror Benshetrit
Talks
• Duration: 00:36:13
•
23 Aug 11