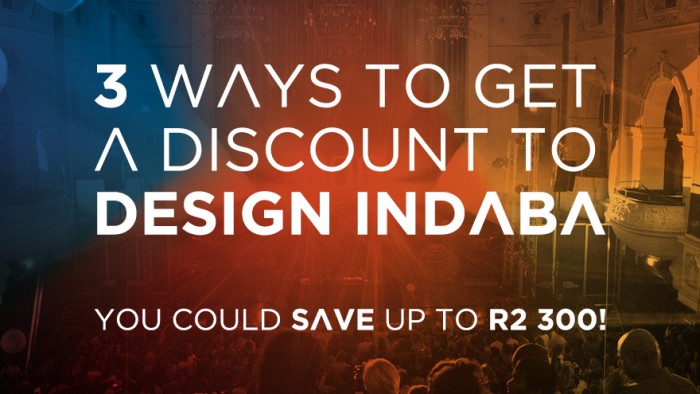 Claim back from your workplace skills levy, buy in a group or if you are a past exhibitor – if there's a will to be at Design Indaba, there's a way to get there.
A Design Indaba Conference ticket offers immense value for money – every year, a completely unique set of around 50 international and African speakers from dynamic and diverse creative disciplines take to the stage. There is no other design conference in the world that offers a line up of speakers from such a range of disciplines. Chefs, artists, musicians, fashions designers, publishers and so much more mingle together in a smorgasbord of creative flavours to delight the senses and invigorate the mind.
This is the creative education you cannot miss in your calendar. Our delegates come back year-after-year to soak up the knowledge and inspiration, forsaking many short courses on offer because their Design Indaba experience is so profound.
We are aware that with the current economic situation in South Africa is leading many companies to tighten their belts. This is first and foremost the reason we did NOT raise our ticket prices from 2015.
What's more, we offer a wide array or discount opportunities for attendees from all walks of life.
The "normal" prices:
Full Indaba (three-day ticket) - R7 900.00
One-day ticket - R3 065.00
Two-day ticket - R6 130.00
For big groups… 5 - 15% off
A group of 5 to ten people get a 5% discount. 11 to 25 people get a 10% discount, and a group of more than 26 get 15% off their ticket.
Group (5-10) discount (5%) - R7 505.00
Group (11-25) discount (10%) - R7 110.00
Group (26-plus) discount (15%) - R6 715.00
For past exhibitors or Designer Directory listings…
Past exhibitors get 10% off their discount, and so do members of our Designer Directory.
For companies… SETA will pay you back!
If you're registered with SETA you can claim back up to 20% of your total skills development budget. SETA reimburses companies based on their workplace skills plan for a given financial year. The maximum reimbursement figure is 20% of the total plan, which is given back as a "training grant". This plan must be approved by SETA in advance – submissions open in March and close in April for the following financial year. Therefore what portion of your Design Indaba Conference tickets is reimbursed will depend on how much budget was put aside for your workplace skills training – it could be completely reimbursed, depending on how you laid out your skills training plan.
To see our full list of rates and pricing (and to book your spot before they sell out!) visit our Rates Page.