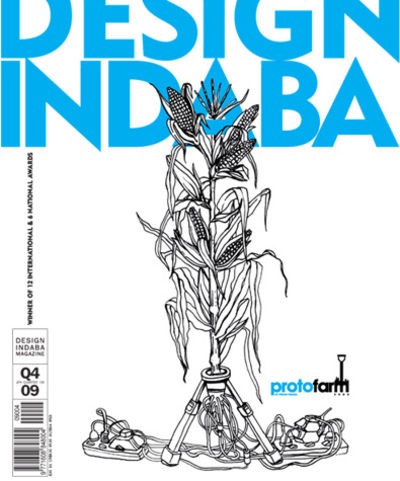 Underpinning this edition is the Protofarm 2050 project, which Design Indaba will be presenting at the ICSID World Design Congress in Singapore from 23 to 25 November. For the project, Design Indaba invited five designers to look beyond the possibilities and predictions currently in the public domain. Futurefarmers, 5.5 designers, Dunne&Raby, Revital Cohen and Frank Tjepkema have each created a unique vision of the year 2050 with increased urbanisation and population, limited natural resources, climate challenges and digital-biological integration.
Also included in the magazine are in-depth profiles of Frank Tjepkama's wide-ranging and ironic work, Revital Cohen's boundary-pushing integrations between nature and technology, and Amy Franceschini's powerful community rabblerousing. South Africa's own Chelsea Flower Show award-winning horticulturalist David Davidson weighs in on the therapeutic power of getting your hands dirty, while Australian cartoonist and social activist Stuart McMillen wonders whether Aldous Huxley or George Orwell's future dystopia was more accurate.
Providing a thorough design overview of the design solutions currently being explored, the magazine also looks at skyscraper farming, rain farming, crowd-sourced energy, desert farming, urban farming, window farming, growing jewellery, ocean farming, body pharming, countertop farming, gorilla gardening, floating oceanic farms, locovore social networking, community gardening and more. In 12-pages of unnerving eye-candy, photographer Ross Garret and stylist Caroline Olavarrieta capture an austere vision of the future pastoral.
Celebrating the launch of designindaba.com, an exclusive interview with Massimo Vignelli features the design godfather talking about the history of globalisation in design, as well as the future of design hinging on "less is more" in a resource-constrained world. "Young designers today have a fabulous opportunity," he says in the video interview, available for watching on designindaba.com
Design Indaba, Q409, Protofarm 2050, is available in selected Woolworths and Exclusive Books stores, as well as Melissas and other outlets, nationwide. Click here for a full list of distribution points.
Or subscribe now for R200 and receive access to our growing archive of past speaker presentations at www.designindaba.com.
The new designindaba.com is a portal featuring the latest news and innovations from leading international and local designers. As an early sign-up promotion, subscriptions to the Design Indaba magazine are being bundled with free online membership. Membership offers access to the growing archive of past speaker videos, full magazine content, invites to special workshops and seminars throughout the year, and immediate access to the latest features as the site continues to grow.
Watch the Talk with Revital Cohen