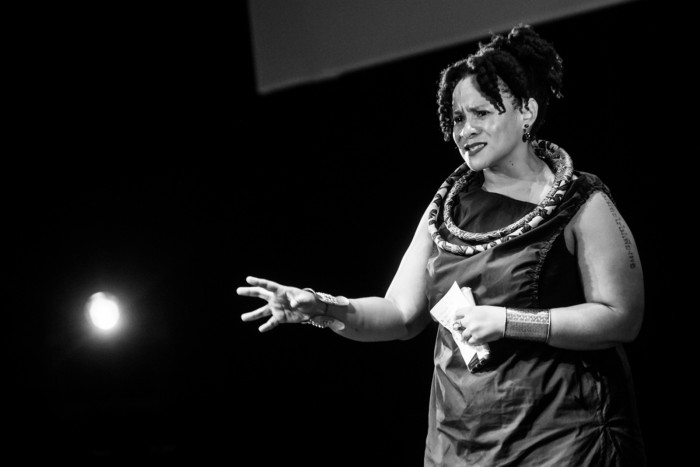 Anyone following along on Twitter during the three-day Design Indaba conference last week would have seen no shortage of inspiring soundbites dropped by the 31 speakers who graced the stage in Cape Town. And while perfectly packaged words of wisdom from an industry heavyweight like Tom Dixon are a major draw, one of the best things about DI is that it asks everyone to open up and speak about life and work from a place of imperfect honesty. That isn't always easy to summarize in one sentence, so with that in mind, below are seven speakers whose insights transcended a character limit, but were just as incentivizing in their beautiful verbose format.
Lebo Mashile
When I travel the world I do not meet peers of mine who have the same kind of reach that I have in South Africa, and that is solely possible because of the deep historical legacy of poetry in this country. Poetry is used as a tool to enshrine memory, as a tool to encapsulate culture, to record peoples' DNA and genealogy. Poetry has been used as a tool of resistance and expression; when people had been massacred, beside the grave sites there were activists and poets. This is what this art form means to our people. Because of that, there's a cultural resonance that doesn't compare to anything that I've seen anywhere else. There are far better poets than me, there are people who are far more prolific than I am, but the fact that what I do matters and the way that it does in this moment in history, right now on this piece of earth, is a testament to South Africa, to its culture, to the kind of things that are possible in this moment in spite of everything that we've been through, in spite of everything that we're going through; that, to me is miraculous. People always ask me, "Why do you keep coming back to gender, why do you keep coming back to race?" Well, I'm South African. We eat race for breakfast.
Sunu Gonera
There are people out there that are going to tell you a lot of BS and if you are one of those people, like, let's stop trying to crush peoples' dreams, you know? Just because you don't want to go that direction, don't stop someone else going it. I think as a continent if we just collectively uplift—like a rising tide raises all ships, right? Not just one boat, all the boats come up with the tide. I'm excited to take our stories to the world and I think every single one of us has just to pick your little patch and that's where you tell your story, whether you're a teacher or banker or whatever it is, you don't have to try and do it in anyone else's style. There's lots of different faces and it's nice to see different faces, not just one.
Morag Myerscough
I've traveled a lot in various places but I feel like I belong in London. There are a lot of projects that I work on where people have come from other places and they don't feel like they belong. And we can make [a feeling of] belonging but how do we do that? I think one of the things that's really important is about looking around you—and looking is important but it's quite passive so what you've got to do is start seeing things. You need to look at things and then see what they mean to you and what are the depths they are and not just pass over things. The thing that I think about very much is about looking and seeing, and seeing things as if you're a child; it's too easy just to miss things, you need to go back out there and see everything fresh as if you've never seen it before and then let that go in your mind and then see how that works.
Zach Lieberman
A thing that I do that I find really quite valuable is open office hours. I make myself available for three hours once a week and people Skype in, I meet people in person, and I just listen. And it's quite beautiful to say I'm just going to take a moment in my week where I'm not checking my email and I'm not thinking about work but I'm actually listening to other peoples' issues and they could be life things or work things or study or they need help with a project—technical things. I basically just talk to people and I find this to be really valuable and actually quite helpful even for me, listening to other people helps me listen to myself.
Amna Elshandaweely
There are a lot of women from Sudan and countries from West Africa who are sexualized and name-called in the streets [of Cairo]. This gives us women who have darker skin in our country a lot of insecurities. When I went to Nairobi, I was so amazed when I walked around; I saw a lot of women embracing how they looked—this hair, this color that I'm facing hate comments [because of] in my country, there are women out there embracing it. I wanted to take this energy back to my country and let people know that there are people who really like how they look, so I made a collection called Road to Nairobi, and featured it all on dark-skinned models, which was a first in Egypt; never has a fashion shoot happened where it was all dark-skinned models. And it went viral. But I'm just a young girl who was just pissed off with something and thought, "I'm going to do something about it."
Studio Swine
We think that one of the biggest questions of our time is how to achieve a synthesis between nature and industry. This is a question we've been asking for the past seven years and our approach has been through gonzo, which has been going out there and testing things in the real world and letting curiosity and design lead us. We often get asked, "What next?" And the truth is, we don't really know what we'll be doing in six months time and we don't even know what it will be, but we know that we'll be asking ourselves the same question with the same attitude. One's destination is never a place but a new way of seeing things.
Ini Archibong
There was a point many years ago where things were really dark and I just started writing and I didn't stop until I'd written my way out of it. During that dimmer time I came to the realization that my darkness came from living a life that wasn't in line with a higher purpose. And that I wasn't living as if I could be the truth that I felt inside, that somehow I was a hero. I had a very spiritual upbringing and along with that I was very into fantasy books, and so I developed what I call a personal mythology. When I talk about personal mythology, I'm talking about an amalgamation of all the stories, all the influences, all the things that I've had that were indications pointing me to a deeper dimension or a higher truth, or something that's beyond what I could tap into, to really use the skills and the gifts I was born with to benefit everyone and everything. I don't really know if [the spiritual intention] I put into objects actually gets transmitted to the people that interact with them, but what I do know is that I put the intention into it. My goal is to inspire people to believe in themselves and be heroes as well, because I think that we are all born heroes.