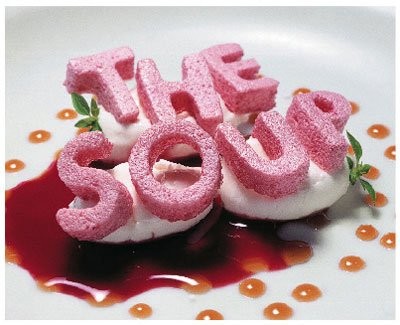 "What's radical about us rests not on what we serve, but on how and where. In the West, where the problem of hunger has been solved, where obesity is now the issue, the trend has to be more and more about the pleasure of eating, the fun, rather than seeing it as simply a way of satisfying our appetites. At El Bulli we try and take this idea to the nth degree"
Ferran Adrià has been described as the best chef on the planet. His restaurant, elBulli, was voted the World's Best Restaurant for the fourth time this year. It receives over one million reservation requests a year, where only 8 000 lucky ones get a table.
Yet, should one even call him a chef? Or a scientist? Or an artist? A meal – or rather, the experience, lasts for hours, alternating between flavours, temperatures, the surreal and the homely. Fried rabbit ears, for instance, translucently thin and tasting like pork rinds; a frozen gin with hot lemon fizz; spaghetti not topped with Parmesan but fashioned from it; soft-boiled quail egg with a crispy caramel crust; carrots turned into foam, artichokes into puree, and foie gras into ice cream.
Slip the reservation list and meet Ferran Adrià at Design Indaba Conference from 25 to 27 February 2009.
Watch the Talk with Ferran Adrià