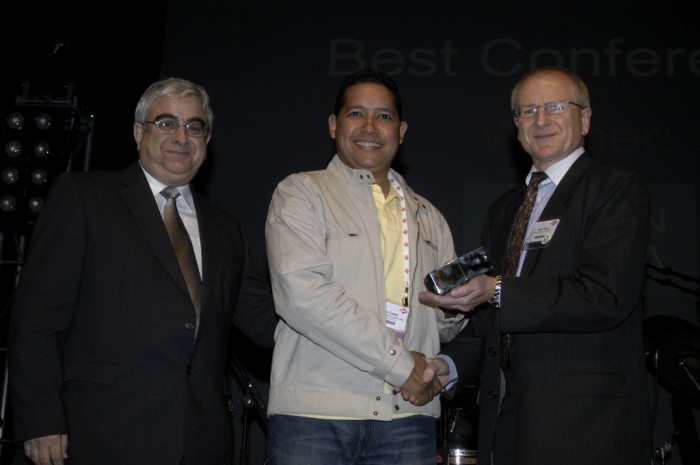 If you want to attend the best conference in the world, you needn't leave the country - unless you're a non-South African, of course
When you step up to register at the annual Design Indaba Conference, just bear in mind that you'll soon be part of an event that was recently announced as the winner of the Best Conference Category at the EIBTM awards ceremony held in Barcelona on 29 November.

According to the EIBTM, "this year saw an outstanding quality of entrants, with the 2005 EIBTM Awards encouraging creativity and rewarding excellence in the meetings and incentives industry. Winners were selected from entries by event organisers and marketers all over the world."

Dale Cupido, a director of Interactive Africa, the company that gave birth to Design Indaba 10 years ago, was there to accept the prize at a gala reception hosted by the Barcelona Convention Bureau, Catalonia Tourism and Turespaña. As was Nokhuthula Dube, CEO of Cape Town Routes Unlimited, who congratulated Ravi Naidoo, the event's founder, and the Interactive Africa team on an achievement that entrenches Cape Town's position as a global destination.

The EIBTM Awards were judged by an international panel that included consultants from the incentive travel and meetings industry, together with editors of the supporting media partners. Representatives from Convegni, C&IT, Meetings International, Events Russia, Events Germany, MICE International, Spain Travel & Business, Business Travel Benelux and Voyages et Strategie gathered in London on 20 October for the crucial decision making.

The runner-up in the Best Conference category, which covers conventions, congresses, meetings, seminars and forums for any sector, was The Event Company for Meetnight 2005. Other prizes were awarded in categories such as Best Product Launch and the Best Incentive Travel Programme, with brands like Citroën and Sony/Ericsson stepping up to collect accolades. The Grand Prix went to Dia "D" Marketing for ABCrossing, an event designed to promote reading amongst Madrid citizens.

The next Design Indaba Conference, to be held from 22-24 February 2006, has decided to up the ante even further, by launching its first student simulcast, as part of Design Indaba's commitment to design education. Catering to students and emerging designers under the age of 25, it will involve a 3-day live broadcast for up to 600 delegates, at a substantially reduced cost compared to the main conference. Visit www.designindaba.com for more info on the 2006 event.