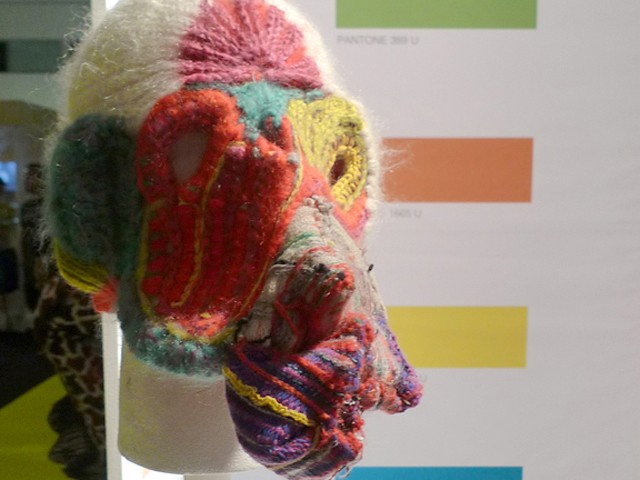 In an effort to make fashion more exciting, Mohair SA is nurturing fresh design talent, encouraging people to knit their own personalised styles.
For the second year running Mohair South Africa showcased a variety of mohair products at the 15th annual Cape Town Design Indaba.
The word 'indaba' is the Xhosa word for 'new' in the language of the indigenous people of the Eastern Cape, where most South African mohair is produced. Showcasing new South African designs for living, the show covers fashion, homeware products and accessories, as well as graphic designs and garden furniture.
Lindsay Humphreys and Anle Marais, marketing co-ordinators at Mohair SA, were delighted to collaborate on the 2012 Design Indaba with famous Dutch trend forecaster, Lidewi Edelkoort.
Since 2009, Edelkoort has been working with Mohair SA to conduct special forecasts about mohair trends, with the object of informing, inspiring and innovating the fibre in the fields of fashion and lifestyle.
This has certainly paid dividends, said Humphreys, who remarked that when she visited Shanghai in 2010 she could not find any mohair in the shops, but a year later mohair goods were available. The growing demand in China for luxury goods can only be to the benefit of mohair, she emphasised, saying that Mohair SA would again exhibit at Spin Expo in Shanghai this September.
Creativity was the watchword of Mohair SA's Edelkoort inspired special exhibition. Entitled 'Do it yourself, yourself (DIYY)', the exhibit took an innovative look at craft, showcasing Edelkoort's creative trends for mohair in 2012/13.
DIYY presented the work in mohair of young designers, crafts people and knitting collectives including Edelkoort's creative teams, Collectif France Tricot of Paris and Studio Chevalier Masson from Belgium.
The concept of Mohair SA's presentation was a live demonstration where visitors could experience knitting for themselves, using mohair yarns supplied by two South African mohair spinners - South African Mohair Industries Limited (SAMAL) and Mohair Spinners South Africa (MSSA).
Mohair SA also collaborated with Elizabeth Galloway Fashion Academy of Stellenbosch in the Western Cape on 'pop-up' knitting demonstrations with mohair yarns, as well as live guerrilla-knitting displays on a model.
Marais explained that the 'Do it yourself' (DIY) movement is gaining momentum, influencing more unique and personalised mohair garments and accessories. Empowered by the internet, knitting collectives are springing up everywhere to bring people together in response to a human need to share experiences and stories while creating craft.
This is in line with Edelkoort's philosophy that consumers are tired of the lack of imagination in fashion and will take faith and pleasure in doing creative things themselves that are one of a kind creations.
Adding impetus to Mohair SA Edelkoort's mohair yarn knitting theme, at the Indaba Mohair SA sponsored Kelly Esterhuyse, the winner of last year's Elle South African magazine/Mr Price prize at the South African Fashion Week for her knitted mohair garments.
Esterhuyse was one of a number of young South African fashion designers invited by the Cape Town Fashion Council to exhibit. She was awarded the council's prestigious award for the most creative emerging design. For this accolade, Esterhuyse spent three months designing and knitting the nine mohair haute couture sweaters and dresses she presented.
As part of the 'New Talent' line-up at the summer South African Fashion Week in March this year Esterhuyse exhibited a collection of casual garments using chiffon, linen and silky wool suiting, which were received with great acclaim.
Later this year Esterhuyse's winning mohair creations will be taken by Mohair SA to the US for a special photo shoot with Vogue magazine.
The Cape Town design Indaba also exposes South African designers to international trends and incorporates a conference with international and South African speakers covering various disciplines of design, which for many is a 'must attend' event.