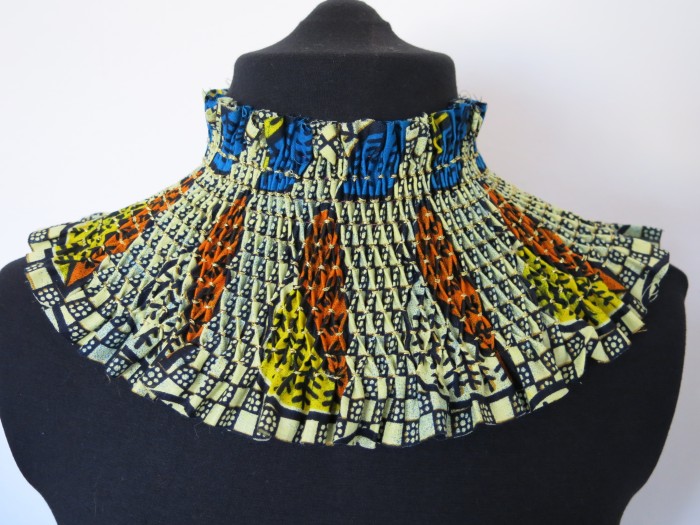 Smock Collar by Susan Didcott.
Finding a unique South African identity in fashion and design inspired Susan Didcott to create a truly exquisite neckpiece.
Cape Town-based designer Didcott is best known for her handbag label, Trip Handbags and Accessories. Her work as a wardrobe stylist in the local film industry is underpinned by her fascination with how clothing can create new identities. Her Smock Collar is reference to this desire as it is both locally relevant and contributes to the South African identity.
Didcott's designs result in creations that are contemporary and African through reworking the traditional technique of smocking, which is the decoration on a garment created by gathering a section of the material into tight pleats and holding them together with parallel stitches in an ornamental pattern.
The Smock Collar is reminiscent of a Victorian collar while evoking the aesthetic of a traditional Zulu neckpiece. The embroidery technique of sewing elastic thread into the folds of fabric gives it stretch, detailing and texture.
The Smock Collar was displayed as part of Design Indaba Expo's groundbreaking exhibition Africa is Now under the theme "Africa is Sharp", which showed off the bright colours and rich patterns that are seen throughout the continent.