The multi-award-winning Keiskamma Art Project, based in the seaside town of Hamburg in the Eastern Cape, brings to life the history and experiences of the Eastern Cape with large-scale textile artworks that are handmade by local women and men.
With the goal of making the Keiskamma Art Project's exquisite embroidery more accessible and commercially available, three artists from the project – Anelisa Nyongo, Nozibele Nxadi and Cebo Mvubu – were challenged by creative agency Clout/SA to create a quintessentially South African embroidered scene that could be transformed into a printed scenic wallpaper and textiles.
The two teams had to find the best way to capture the texture of the piece in a print. With curatorial guidance from Clout/SA's creative director Tracy Lynch, the process started off with initial sketches, followed by completed medium-scale embroidery that was then scanned in high resolution and turned into an image.
While the project only began earlier this year, Lynch first got the idea for the collection on a trip to Hamburg three years ago. 'I was introduced to a group of mostly women, young and old, who gather daily in a rondavel to stitch together stories that reveal aspects of their geographical, spiritual and communal experience,' she explains. 'It's hard to put into words why this creative community is so significant, but one thing that comes to the surface in conversation with all who are lucky enough to visit, is that this place and the people who gently piece together beautiful imagery help us to learn and grow.'
The learning and growth that came from the collaboration went both ways, according to Keiskamma Art Project directors Cebo Mvubu and Michaela Howse. 'What really got me excited was that this process forced us out of our comfort zone,' says Mvubu. 'It showed us that we could effectively use messaging apps and create work remotely even with international collaborators. Going forward, we can now challenge ourselves to not be limited by our location in the rural Eastern Cape; we can work with anyone anywhere in the world.'
The wallpaper, which is printed by Cara Saven Wall Design, were unveiled at 100% Design South Africa in Johannesburg on 3 August 2023, alongside a collection of chairs, a bench and a four-poster bed, also boasting the digitised embroidery, by award-winning South African designer David Krynauw who specialises in handcrafted wooden furniture.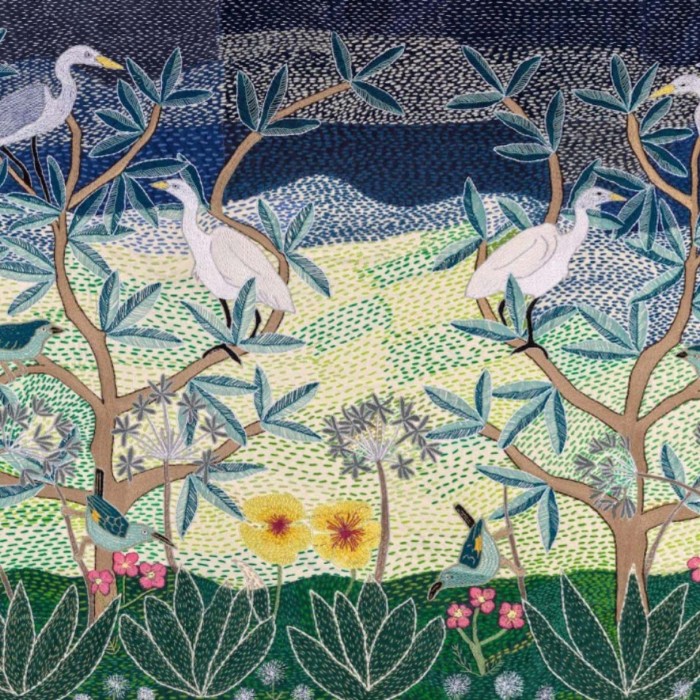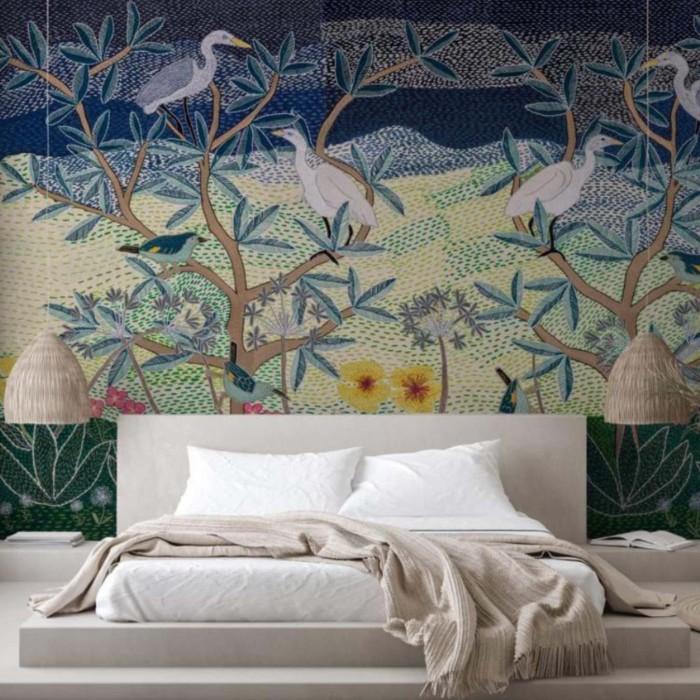 Read more
Photographs: Clout/SA, Justin Patrick, Keiskamma Art Project.