Sophisticated, generous and built to last – these were just a few of the qualities that secured the New Library at Magdalene College in Cambridge, UK, Britain's most prestigious architecture award for 2022.
The exquisitely detailed building designed by Níall McLaughlin Architects provides students at the 700-year-old University of Cambridge college with a new library to replace the cramped study spaces of the 17th-century Pepys Library. Honouring the rich surrounding history of one of the oldest universities in the world, the building combines load-bearing brick, gabled pitched roofs, windows with tracery and brick chimneys with contemporary sustainable-design elements.
Britain's leading architecture award, the Royal Institute of British Architects (RIBA) Stirling Prize recognises buildings in the UK that have made the greatest contribution to the evolution of architecture over the past year. The judges for the 2022 prize included RIBA president Simon Allford, renowned architects Glenn Howells, Kirsten Lees and Smith Mordak, and internationally acclaimed artist Chris Ofili.
"Creating a new building that will last at least 400 years is a significant challenge, but one that Níall McLaughlin Architects has risen to with the utmost skill, care and responsibility," Allford noted about the New Library, which occupies "a unique setting with a clear purpose". A modern construction that slots seamlessly into the time-worn surroundings, the building – which encompasses an archive and gallery – has large wooden doors that open into a tiered, light-filled timber interior. The building is arranged in a grid structure that delineates an array of spaces: wide zones for reading rooms and group study, narrow zones for staircases and bookcases, and independent study spaces.
Well-designed environments hugely improve student success and well-being, Allford said, and "should be the rule for all students and teachers in all places of learning, not the exception". In the New Library, students "have been gifted a calm sequence of connected spaces where they, and future generations, will be able to contemplate and congregate, enjoying it both together and apart."
Past winners of the RIBA Stirling Prize include the Evelyn Grace Academy in London by Zaha Hadid Architects, the Gateshead Millennium Bridge in northeast England by Wilkinson Eyre Architects, and the American Air Museum in Cambridge by Foster + Partners. Previously nominated three times for the award, Níall McLaughlin Architects were fourth time lucky as they became the 26th winners.
Visit the RIBA website for more information on the prize winner: https://inda.ba/3gEMzGG.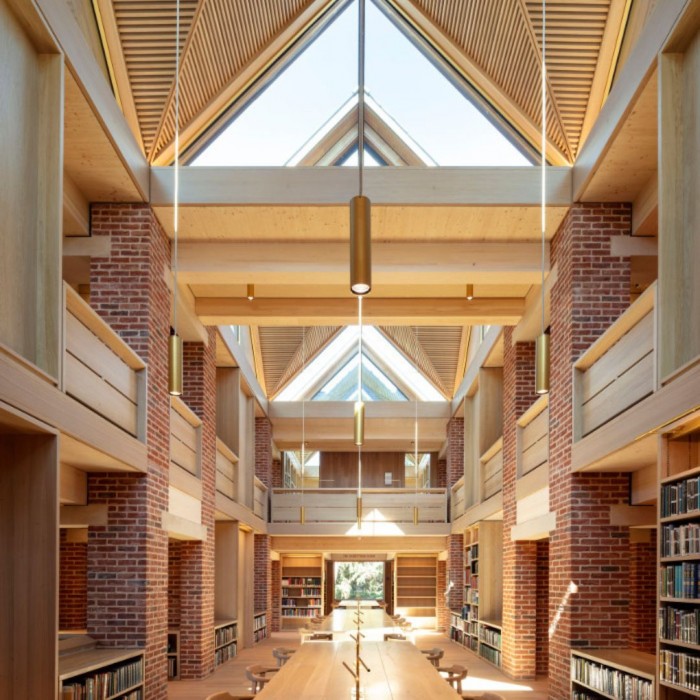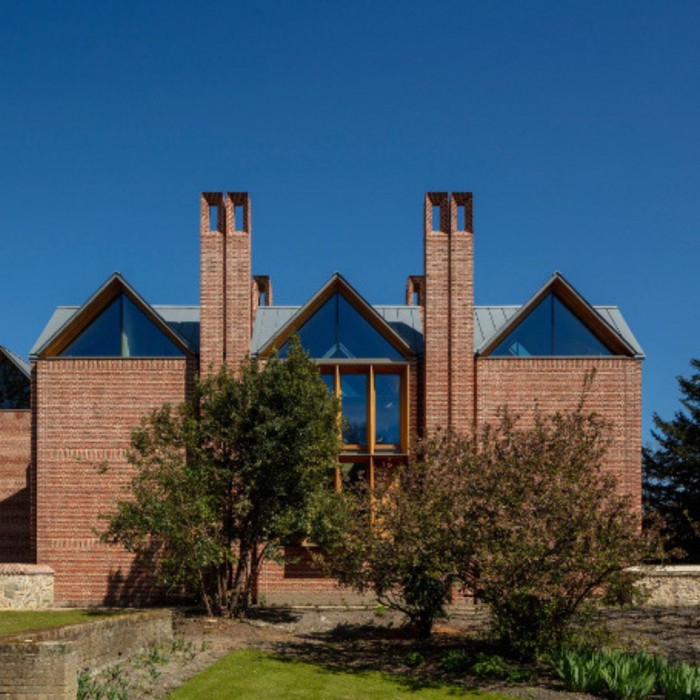 Read more:
Social housing project wins Britain's most prestigious architecture award.
Credits: Níall McLaughlin Architects, Nick Kane