The Red House, situated on a hilltop in rural Dorset, was designed by David Kohn Architects for an art collector who wanted a family home that is contemporary but can adapt to future accessibility needs. Described as being 'tailored to both its landscape setting and the way of life of the owners', the house is a bright, bold take on the classic countryside farmhouse – and it's the Royal Institute of British Architects' House of the Year 2022.
Architect David Kohn was inspired by the English Arts and Crafts movement for the design of the house, bringing intentionally provocative elements to the rural setting. The house, which has a rich red-brickwork facade, features contrasting green eaves, doors and windows, and playfully extended eaves and bay windows. Instead of enclosing indoor spaces, the ground floor surrounds a central sculptural staircase, with a slew of walls that provide a sense of privacy in the open-plan space.
With accessibility and ease at the forefront of the design brief, the home features a staircase with two handrails, rounded corners on built-in furniture, grab-rails on the fronts of cupboards, no door handles to turn, and a lift.
Designing for climate change was also part of the consideration for Kohn. The house has various elements that aid in managing this: the thick walls and deep eaves protect the façade from the elements, the concrete has been left exposed to maximise the thermal stability of the interiors, and the foundations are steel piles, not concrete, reducing the embodied carbon in the groundworks. Biodiversity has also been woven in, with the slate roof discreetly providing a home for a local bat population, and the incorporation of bird-nesting sites into the brickwork and eaves of the home.
In response to winning the award, a delighted Kohn said, 'This is a validation of the ambition and unerring support of our clients, and the dedication of the whole project team.' He was thrilled that the jury chose 'to support architecture that is intimate, playful and colourful, and engages with both its context and history.'
Established in 2013, the Royal Institute of British Architects' House of the Year award celebrates the best new homes or home extensions designed by an architect in the UK.
Find out more about the winner and shortlisted houses on https://inda.ba/3PEgQTJ.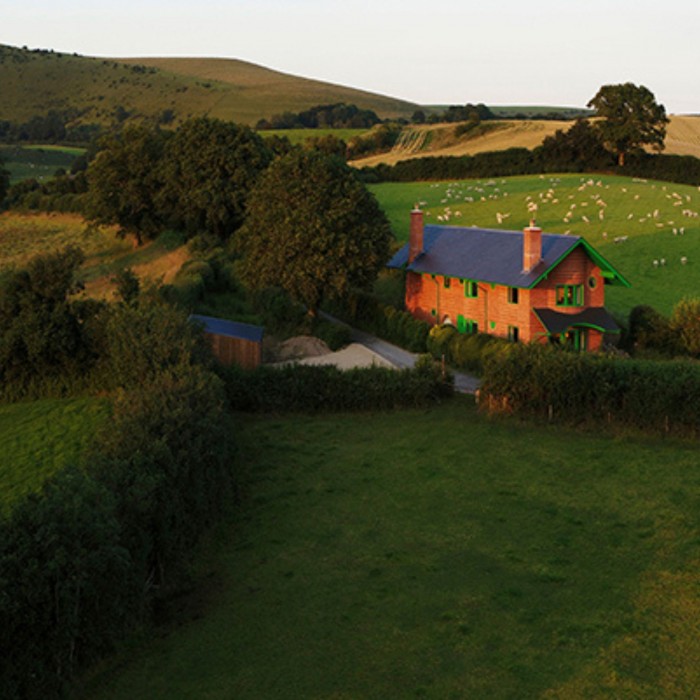 Read more
Social housing project wins Britain's most prestigious architecture award
The Thabo Mbeki Presidential Library by Sir David Adjaye will form a nexus of African discourse and excellence in Johannesburg
Photographs: Will Pryce.