Consider for a moment how often the definition of beauty changes – just how fluid it is. What was 'beautiful' a hundred, or ten, or even 2 years ago, is radically different from what fills our feeds today. What is beautiful here, isn't necessarily beautiful somewhere else.
Think about what it means for you personally. How does beauty impact your life in reality? How do you use it? What is your unique understanding of its role in our lives?
The beautiful thing about beauty is that it belongs to everyone and no one. Yes, often it reflects the ideals of our current society, however warped, fast-changing or malleable. But it is ours. Not theirs. Not hers or his. It is a tool, a secret power, and a remedy that is available to each of us to use. And despite how hard many people have tried for centuries, there is no fixed definition. Beauty transcends the visual aesthetic, it can transcend social, economic and political power, and it can transcend all other boundaries – real or imagined.
The Most Beautiful Object in South Africa is a vehicle to celebrate our diverse opinions of beauty. It is a catalyst for creative debate and connection. Our mandate is to be relevant and brave and to champion beauty's potential.
The turn of this new decade ushers in a new creative renaissance with unprecedented possibility. Machines and data are now included in our creative conversations. We're laying new foundations for change and developing new value systems. Sentiment is shifting towards realistic optimism. We finally agree to share responsibility for our climate. And we're creating both fantastic, alternative realities, as well as new authentic realities that aren't only experienced through the screens of our phones. We ask you – what role does beauty play in South Africa this new decade?
We are proud to present the nominations for 2020:
Robinson the raffia dog by Chommies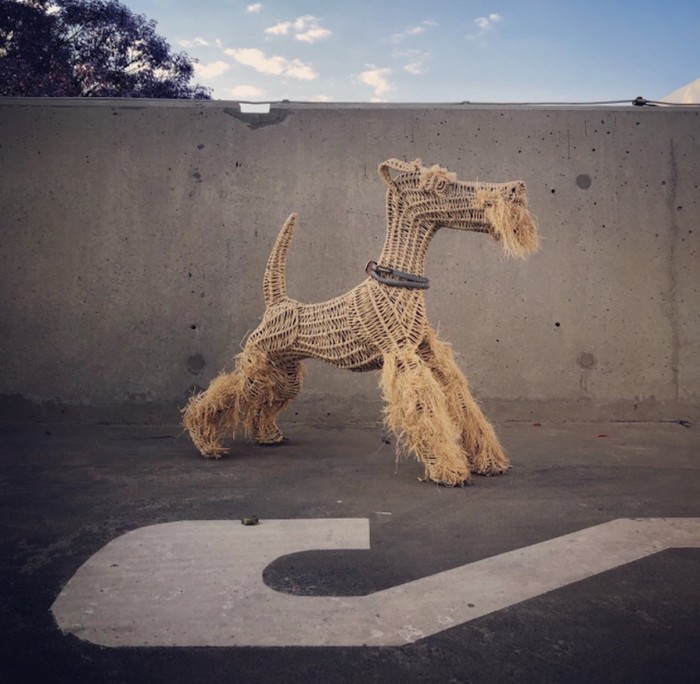 This special design by Chommies, Cape Town-based designers and makers of stylish handcrafted pet accessories, originated as a brand extension to display their products. It is a life-sized figurine of a wire-haired fox terrier crafted in raffia by Chommies, in partnership with a local maker in Hout Bay. "I chose this object because it sparks immediate joy for its comical yet very realistic interpretation and depiction of this dog breed," explains Charl Edwards. He was also charmed by the story behind the brand – its founders met when their dogs befriended each other at a farmers' market. "I'm nominating a product that is proudly local, handmade, and born of a beautiful collaboration and partnership, something we all need more of in 2020," says Edwards.
Open (2019) by William Kentridge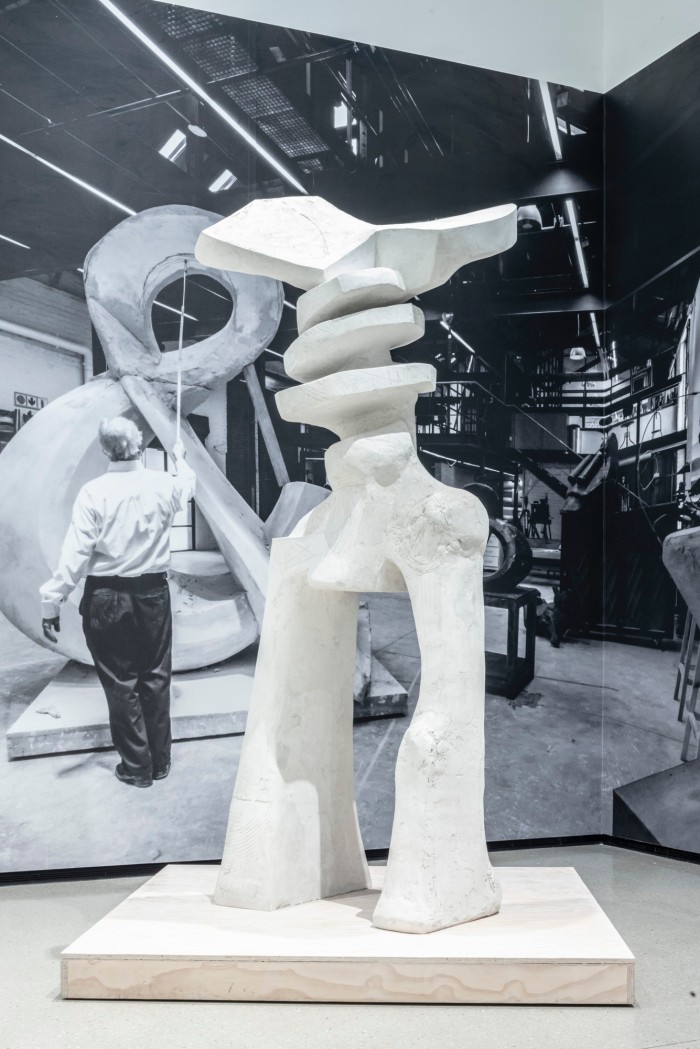 This three-meter-high plaster sculpture forms part of William Kentridge's exhibition Why Should I Hesitate: Sculpture at the Norval Foundation, the first-ever exhibition dedicated to his sculptures. It is part of a series of pieces that rework the artist's visual lexicon – the corkscrew in this case referencing his early work in theatres and the use of corkscrews to cast figural shadows in his processional works. "Standing tall and 'legs' astride, [Open (2019)] is dynamic and somewhat confrontational, ready to engage the world around it," says nominator, Elana Brundyn. "It also reminds the viewer of Henry Moore's bronze Large Torso: Arch (1962- 1963)." In it, Brundyn sees the coming together of art history, the personal and the political. "I love the fact that the object shows not only form and beauty but also process (the plaster original would transform into the monumental bronze)," she explains.
Nwa-Mulamula Chaise by Rich Mnisi
This upholstered navy leather chaise marked fashion designer Rich Mnisi's first foray into collectible furniture. It was commissioned by Southern Guild for the 2018 exhibition, Extra Ordinary. Its rounded, sensual forms represent and pay tribute to the often-unsung role that African mothers play. Mnisi's fashion collection of the same name, which means "guardian" in Tsonga, honours the memory of his late great-great-grandmother, whose teachings have lived on in his family for generations. The anthropomorphic form of the chaise represents the presence of the maternal guardian figure and her teachings. "I nominated Nwa-Mulamula because it feels visceral and real: the marriage between the artist's self and spirit together with that of the object," says Lukhanyo Mdingi.
Zenande from the Magodi Series by Zizipho Poswa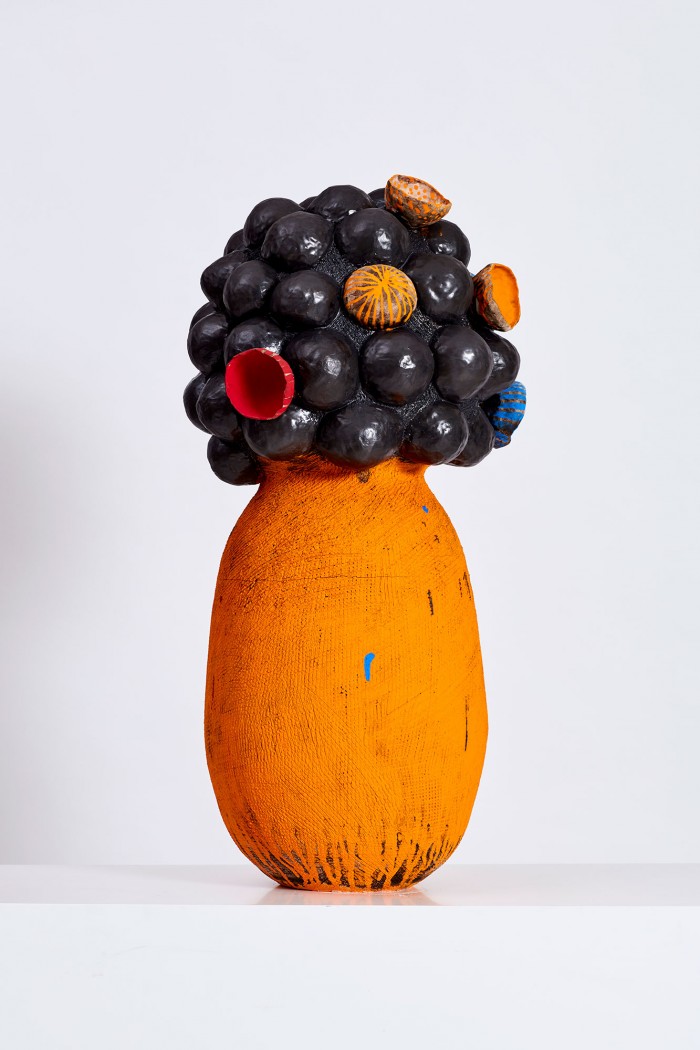 This monumental ceramic sculptural work by ceramicist Zizipho Poswa, co-founder of Imiso Ceramics in Cape Town, is featured in her series called Magodi, which celebrated the majesty and heritage of traditional African hairstyles. Each piece was named after a woman who had been influential in the artist's life. The series was noted for the intricacy of its design, marrying technical complexity with the sensual presence for which she is known. "I'm moved by design or art that engenders a sense of empathy within me," says nominator Seth Shezi. "I took my mom to the Southern Guild gallery and this piece arrested her. It was already one of my favourites from the series, because of its beauty, variety of technique and a lovely uncertainty and discomfort in the proportions (which I love). But when my mom saw it, she loved it for different reasons. She saw a celebration that without being literal could broach and celebrate the complicated subject of natural hair, a narrative, she explained to me, that had its own well of discomfort."
Githan Coopoo's hand-sculpted earrings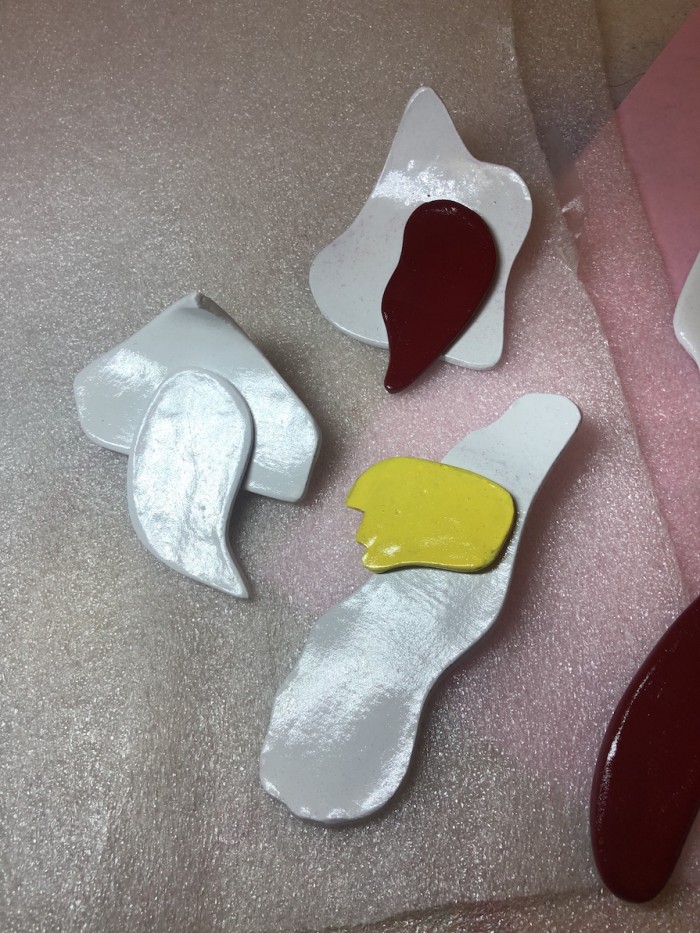 Each of Githan Coopoo's earrings are once-off pieces – handcrafted, fired and sanded by the designer himself, and finished with various glazing techniques and silver-plated hardware. No two pairs ever look alike, representing the intimate nature of his brand. As fragile objects, each earring challenges the norms of the modern jewellery industry. Each piece's value stems not from its material or mineral value, but rather from the fact that it requires a certain level of sensitivity on the wearer's part, imparting a sense of self-awareness with regard to the power and precious quality of their own sensitivity and vulnerability. "It is a beautiful handmade product and feels like a piece of art on your ear," says nominator Sindiso Khumalo. "[It] makes the idea of dressing up feel magical. There's something quite special about crossing boundaries between art and fashion, and Githan Coopoo does this so well."
Trevor Stuurman by Trevor Stuurman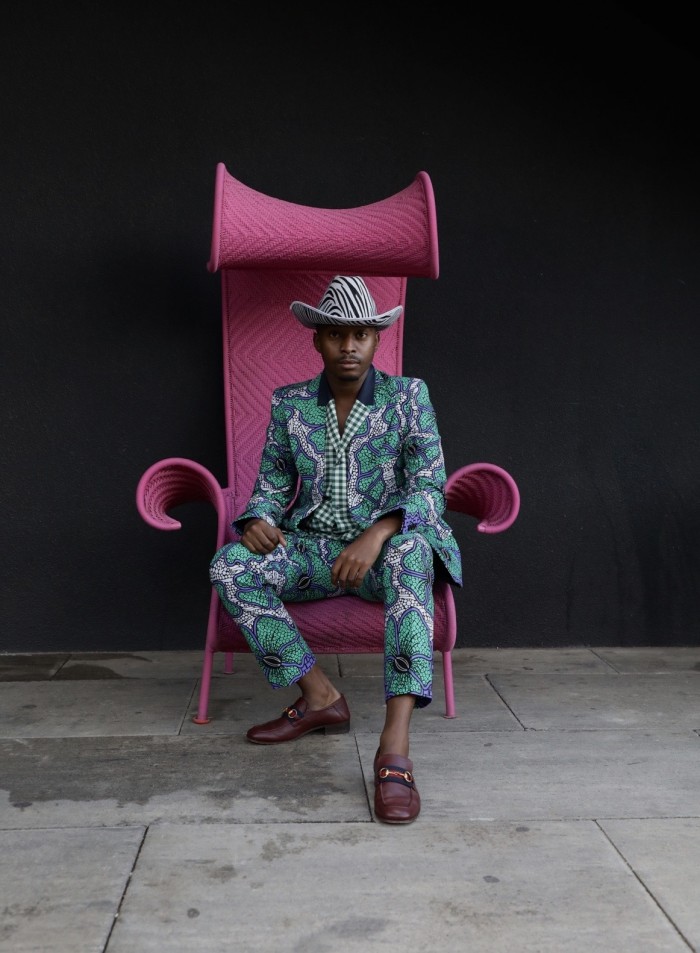 In this self-portrait, multitalented Trevor Stuurman, who is known not only as a stylist, fashion consultant and social media influencer, but also as an artist, photographer and filmmaker, engages with his own image as a pioneer of modern African aesthetics. "To me, this image is the most beautiful thing right now," says Sunu Gonera. "Not the chair, or the background, or the fashion. This image is beautiful because of what it represents: it shows an African artist who has come into his own, found his voice and who is bringing the light of Africa to the world." Gonera says that the image exemplifies the ability of African creativity to reconnect with its heritage, transcending elements of its painful history and rediscovering beauty on its own terms. "For me, Trevor represents the progress that African artists have made on the world stage, how we have brought our unique voices forward, our aesthetic unmistakable, our imperfection part of what it means to be who we are," says Gonera.
Tiaan Nagel Summer 19/20 Campaign Stills: 'Remember You Are' by Travys Owen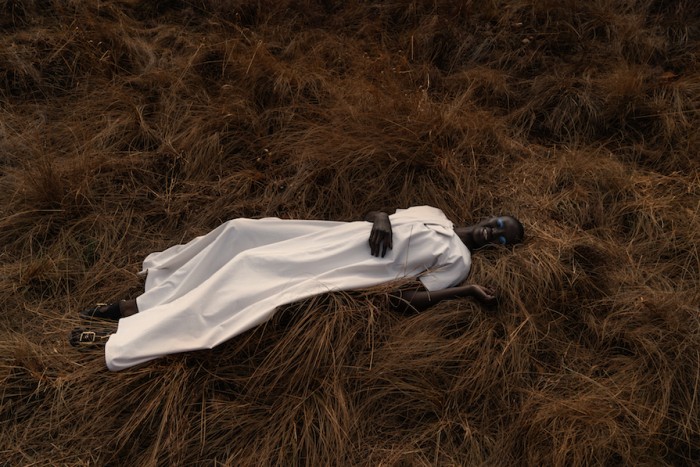 When fashion designer Tiaan Nagel relaunched his label after working as a magazine editor, he was inspired by a piece of writing from Ntokozo Mbokazi, titled Remember You Are. He wanted to find a way as a white, privileged, straight Afrikaans male to be as authentic as possible, reflecting his identity and experience. Nagel explains that the launch collection drew on hyper-local inspirations such as the studio pottery of Andrew Walford and Esias Bosch, Old Transvaal Furniture and contemporary art by the likes of Michael MacGarry, Givan Lots, Eduardo Villa and Zander Blom. It features brutally honest and progressive shapes in simple but luxurious materials. The accompanying stills campaign, directed by Nagal and shot by Travys Owen at the Melville Koppies in Johannesburg, encapsulates many of these gentle influences. "These images are so deeply moving," says nominator Jodi Balfour. "They feel poetic, expansive and calming, but also evoke real drama. They make me take a long, deep breath. The play of light, the richness of colour, and the environmental mood are all truly remarkable."
Dawning by Thebe Magugu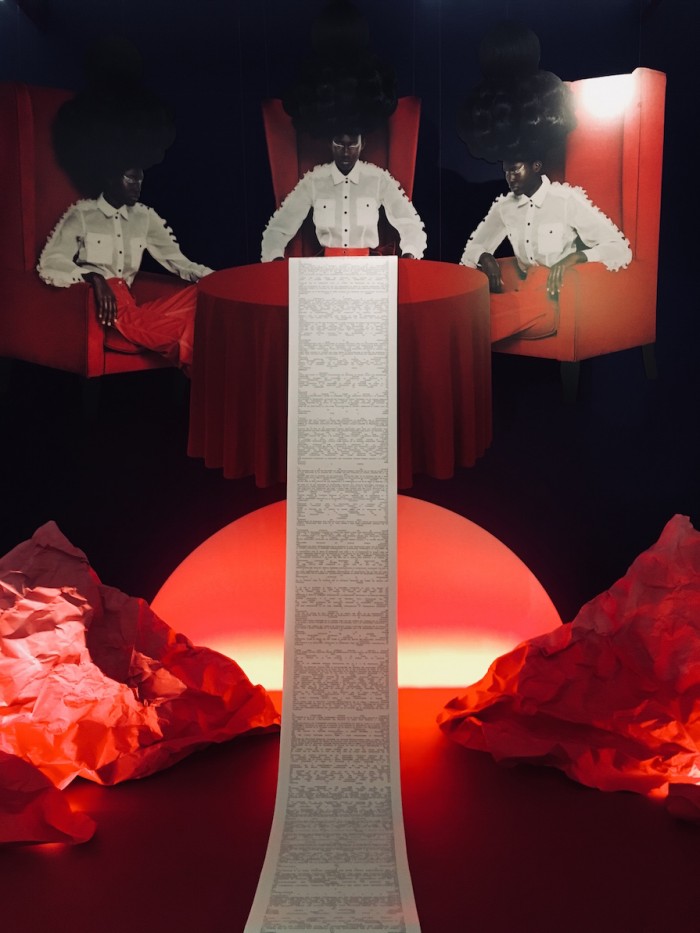 The Dawning installation by fashion designer Thebe Magugu is a celebration of South Africa's progress, particularly in the empowerment of women, despite its challenges. It depicts three African women sitting around the table writing a pact on a scroll of paper which drops down to the floor and runs across the room and was nominated by, Manthe Ribane. This scroll, featuring text from the South African constitution, acts as a pathway for the mannequins who stand on it. Other symbolic references include the white and red mountains, which refer to the South African landscape, and also appear to be piles of ashes, representing death and rebirth. "With this installation, I want it to feel like South Africa is forging its own path, unaided by influence," says Magugu. The scale is deliberately confrontational and intimidating, and the colours are simplified to emphasise the shapes and enhance the directness of the message.
Soroban installation at Fyn by Tristan Du Plessis and Christof Karl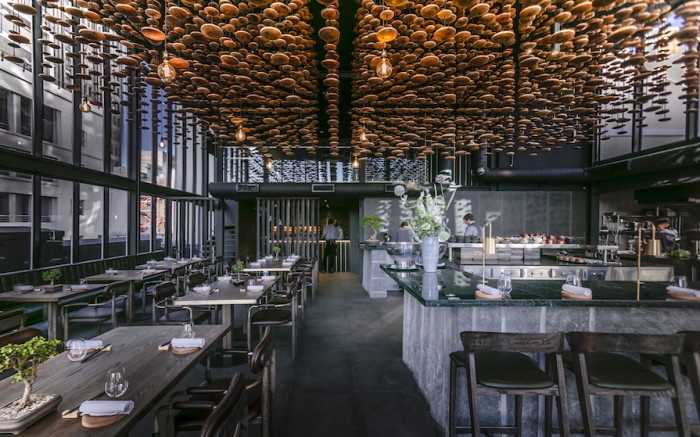 The ceiling installation of world-renowned chef Peter Tempelhoff's Cape Town restaurant, Fyn, was a collaboration between interior designer Tristan Du Plessis of Tristan Plessis Studio and furniture designer and manufacturer Christof Karl of Guideline MNF. The concept was inspired by the fusion of Japanese and South African cuisine at the restaurant and the soroban – a Japanese abacus. The final design, however, was a result of the dual need to celebrate the double-volume height of the restaurant, as well as to fill the ceiling chamber in order to absorb sound and create a feel of intimacy. The 1,5-ton installation is made up of thousands of poplar discs which required an engineer to design a unique steel structure to support the weight which is why it was nominated by Rashiq Fataar.
Delicate Bracelet by Izandla Zethu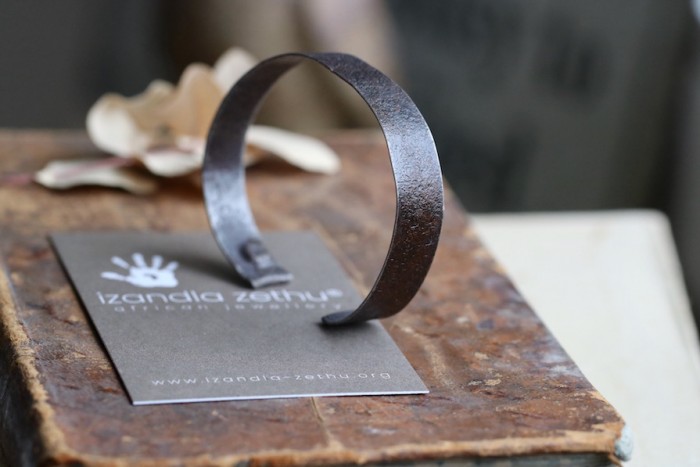 The Delicate Bracelet is made by the non-profit community project Izandla Zethu (based in Walmer, a township in Port Elizabeth), which creates employment and develops skills to empower young people. The bracelet which is made using corrugated iron, a material commonly used to build shelters in informal settlements. It symbolises the transformation of poverty into beauty through creativity. "Other than the fact that it is handmade from recycled material, I like the fact that it is made from corrugated iron sheet –a piece of material that we as South Africans are familiar with and many hold dear to us," explains nominator Blessing Ngobeni. "The material of the bracelet got me thinking about the meaning of beauty, and even adds to my view about beauty – that it has to be honest and truthful."
About Most Beautiful Object in South Africa 2019
The Most Beautiful Object in South Africa exhibition will be held at Design Indaba Festival on 26 February until 28 February. The winner will be announced at the Festival. The public can view the exhibition as part of the Design Indaba Nightscape programme, after 5pm at the Artscape Theatre Centre each day of the Festival.