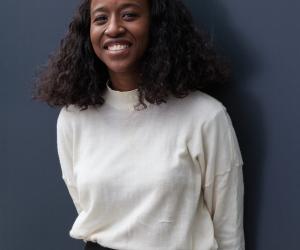 Speaker
The Central St Martins graduate, Khumalo, studied architecture at the University of Cape Town prior to moving to London, where she went onto study a Masters in Design for Textile Futures.
Khumalo founded her eponymous label with a focus on creating modern sustainable textiles with a strong emphasis on African story telling. She designs the textiles in her collections by hand through watercolours and collage. Over the years she has developed a uniquely colourful visual voice, which draws upon her Zulu and Ndebele heritage, and also speaks to the land of Kwazulu Natal, where she is from.
Sustainability, craft and empowerment lie at the heart of the label. She works very closely with a NGO in developing handmade textiles for her collections.
Her work has been showcased in the "Africa Is Now" exhibition at Design Indaba Expo 2014.
In October 2015, she won Vogue Italia "Who's On Next Dubai" competition. Fashion and empowerment is what Sindiso feels very passionate about. She has spoken at the United Nations on sustainability in fashion and is currently working closely with the International Trade Centre Ethical Fashion Initiative. She has showcased work at the Royal Festival Hall in London, The Smithsonian Museum of African Art in Washington and the Louisiana Museum in Denmark. Her work has been published in "Africa: Architecture, Culture and Identity", Vogue Italia, Vogue UK, Elle Magazine and Marie Claire Magazine.
Having previously spoken at Design Indaba, Khumalo returns to the Design Indaba stage, this time as part of a team of designers who collaborated on the much-anticipated Ikea ÖVERALLT collection.