'Wedding Cake' is a 12-metre-tall sculptural pavilion in the form of a three-tiered cake in the gardens of Waddesdon Manor, which was built over a century ago by Baron Ferdinand de Rothschild to delight and surprise his many friends at his famous house parties. The commission, from Portuguese artist Joana Vasconcelos by the Rothschild Foundation, continues the estate's celebration of love, festivity and joy, embodied in other fanciful buildings such as the ornamental Dairy (which includes 'Lafite' (2015), Vasconcelos's magnificent sculpture in the form of two giant candlesticks made of wine bottles) and the gilded rococo-style Aviary.
'Wedding Cake', which the artist describes as 'a temple of love', is clad in over 26 000 highly glazed ceramic tiles in pastel pinks, greens and blues reminiscent of shiny cake icing, as well as 52 cake toppers, ornamental sculptures and adornments of mermaids, dolphins, candles, sprinkles and globes. The sculpture drew inspiration from the vibrant baroque architecture and decorative ceramics practices of Lisbon, which is both the residence and workplace of Vasconcelos.
'Wedding Cake' took five years to make and is Vasconcelos's biggest project to date. It concludes her long-term personal project exploring a woman's transition into marriage through classic bridal symbols. At the 2005 Venice Biennale, she debuted 'A Noiva (The Bride)', a chandelier crafted from 25 000 tampons, before creating 'Solitário (Solitaire)' (2017), a giant engagement ring made from luxury-car wheel rims and glass whisky tumblers.
Vasconcelos, who is renowned for her large-scale installations – her 'Pavillon de Vin' (2011), a gigantic wine carafe made from wrought iron and vine plants, stands in the Yorkshire Sculpture Park in the UK – was a natural choice to create a 'spectacle of folly' for collector and arts philanthropist Lord Jacob Rothschild.
About her sculpture, she says, 'I want people to have three different approaches to it: looking from the outside, enjoying the surroundings from the different levels or balconies and, rising to the top, finally completing the artwork with their presence.'
'Wedding Cake' is open to the public for tours until 26 October 2023.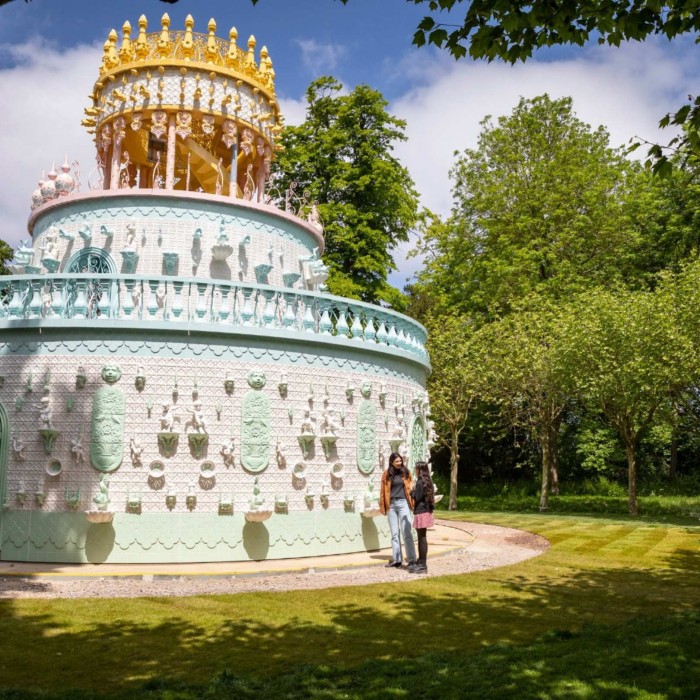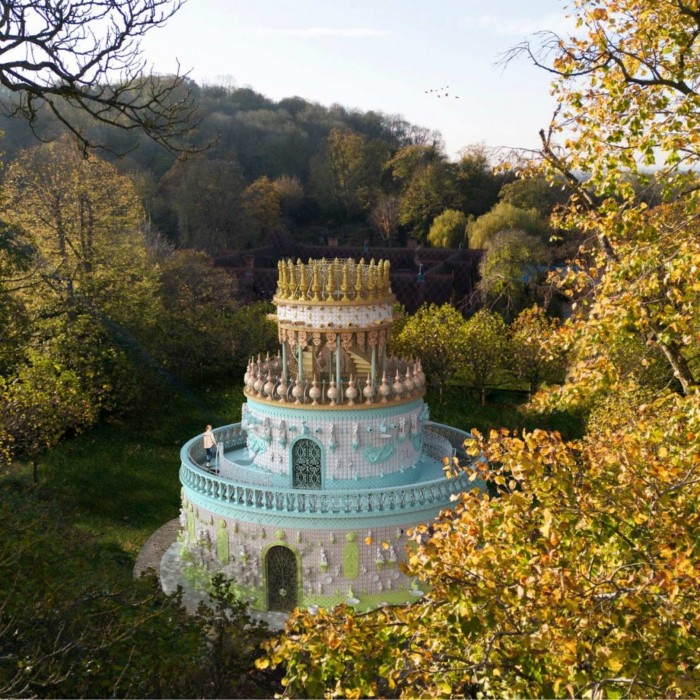 Read more
Photographs: Joana Vasconcelos, Waddesdon Manor.