Former Design Indaba Emerging Creative Thabiso Joyisa started an architectural student movement with his fellow students at Durban University of Technology (DUT). Called Level Six, the team want to transform the current social and academic space of their architectural department and turn it into a space that improves and promotes the sharing of ideas and experiences.
The team is aiming to create and construct a studio space by building a new floor on the existing department building. The space will feature a presentation gallery, coffee shop as well as spaces designated for music, art and performances.
For Joyisa the reason why he and his team embarked on this project is because, "the problem lies fundamentally with the lack of a studio culture which inhibits the interaction between students of the respective years," he explains.
Wanting to create a positive and contributing effort to his school and the architectural industry, Joyisa approached his lecturers who helped him connect with former DUT students in the architectural industry.
Working with various architecture studios, as well as engineers from the South African Institute of Building Design, the Level Six team submitted a formal proposal to the DUT management board.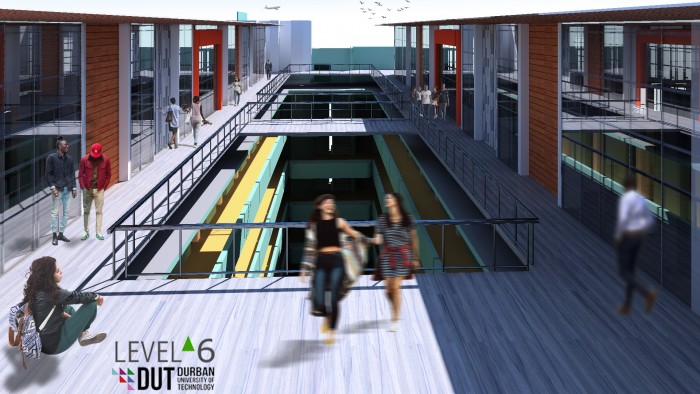 After having several meetings with the Deputy Vice Chancellor of DUT, Dr D Machi, the proposal submitted by Level Six was approved by the university.
According to Joyisa, the total estimated cost of the project is R25 million, the Level Six team are currently searching for an external funder for the project.
"Our ultimate goal is to create a relationship with the professionals in the built environment and to bring them to our institutions to help mentor and guide students with all the relevant information and design strategies in the industry," says Joyisa
The Level Six project is the first student-led project guided by professionals to come out of DUT.
Read more:
African architecture: Ornaments, crime & prejudice
Post-colonial Congolese architecture: green, local and volcanic
Tshepo Mokholo on the transformational power of architecture to inspire