Zanele Muholi is a Johannesburg-based visual activist focussing on black lesbian, gay and transgender individuals: "I'm fascinated by LGBTI people in different spaces." Prior to her photographic journey into black female sexuality and gender in Africa, she worked as a human/lesbian rights activist with members in her community to raise awareness around issues facing black lesbian women living in South Africa.
At Design Indaba Conference 2014, Muholi spoke about her photographic journey and how it led her to understand the importance of preserving and documenting the history of LGBTI individuals and communities through photography.
I often get asked how influential my LGBTI portraits are, but really I just want people to look good and really fresh, says Muholi.
In 2009, Muholi founded Inkanyiso, a queer visual media platform providing a space where people can engage with content that is often behind the mainstream media. The blog produces videos, photographs and articles that capture the truth and realities of LGBTI cultures. Furthermore, Inkanyiso speaks out against hate crimes aimed at LGBTI individuals and seeks to make mainstream communities aware of its severity: "Hate crimes have become a binding factor for the LGBTI community but what are we all going to do about it?" she asks.
Muholi's latest work is an intimate project that is biographical and visual. Her current project looks specifically at capturing imagery of interracial relationships in 12 cities around the world.
Projecting positivity can lead to change, she concludes.
Watch the Talk with Athi-Patra Ruga, Nandipha Mntambo, Zanele Muholi, Hans Ulrich Obrist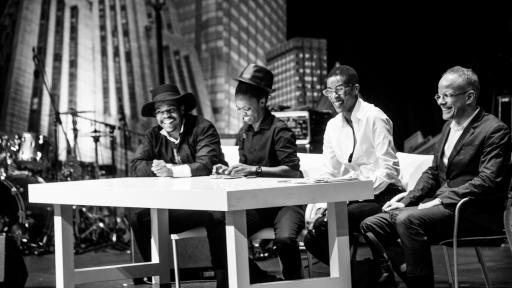 Talks
• Duration: 01:01:54
•
10 Sep 14