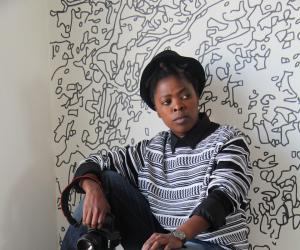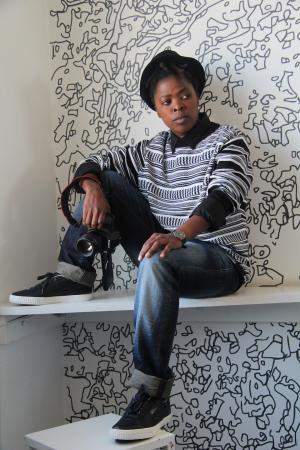 Speaker
Zanele Muholi is a visual activist born in Umlazi, Durban, currently living in Johannesburg. Prior to her photographic journeys into black female sexualities and genders in Africa, she worked as a human/lesbian rights activist with members in her community, raising awareness around issues facing black lesbian women living in South Africa. She worked as a reporter and photographer for Behind the Mask, an LGBTI website, bearing witness to countless acts of violent hate crimes against many of her friends and community members. She later researched and documented early cases of hate crimes.
In 2002, Muholi co-founded the Forum for the Empowerment of Women, a black lesbian organisation based in Gauteng dedicated to providing a safe space for women loving women to meet. She then spent more than three years researching and documenting hate crimes in order to bring the realities of corrective or "curative" rape, assault, HIV and brutal murders of black lesbians to public attention. In 2009 she founded Inkanyiso, an organisation that deals with visual arts, activism, media and advocacy.
Muholi completed an Advanced Photography course at the Market Photo Workshop in Newtown in 2003, and held her first solo exhibition at the Johannesburg Art Gallery in 2004. She was the recipient of the 2005 Tollman Award for the Visual Arts, and the first BHP Billiton/Wits University Visual Arts Fellowship in 2006. From 2007 to 2009, she studied for her MFA: Documentary Media at Ryerson University in Toronto, producing a thesis that maps the visual history of black lesbian identity and politics in post-apartheid South Africa. In 2009, she received a Fanny Ann Eddy accolade from IRN-Africa for outstanding contributions to the study and advocacy of sexualities in Africa. Also in 2009 Muholi was a Jean-Paul Blachère award winner at the Rencontres de Bamako African Photography Biennial, and won the Casa Africa award for best female photographer living in Africa. In 2013 she won the Index on Censorship – Freedom of Expression arts award, the Fine Prize for an emerging artist at the 2013 Carnegie International and the Prince Claus Award, as one of eleven 2013 Prince Claus Laureates. The Prince Claus Award honours outstanding individuals and organisations in the field of culture and development. She receives her award on 14 February 2014.
Muholi's work has featured on important exhibitions including the 55th Venice Biennale, Documenta 13 in Kassel, Germany (2012); 29th São Paulo Biennial, Brazil (2010); Figures and Fictions: Contemporary South African photography at the V&A Museum, London (2011); Face of Our Time II at the San Francisco Museum of Modern Art (2011); Appropriated Landscapes at the Walther Collection, Neu-Ulm/Burlafingen, Germany (2011); and Lesbians Seeing Lesbians at the Leslie/Lohman Gallery in New York (2011).