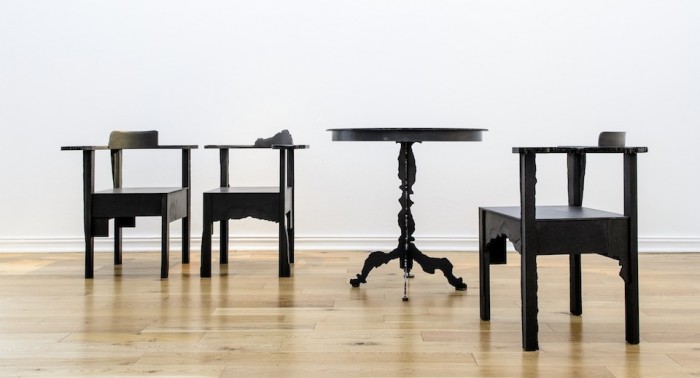 Corner Chairs and Pedestal Table, a collaboration by Gregor Jenkin and William Kentridge, 2012. Courtesy of Southern Guild.
Gift shops are as much a part of the art economy these days as canapés and catalogues. While posters, diaries and fridge magnets tend to cater to a lowest common denominator, museums have long recognised that there is a lucrative niche for editions and multiples of work by popular artists. William Kentridge, who is collaborating with Design Indaba on a series of events in February as part of its 2015 Festival, has rarely said no to requests to contribute diffusion-line items to museum gift shops.
But how to categorise these objects? Are they design or art, or both? Or neither.
Perhaps the best way to understand them is through their context. When he exhibited at Berlin's Deutsche Guggenheim in 2005, for instance, Kentridge produced a replica stereoscope modelled after a vintage device in the artist's personal collection. Limited to an edition of 100 and costing a mere €380 (in comparison with his other work), it was quickly snapped up. Kentridge has over the years also produced limited-edition flipbooks and even a puzzle.
To mark his participation in dOCUMENTA (13), a contemporary art exhibition held every five years in the industrial German city of Kassel, the organisers of the 2012 edition had a bold orange box made up. Sealed inside were puzzle pieces for two paired Kentridge drawings. Once completed, the puzzles showed dancer Dada Masilo and the artist, who both appeared in Kentridge's film installation The Refusal of Time.
Specially created for dOCUMENTA (13), Kentridge has adapted this work into a multimedia chamber opera titled Refuse The Hour. It will be premiered at Cape Town City Hall from 26 to 27 February. Refuse The Hour originated out of a collaboration between the artist and Peter L. Galison, a professor of the history of science and of physics at Harvard University, where Kentridge was invited to lecture in 2012.
Kentridge is a serial collaborator. It is a way of working deeply ingrained in his biography. As a student he was a founding member of the avant-garde Junction Avenue Theatre Company. He debuted as a stage director in 1979 with the play Will of a Rebel, the same year he also held his debut solo exhibition. Aside from his acting and directing, Kentridge also made props and posters for Junction Avenue productions. The posters are now highly collectable graphics.
For a while Kentridge actually wanted to be an actor and went to theatre school in Paris (1981-82).
I was a sufficiently bad actor for that to be out of the question, he said in a 2005 interview.
This failure propelled him to decide to work as an art director on a television series and in feature films. He recalls carving carrots into the shape of goldfish for a joke film that involved someone eating goldfish out of a tank in a pet shop as a hidden camera recorded the reactions of passers-by. "It was dreadful," he said. It was also an education.
Italian artist Maurizio Cattelan, up until not so long ago the enfant terrible of the contemporary art world, started out as a furniture designer before he embraced sculpture and tomfoolery as his preferred mode. In 2011, following his career retrospective at the Guggenheim Museum in New York, Cattelan nominally retired from making art. He is now actively involved in print magazine design. Kentridge, a skilled printmaker and draughtsman, also briefly flirted with editorial design and the culture of print.
In 1985, around the time he started to exhibit his charcoal drawings, Kentridge became an editorial cartoonist for the Weekly Mail, a precursor of the Mail & Guardian. His fee: R30 per drawing.
"The cartoons would sit over me like a nightmare for four days of the week," recalled Kentridge in a 2012 interview. "What the hell am I going to do?"
The work reflected his anxieties. Some half dozen cartoons later he was fired.
This biographical history is important to understanding Kentridge today.
I could certainly write my biography in terms of being saved by my failures, he said in 2005.
"I work from not knowing what I am doing, from doubt, from indecision, from failure."
Collaboration has arguably offered him a way through this morass.
In the late 1980s he collaborated with artists Deborah Bell and Robert Hodgins on a print portfolio. His 1990s theatre work with Adrian Kohler and Basil Jones, of the Handspring Puppet Company, remains a decisive milestone in his career. More recently, Kentridge has regularly worked with composer Philip Miller and editor Catherine Meyburgh, with musician Neo Muyanga, furniture designer Gregor Jenkins and book designer Oliver Barstow, of FOURTHWALL Books.
These collaborations, whether long term or ad hoc, have all contributed towards extending the range and form of Kentridge's work far beyond printmaking and drawing. Younger artists such as Robin Rhode and Kudzanai Chiurai are similarly adopting a process that invites collaboration and sometimes detours into design. Chiurai, who has a background in guerrilla graphics, has also produced a number of self-published magazines.
Print design is one of many avenues open to artists. In 2008, British sculptor Marc Quinn, best known for his fourth plinth at Trafalgar Square, made his first foray into design with a limited-edition series of marble furniture pieces. The Iceberg series, as it was dubbed, included five pieces: a desk and chair set, console, table, side table and bench. Produced in white Carrara marble and limited to an edition of eight, the pieces were sold like artworks through a single source, London's Carpenters Workshop Gallery.
Quinn, who has subsequently produced a steel table topped with pure white Carrara inlaid with agate, is not the only artist represented by Carpenters. South African-born, Belgium-based artist Kendell Geers is also on its books. Last year he made a polished bronze stool modelled after an oil drum. Geers has also dabbled in magazine design, guest art directing a 2009 issue of BC Magazine.
There is a symbiotic relationship between art and design. Not quite a marriage, it can sometimes be a volatile relationship. In 2010, speaking at Frieze art fair in London, Bridget Riley recalled a particular incident from New York. It was 1965 and some of Riley's hard-edged geometric abstractions had been included on a painting show at the Museum of Modern Art. Riley dutifully travelled to New York. It was her first visit.
During her stay Riley was invited to meet a man in the fashion business. She recalled being driven to "a really filthy looking building" where she was ushered into a room with blue-buttoned silk banquettes in a horseshoe shape. There was an unfinished Monet wisteria painting on the wall. "A door opened and out came a couple of these hanging things with dresses that featured a painting of mine with a little man behind who was obviously responsible for all this." The man beamed. Rather than feeling flattered, Riley was incensed. Her lawyers intervened.
While the patent fraud was a key issue, what also irked Riley was the unhappy crossover of art and design. Fashion, she said, was a "shallow metronome" – meaning, her paintings were not simply visual motifs for the flower-power generation. Riley is not exceptional in wanting to silo her practice from the explicitly commercial side of the larger design industry. But for every artist who resists the meeting between art and design, there are as many who see it as a productive space, like Kentridge.
Kentridge's current successes inarguably hinge on his bumbling early attempts as a printmaker, actor, draughtsman, set designer, theatre director and cartoonist. Gradually, over time, the "cross-fertilisation of skills" began to yield results. It now all seems so obvious. It wasn't at first. Which, ultimately, is part of the great gamble of exploring ideas that sometimes cross boundaries.
Watch the Talk with William Kentridge