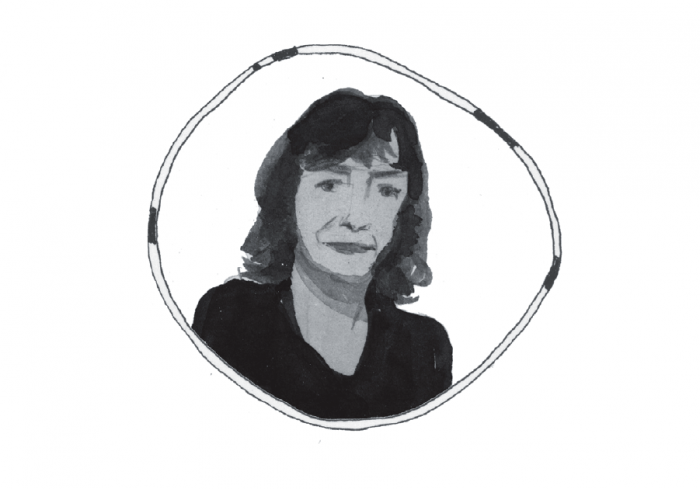 Lynda Relph-Knight portrait. Image: Katrin Coetzer.
The clichéd perception of Africa is that of a continent in constant crisis, a tragic land of hunger, poverty, drought, disease, corruption and brutality.
But the first world is no longer the cradle of power it was even five years ago – emerging economies are coming into their own and the world is slowly coming out of its consumption induced stupor and questioning the status quo.
We invited some friends from foreign shores to look into the future here on the Dark Continent, which it seems might not be so dark after all. First up is design writer and former editor of Design Week Lynda Relph-Knight.
South African dentists are legendary. I can only speak for London, but they have made the city their home, bringing a patient centred approach to dentistry that takes it beyond the clinical. Music, relaxing décor and genuine caring are what we can expect.
Would it were so of South African designers, for though the talent is there, few have made a name outside Africa. At best, young South African designers come to Europe as cannon fodder within consultancies here as they seek to gain experience to take back home.
South Africa has its international stars. Interaction designer Andries Odendaal is revered globally, for example. Performance artist and graphic designer Peet Pienaar, co-founder of The President and other ventures, is going down a storm in Buenos Aries and adman Mike Schalit of Network BBDO has crossed borders to huge acclaim. Their trail was blazed by groups like Jupiter Drawing Room, Herd Buoys and Durban's Orange Juice, which were driven by their innate creativity and didn't try to ape their Western counterparts - until some threw in their lot with global players like McCann Erikson and Interbrand.
Architecture too has international heroes. Of these, Luyanda Mpahlwa of MMA Architects is perhaps best known outside South Africa for his award-winning homes, designed for Freedom Park at Mitchell's Plain township near Cape Town as part of Design Indaba's 10 x 10 housing project. Then there is OMM Design Workshop, whose work on Johannesburg's Constitutional Court put the Durban practice on the international map.
South African fashion is also reaching out. Soweto-born Lesego Malatsi, for example, made his debut at London Fashion Week last autumn to rapturous reviews, not least because of his humble origins.
But to the West, craft rather than design is the creative heartland of Africa as a whole and it is in this area that most interest has focused. Hence South African craft-based companies like Monkey Biz and Wola Nani are exporting to the giftware trade.
British designers Barber Osgerby and Tom Dixon and New Yorker Stephen Burks are among those who have worked with African makers to blend traditional craft with contemporary design. Meanwhile, Kingston University in the UK is partnering African concerns on its Materials programme. It has worked with Wola Nani and now on a basketry project in Zimbabwe.
The aim of all these ventures is mutual learning, as much as to help African communities achieve self-sufficiency and create jobs. But Kingston goes further in its desire to change perceptions of African creativity as opposed to highlighting the continent's needs.
Such ventures generate publicity globally, which is great, but arguably serves to reinforce the notion that design lives outside Africa rather than as part of its creative mix, which isn't true.
So what can change this? Design Indaba has done a lot to put South Africa on the creative map – though more as an international hub than as a centre for great indigenous design. But the global creative community has yet to see South Africa as a major creative force, rather than a useful stop-off point for global branding groups.
There is a great opportunity to address this in the lead up to 2014, when South Africa celebrates 20 years of freedom and Cape Town becomes World Design Capital. A glimpse at what Helsinki is aiming to achieve as WDC in 2012 gives some pointers.
It's a great time to showcase design. But you need the designers to showcase and the infrastructure within the creative industries to support them.
That infrastructure is slowly being built, with the work of Interactive Africa, the South Africa National Fashion Council due to open in February and the likes of Nathan Reddy of Grid and Switch's Gaby de Abreu working to make the fledgling Brand Council a unifying body. But you have to look to education at all levels to nurture local talent - from schools to colleges, with a joined-up policy meshing the two. Above all, to figure on the international stage South Africa needs a top-flight institution like London's Royal College of Art or the Eindhoven Design Academy to make a global impact.
But Africa is a big continent and South Africa is leading in creativity there. Maybe it is enough for now to build on that and then take on the world. The South African creative spirit is certainly up to the challenge.
This article was originally commissioned for Where It's At, a Design Indaba publication created in collaboration with Richard Hart and disturbance design published in 2012.