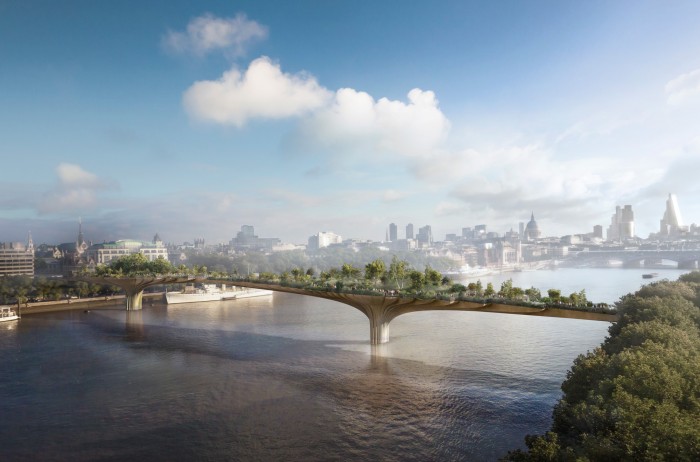 Thomas Heatherwick's Garden Bridge in London
The garden bridge and Christopher Wren's great eyesore
I'm writing to object in the strongest possible terms to Christopher Wren's designs for the new St Paul's Cathedral. It should never be built because it will completely dominate and disrupt the neighbourhood surrounding the proposed site. Since it is clearly a vain whim of a certain clique of aristocrats, an infamous courtesan and a dilettante so-called architect, who are all known to cavort socially, I write to say that if it is actually built it will be an outrage and a long lasting eyesore for all the citizens of London, who have absolutely no need of it.
It is common knowledge that the design has been turned down on two occasions by parliament and, worse still, that local people will have no choice other than to live under the dark shadow of this huge looming atrocity. They have never been consulted about their views on this proposed indulgent building.
It has also been revealed that Christopher Wren's qualifications as an architect are dubious as apparently he is professionally only qualified as an astronomer. It is now public knowledge that the multitalented Mr Wren was appointed surveyor of the original and more modest cathedral, from which position of great influence he was able to have a grossly unfair and secret advantage over many other architects competing for this privately circulated commission.
Many people believe that this building will be in the wrong place, that it will destroy long-established and well-loved views of the river and the surrounding domestic architecture. It is only because of various secret meetings that the fashionable Wren had with influential senior figures in the hierarchy of the church that this vain project was approved. And it was with the blessing of royalty and the administrators of London that the funds with which this cathedral is going to be built have been arranged. These funds have never been scrutinised. No one knows the details of how St Paul's would be funded. This alone is scandalous.
In my opinion, St Paul's Cathedral will be an indulgent and unnecessary imposition of the whim of a few, at the expense of the many. Nobody wants this proposed monstrosity and if, by some corrupt manoeuvring, it is ever built, I can assure your readers that it will never be loved. I, and many others among London's sophisticated and outspoken intelligentsia, take the strongest exception to it and intend that it will never be built.
On the other hand, Thomas Heatherwick's garden bridge, to which I and many others look forward to with great enthusiasm, is an inspiration and an example of doing something kind for London and for all the people from around the world who will visit and experience the beauty and tranquillity they will find there. It will be an enduring counterpoint to the relentless traffic and to the increasingly noisy pressures of urban life.
To some it will be a place of solace and to others a fabulous and magical garden. Everyone will win and so, one day, I'm sure that all the suspicious critics and verbose killjoys will enjoy it too.
Michael Wolff
Royal designer for industry; Fellow of the Royal Society of Arts; co-founder of iconic branding agency Wolff Olins; Design Indaba friend and alumni.
This letter was originally published in the Guardian Letters.
Watch the Talk with Thomas Heatherwick