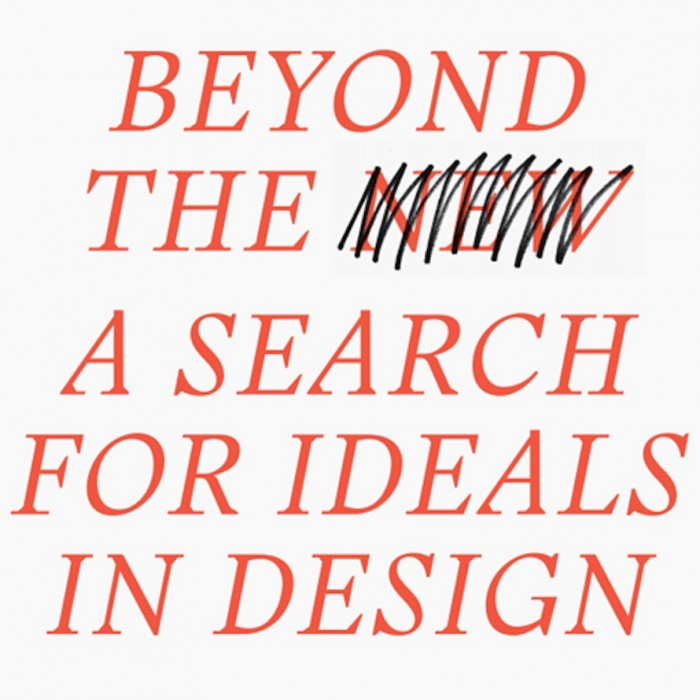 Beyond the New Manifesto
Milan 2015: designer Hella Jongerius and theorist Louise Schouwenbergare to launch a manifesto calling for an end to "pointless products, commercial hypes and empty rhetoric" in design.
The Beyond the New manifesto, which will be published in full on Dezeen tomorrow on the eve of the Salone del Mobile in Milan, will call on the profession to abandon its "obsession with the new for the sake of the new".
Instead, the profession should take the lead and help persuade the industry to revert to the values of the pioneering designers of the last century, the Dutch duo argue.
The manifesto will "deplore how the discipline lacks an intimate interweaving of the values that once inspired designers, as well as the producers of their ideas: making the highest possible quality accessible to many people."
"It is absurd and arrogant to begin the design process with an empty piece of paper," Jongerius and Schouwenberg say in a broadside against the obsession with developing new products. "Cultural and historical awareness are woven into the DNA of any worthwhile product."
The manifesto also attacks design fairs, describing them as "depressing".
"What most design events have in common are the presentations of a depressing cornucopia of pointless products, commercial hypes around presumed innovations, and empty rhetoric," the manifesto says.
Printed versions of the manifesto, designed by Studio Joost Grootens will be distributed in Milan next week during the annual Salone del Mobile furniture fair.
Jongerius, widely regarded as the world's most influential female designer, first went public with her thoughts on the design world in a lecture at the Design Indaba conference in Cape Town earlier this year, saying there was "too much shit design".
"Designers have a responsibility here," she argued in her lecture. "I am calling for a new holistic approach to design."
The Beyond the New manifesto takes her thinking further and was written in collaboration with Schouwenberg, who is head of the master's programme Contextual Design at Design Academy Eindhoven, author of a book about Jongerius and an occasional columnist for Dezeen.
The manifesto comes at a time of increasing unease within the design world about the public perception of the discipline and the way design fairs are becoming dominated by marketing.
Design critic Alice Rawsthorn recently argued that the annual Salone del Mobile and its fringe events have "unintentionally reinforced the popular stereotype of design as a superficial, stylistic tool steeped in consumerism".
Rawsthorn quoted designer Jasper Morrison as saying the Salone del Mobile has become the "Salone del Marketing".
Dezeen columnist Lucas Verweij – who is married to Jongerius – wrote yesterday that the "intrusion of branding and marketing, selling personalities over design, has become like an annoying commercial break that interrupts a good film."
Watch the Talk with Hella Jongerius