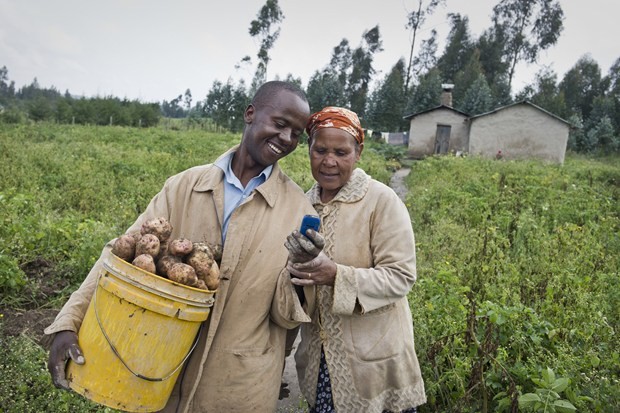 M-farm app in action.
Moraba mobile game by Afroes, South Africa
Moraba is an award-winning educational mobile game that raises awareness of gender-based violence among youth. It is a digital, quiz-based adaptation of Morabaraba, the traditional southern African board game. How the Moraba mobile game works: Download the app. Once installed, choose to play either as a male or female character. A game of Morabaraba ensues. Once you get three pieces in a row, you have to answer a question related to gender-based violence in order to score the point and gain one of your opponent's pieces. It's hoped that playing the game will change mindsets surrounding gender stereotypes, harmful social norms, cultural practices and peer pressure.
WinSenga by Aaron Tushabe, Joshua Okello and Josiah Kavuma Cipher256, Uganda
An estimated 2.6 million stillbirths, 2.9 million neonatal deaths and 287 000 maternal deaths are recorded annually due to complications that could be prevented or treated with early diagnosis through quality care before and during labour. WinSenga is a technological enhancement of the Pinard horn that many midwives still rely on in underserved areas to monitor fetal heart rate before and during labour. It is a low-cost mobile app that increases access to timely care for pregnant women, especially in rural areas.
The new device still consists of a plastic trumpet, but with a highly sensitive microphone inside. The device, which is placed on a women's abdomen just like a regular horn, connects to a Windows-based phone running an app that basically plays the part of an experienced midwife's ear. The system picks up the fetal heart rate, transmits it to the phone, and then the phone runs an analysis. The app, developed in conjunction with medics for the UN agency Unicef then recommends a course of action for the mother and her unborn child.
Goldkeys app by mPedigree Network, Ghana
The Goldkeys app is an online cloud-based platform that serves as an authentication and verification engine that allows product manufacturers and consumers alike to ensure they are getting the right product. 30% of all medications sold in sub-Saharan Africa were counterfeit. mPedigree Goldkeys is an accessible and affordable way for consumers to independently check whether the medication they were buying is fake or original. Product manufacturers incorporate special numeric codes, which are hidden onto retail packs revealed once scratched off. Consumers can SMS the code to a hotline and receive a response, in 5 seconds or less, detailing the product name, expiry date and active ingredients. This powerful online backend also allows for various kinds of product tracking, analytics related to consumer types as well as feedback and interactivity mechanisms between manufacturers and consumers throughout the entire product supply chain.
M-Farm app by Jamila Abass, Linda Omwenga and Susan Eve Oguya, MFarm, Kenya
M-farm is a mobile solution that empowers farmers to work and communicate in new and innovative ways. MFarm Ltd the a software solution and agribusiness company who developed M-Farm, a transparency tool for Kenyan farmers where they simply SMS the number 20255 (Safaricom Users) to receive information pertaining to the retail price of their products, buy their farm inputs directly from manufacturers at favourable prices, and find buyers for their produce. MFarm also realised that the root problem was not just price transparency but the fact that farmers produce low volumes and many buyers in big cities don't want the hassle of getting the volume they need from multiple farmers. This led MFarm into offering a group selling tool, which enables farmers to team up to bring produce to certain drop off points. They then send an SMS to the system promoting what they have to sell. In addition to pricing information and group selling, MFarm has also developed a group-buying tool, allowing farmers to pool resources to negotiate better prices for things like fertiliser. Transactions are all handled by MFarm's integrated mobile money transfer system – drawing on mobile payment technology MPesa – but can also be plugged into people's bank accounts (if they have one).
All four apps formed part of the Africa is Now exhibition at Design Indaba Expo 2014 under the "Africa is Resourceful" theme.