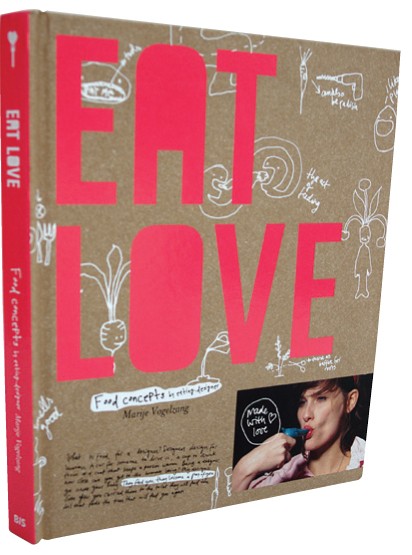 Marije Vogelzang insists on being called an eating designer, rather than a food designer. "The food itself is already perfectly designed by nature, so there's hardly anything I have to add to it," she says, far more concerned with how and why we eat.

Her debut monograph, Eat Love, published by Bispublishers, poses some intriguing questions – from the irreverent and frivolous to the idealistic and demanding. Do you remember your first ice-cream? Why were women who made soups from roots considered witches once upon a time? Why do children all over the world prefer Heinz tomato ketchup? How many fish are left in the sea? Did you ever knit spaghetti? Does in vitro meat have a soul? Why do we eat when we're not hungry? Can food create world peace? What did you eat when you fell in love the first time?

Gloriously, luxuriously laid out with intriguing photographs and concise project descriptions, Eat Love is an absorbing reflection on the act of consumption. Eight chapters cover Vogelzang's catalogue of work from 1999 to 2008, according to her key concerns – psychology, culture, senses, nature, action, science, technique and society.

Endearing doodles and handwritten anecdotes give the book a personal touch. In fact, if you met Vogelzang at Design Indaba 2008, the book might rightly remind you of sitting across the table from her, pondering life, the universe and everything in between.
Watch the Talk with Marije Vogelzang