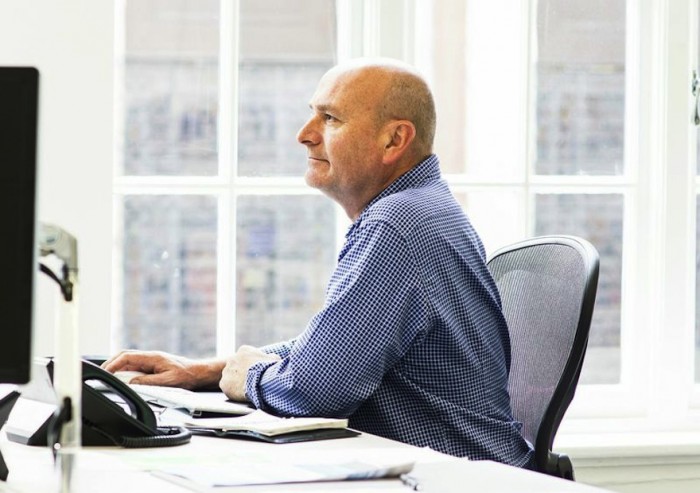 Paul Priestman, co-director of Priestmangoode.
When Paul Priestman sits at his desk in his London studio, he is often waved to by tourists in the open-top buses on the street outside. Transport, it seems, follows him around. As a boy he began making things by tinkering with an old lawn-mower to make a go-cart. Now he is one of the world's foremost designers in the travel and transport industry. His design interventions have transformed the way we get from A to B, from the first lie-flat seat for Virgin Airlines almost 20 years ago to his latest project – the next generation of deep-level underground trains for London.

Trained as an industrial designer at the Royal College of Art, he set up Priestmangoode in the heart of London. His studio has set new standards for excellence in its work for world-class brands not only in the fields of transport but also in product, environmental and packaging design.
In this exclusive interview, he tells us about working with engineers, what we can expect from the New Tube for London and where he goes to escape the rat race.
Tell us about your office.
We've just moved offices to a fantastic new six-storey building on Great Portland Street, in the heart of the West End. PriestmanGoode has been expanding rapidly over the last couple of years, and we needed some extra space to accommodate our growing team. We now have four floors of studio space for our designers, visualisers, branding specialists, project managers and materials and finishes department. We've also got a showroom where we've just showed 'Bright Ideas to Make Life Better', our inaugural exhibition to coincide with the London Design Festival (the exhibition has contributions from Ravi Naidoo, the founder of Interactive Africa, who nominated great design ideas from Design Indaba's Africa Is Now exhibition). There's also a fantastic roof terrace with views over London's rooftops and architectural landmarks. We've only been in a few weeks, but are settling in nicely.
What's your workspace like?

It's a beautiful, calming space in a bustling part of town. My office is on the first floor. It has high ceilings and large windows. My desk is at the same height as the top of double-decker buses, and when the open-top tourist buses drive past, they often wave to me.
What is your design mission?
I believe that design is about more than just styling; it's about making things better to manufacture as well as for the user to run and maintain.
Was there anything you experienced growing up that steered you towards having a career in design?
I was always interested in making things, in how things work and how you can improve them. When I was seven years old, my grandfather gave me a welding kit and I started making things including dangerously fast go-karts from old petrol-powered lawn mowers, and that was really the beginning.
I also started making ceramics quite early on and was selling them to teachers and school friends' parents by the time I was 12. I've always had an entrepreneurial spirit.
What was your lucky break?
Probably working with Virgin. We designed the first lie-flat seat for Virgin Airlines in the late 90s. This was really the start of airlines using design as a competitive tool. It really transformed the industry. We then designed the Pendolino and Voyager trains for Virgin Rail.
We have since gone on to work on countless aviation and transport projects, like the E2 jet for Embraer, which was launched at the Farnborough Air Show this summer, and our designs for South African Airlines, which started rolling out at the beginning of the year.
How do you juggle running a successful company with being creative?
We hire the best talent from all over the world, whether that's on the design or project management side. Working with a great team is essential to leave you room to be creative.
The many hours I spend on long-haul flights also help.
Do you prefer working alone or collaborating? Why?
I do a lot of thinking on my own when I travel. We develop many future concepts in the studio, to try and encourage design discourse and the ways in which design can help us lead more sustainable lives. Whilst I often outline my initial design ideas on my own, the development process is very much a collaboration between our team in the studio. I like collaborating, as everyone brings something different to the table.
It's something we also do as a company. There are a number of clients with whom we have developed long-standing brand partnerships and with whom we develop future concepts. These companies are often more on the engineering side, and the combination of our creative and their technical skills often leads to exciting results.
Which of your fellow designers do you admire?
Adrian Newey, British Formula One design engineer.
Which of your designs are you most proud of?
I'm always proudest of our latest work. We've just designed the New Tube for London, which is a fantastic project.
I'm also incredibly proud of the cabin we designed for Embraer's new generation E jet. The cabin was very well received when we launched with a full-scale mock-up at the Farnborough Air Show in July. The cabin includes many innovations, including individual PSUs, enabling each passenger to control the air and light over his seat without encroaching on the next passenger's space. We wanted to create a cabin that felt more spacious, and reclaimed personal territory for passengers. At the same time, we wanted to design a cabin that was flexible, to suit the varying needs of different airlines and leasing companies, and one that would be easy to reconfigure. I'm immensely proud of what our team achieved, in collaboration with Embraer. The aircraft will enter service in 2018.
What excites you most about the way the industry is changing?
The word 'sustainable' has been bandied about a lot in the industry, sometimes without much weight. But I think this is changing, as environmental concerns increase and standards are ever more stringent. Developing technology is opening up a host of exciting opportunities for sustainability, especially in some of the major areas we work in, such as aviation and transport design.
What is the most rewarding thing about being a designer?
Designing something that can help improve the experience of millions of people, whether it's a product, a hotel, an aircraft or a train.
And the most frustrating?
Not being given enough time to think on projects and when short-term profit leads a project. Particularly in the range of projects we work on – transport vehicles that will be in service for many years – you need to look at things in the long term.
Is there a design object you use everyday that you would like to redesign?
Not a design object, but I really think we need more creative design thinking on urban infrastructure. Growing populations in urban areas all around the world are putting a strain on public transport, increasing congestion and reducing air quality. We need to rethink our cities. We've designed a concept called "Walk Lines", to encourage discourse on the subject. The idea proposes designated walk lanes in cities that would be part of a public transport network, offering people incentives for walking rather than taking the bus or underground on short journeys.
What are you most passionate about in your downtime?
A few years ago I bought some land in Northumberland (in the north of England) that had previously been used for sheep grazing, with the intention to return it to its state as native woodland. There was an old abandoned farm on the land as well, which inspired me. It's taken a few years, but the farm is now entirely rebuilt and is not connected to electricity, water or any services. In fact, through the sun and wind we generate more than enough electricity. And so far we've planted over 90,000 native trees in what is now a 120-acre forest. I work on some incredible projects around the world, but Northumberland is probably the most personally satisfying.
What would you like to have written in your obituary?
Designer, creative thinker and problem solver who transformed the way people travel.
Do designers ever retire?
I am lucky – I have a job but it is not work. I enjoy what I do. Being a designer is a mindset, a way of thinking.
What are you currently working on?
We're working with Transport for London (TfL) on the New Tube for London, the next-generation deep-level underground trains for the Piccadilly, Bakerloo, Central and Waterloo & City Lines.
TfL wanted the New Tube for London to celebrate the great history of transport design in London, whilst acting as a beacon of innovative 21st-century public transport. We took inspiration from iconic London landmarks and key attributes of British design to create a tube that is beautiful, simple, functional and maintainable.
The New Tube for London features a walk-through design, air-cooled cars, digital screens to enable live updates, wider doors to facilitate quicker turnaround times at stations and increased capacity. Natural finishes and materials in a palette of colours including charcoal, warm grey and oxblood were derived from looking at heritage and contemporary architecture and landmarks in London.
London's Tube is one of the most iconic trains around the world. We are proud to have designed something that it is part of the very fabric of London life, celebrating all that's great about London's environment: cutting-edge technology, rich history and diversity. The New Tube for London will take the city into the future by enriching the everyday journey of its passengers.
Watch the Talk with Paul Priestman