For devout Muslim Nuraan Khan, God is "my favourite designer" – but that doesn't prevent the interior design student from creating and making with selfless ends in mind, interpreting the needs of others and improving their lived experience. She tells Design Indaba about her faith, curiosity as a guiding principle, and what design means to her.
1. You describe yourself as an all-round creative. What does this encompass and what do you most enjoy about your multi-disciplinary work? Do you have a favourite medium?
I consider myself to be a multipotentialite. This is a term I came across a while back, which resonated with me strongly. A multipotentialite refers to someone whose interests and pursuits encompass a wide spectrum of topics and fields. Although my chosen profession is interior design, my interests range between the disciplines of architecture, graphic design, product and furniture design, lighting design, fashion design, photography, history, and natural and spiritual worlds.

This is one of the reasons why I tend to shy away from identifying myself as an 'interior designer' and opt for the more general term 'designer'. I'm of the opinion that there's a lot more room to interpret what a designer's role encompasses versus the role of an 'interior designer'.
I believe there's a richness that comes from crossing over and merging different disciplines in the way I have done. The end product holds a lot more meaning and significance, and is conceptualised from a multitude of perspectives. True magic happens when design and creative disciplines understand how to respectfully cross over and collaborate to make both their beauty, and their functionality, easily accessible.
In terms of visually communicating my thoughts and design ideas, I most definitely have preferred media: graphic design and photography. There's a great deal one can say via strong, captivating images and graphics. As the world is predominantly being experienced digitally, videos are quickly gaining traction – so the ability to tell a good story with a quick motion is something I've been exploring.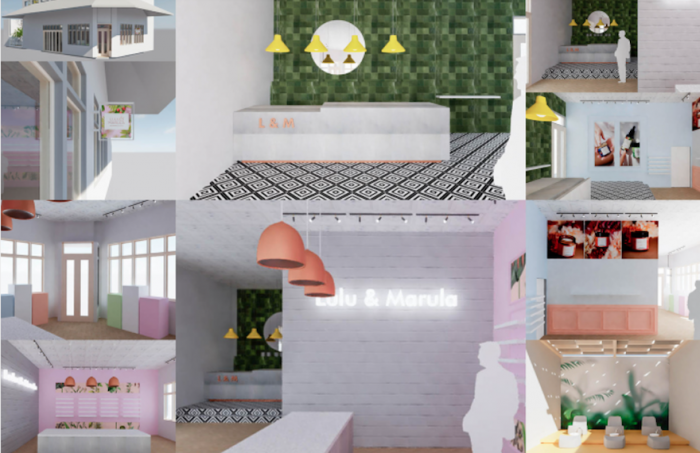 2. Tell us a bit about some of the projects you've worked on and what you've aimed for with each of them.
For design students, there's a lot of room for creativity in the way you approach your projects. In industry, there are a lot more practical considerations that you have to be cognisant of – such as client budget, feasibility, and logistics.
My most enjoyable projects were at design school and if I have to analyse what I loved most about my top two, it boils down to the personal growth experienced at the end of a project. For me, this involved stepping out of my comfort zone, learning a new skill, achieving something I have never done before, and ending the project as a better, more knowledgeable designer.
With my Luminaire: Light Box project, it was the first time I had worked on really designing and considering a product, from conceptualisation to manufacture. I had to delve a little into electrical technicalities, too, to make sure it functioned efficiently. In the end, I discovered my interest in product design and my mind has been working overtime ever since.
Another one of my favourite projects has been my entry into last year's PG Bison 1.618 competition. With this project, I challenged myself to merge my graphic design capabilities with my interior design skill set and adopted a very illustrative render style for my final presentation boards. This brought about a shift in my design style.
3. What does design mean to you?
Deep down, I always knew that I wanted to do something creative with my life, but my real awakening to the design world was at the WITS School of Arts. I spent the first six months after matric pursuing a BA in fine art, and it was during this time that I realised the fundamental difference between art and design.
To me, art is very personal and is premised on the artist's individual interpretation of the world. Design, however, is a lot more selfless – every piece is designed and conceptualised according to the way others may interpret, interact with, and view the world. The benefit and interaction of the end user is put at the forefront of every design process stage. So, to me, design is all about my ability to add value to the lives of others in ways that are less than obvious. In this way, design holds a lot more meaning for me personally.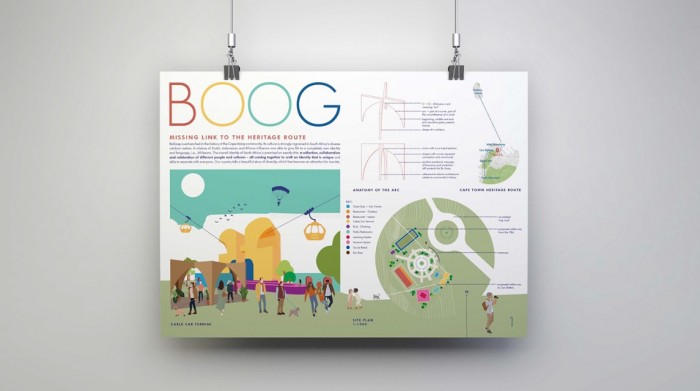 4. What are some of your career highlights to date?
Last year, I was given the opportunity to take part in a student exchange programme in Belgium. This was a huge design opportunity for me because I'd never considered the possibility of my design skills reaching other parts of the globe. Unfortunately, due to Covid-19 travel bans, and various other complications, I had to turn down the opportunity with a very heavy heart. I consider this to be a highlight of my career, regardless – it shifted the way I design, and think about my designs. I'm now involved in international projects and hope better travel opportunities find their way to me in the very near future.
Being selected to be a part of Design Indaba's Class of 2022 has also been a significant career highlight.
5. Who influences your work, and why?
The natural world is my biggest source of inspiration – not just in terms of natural beauty, but in the way the world actually works. An example includes the way in which the night changes into day or the way a caterpillar turns into a butterfly. I'm also particularly interested in the lives and stories of people of the past and present. For this reason, God is my biggest source of inspiration. According to my beliefs, God is the designer, creator and architect of the heavens, the earth and everything in between. I am in constant awe of His work and He is my favourite designer!
As a highly spiritual designer, one of the prayers is for God to guide me, inspire me, and use me as a means of bringing beauty and ease into this world.
6. What are you working on at the moment, and are there any amazing projects in the pipeline?
I am currently involved in the hospitality sector and have been working remotely on various hotel and resort projects abroad. As for what lies ahead, I'd like to delve a little deeper into the design and manufacture of beautiful products, specifically custom furniture pieces. I'm excited for what may lie ahead.
Read more:
Announcing Design Indaba's Emerging Creatives Class of 2022.
Design thinking writ large.
Credits: Nuraan Khan