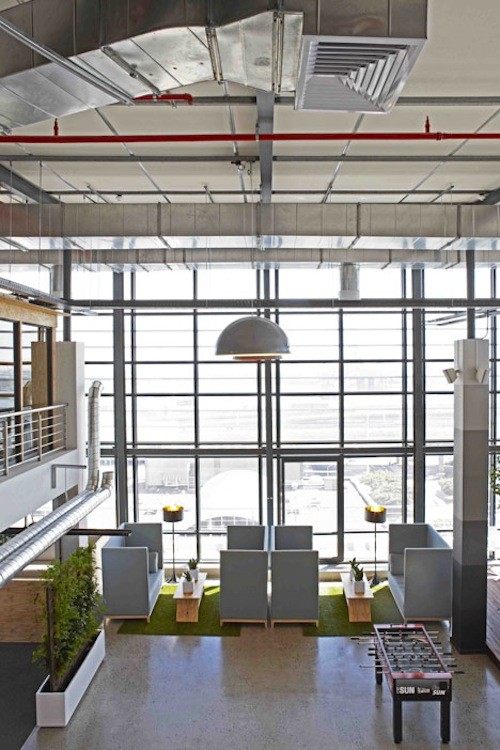 Inhouse Brand Architects' office design for 99c.
Cape Town-based Inhouse Brand Architects has been designing creative workspaces since 2002. We chat to creative director Aidan Hart (AD), along with managing director Lawrence Holmes (LH) and director Phillip Wyatt (PW), who spill the beans on briefs, boardrooms and work-life balance.
What has been the impact of Google's approach to office design on the industry in general?
AH: Google is an international brand with huge brand respect. They have embraced the Activity Based Workplace design process. This has helped other clients see the benefits of this approach and has reduced pushback from clients. In fact clients often refer to the Google offices in the brief. Our 99c office design has successfully resolved similar planning challenges where we seperated high-focus zones from high-communications zones.
People are constantly trying to find a work-life balance and greater integration of work and private life. Do you get more briefs that reflect this?
AH: The brief from Union Swiss was to provide a place from which staff could "live". The requirement of staff to spend more time in the office has allowed additional and new spaces to evolve within offices. A microcosm of the city itself, the new office should have plazas, sidewalk cafes and even parks within it. Our development of Urban Hub for example also reflects a mixed-use space.
Has the traditional desk-and-chair setup changed? Any new seating configurations or options that you employ in your designs?
AH: We often move away from the standard desk and chair setup in our designs. We refer to the seven levels of work, including full standing to lying back to review a document. The modern office needs to provide these options and to allow staff to choose how they want to work. We are current working on several new creative solutions for this.
Companies are increasingly adding a playful element to their office space. Have you had any interesting requests or briefs?
LH: Media 24 requested that we install London-style telephone boxes in their large open-plan areas so that their staff could take personal calls in private. We also provided a tubular black-out chillout room that you can lose yourself in your own music right in the middle of a call-centre styled office.
How has technology and the way we use it influenced office setups?
LH: Office users are not tied to the walls anymore by wires. We can now work anywhere we want and if you are like me, you choose where to sit to suit your mood.
What are some of the considerations when you choose colours, textures and finishes for offices?
PW: The company's brand is always at the front of our minds. What kind of message do they want to communicate to their clients and competitors? Based on that we filter down the brief into materials, fabrics and colours that subliminally echoes our clients' tastes.
Are there any specific materials that are popular in offices at the moment?
LH: There is a big move to raw, inexpensive sustainable timbers and untreated sheet metal.
How do you strike the balance between different works styles and privacy needs in one space?
PW: The furniture within those spaces needs to cater specifically for those functions. Teamwork spaces for example require bench-style tables or desks compared to individual workspaces, which are more focussed, and independence for others. We work closely with furniture suppliers to develop and innovate different furniture systems for all our clients' needs.
We also like to include different levels of privacy in spaces from formal meeting rooms or boardrooms to confidential one-on-one rooms to informal lounge or "campsite spaces" as well as the pause area or kitchens, which are spaces where people gather. It is important to provide people with different choices to interact with their colleagues and clients.