A Design Indaba Emerging Creative for 2023, Rejoice Kunene is a Johannesburg-based multidisciplinary designer, visual communicator, art director and ceramist.
Working in corporate content development and brand design under her brand Souled Studios, Kunene has also recently expanded her artistic practice into ceramics as a therapeutic outlet. The award-winning creative is currently working on a series of pots that reflect African healing practices and pattern meanings, including rituals, initiation and tribal scarification.
We interviewed Kunene about her journey into ceramics, her design aesthetic and 2023 at a glance.
You started working with ceramics in 2021. Tell us about how you got into this medium.
My journey into ceramics began in 2021, after the lockdown. I needed a therapeutic outlet that would help with my personal healing journey. While gallery hopping, I went to the Kim Sacks Gallery for the first time with a friend, and that is where I fell in love with the ceramic practice.
I am driven by a deep fascination with the medium's tactile nature, and its ability to convey stories and emotions through three-dimensional forms. I'm fortunate to be mentored by the esteemed ceramic practitioner Kim Sacks, who has over 50 years of experience in the field. Under her guidance, I embarked on my ceramic practice, honing my skills and delving into the rich possibilities that this ancient craft offers.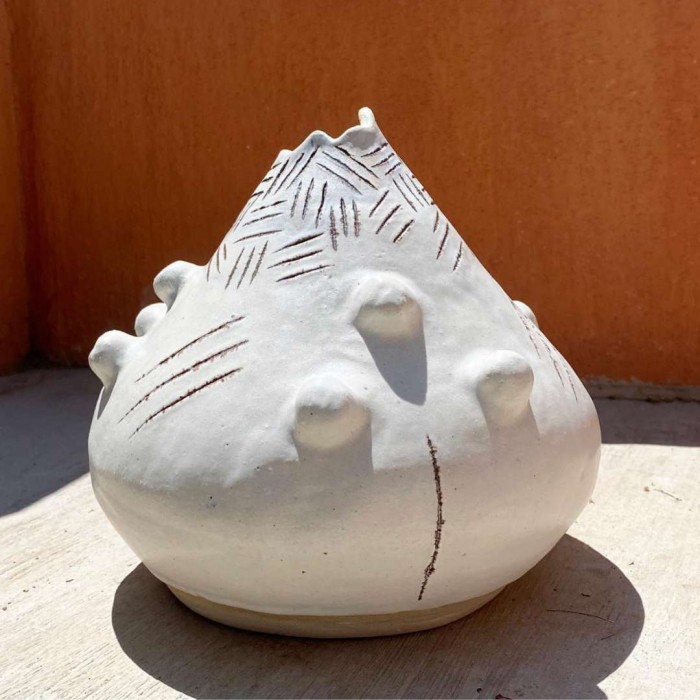 What does it mean to you to explore African traditional/cultural healing methods in your practice?
This holds profound meaning for me. It is a way for me to reconnect with my African heritage, as someone who grew up in a Christian household but is curious about the African ways of healing, and, in turn, to honour the wisdom and traditions of our ancestors, and to create a tangible bridge between the past and the present. By delving into these healing practices, I aim to celebrate our cultural heritage while shedding light on its significance and relevance in today's world.
I'm currently exploring different herbs and ancient medicine used for healing, and trying to personally move away from using pharmaceutical drugs and instead using traditional herbs to heal the body.
It is my belief that art has the power to educate, heal and inspire, and through my ceramics, I aspire to evoke a sense of connection, reflection and cultural pride.
What is your biggest inspiration?
I draw inspiration from the rich and diverse history of Africa itself. The vibrant cultures, traditional art forms and profound wisdom embedded in African heritage fuel my creative endeavours.
The mentorship and guidance provided by Kim Sacks have been instrumental in shaping my artistic vision and technique. Her wealth of experience and passion for ceramics continue to inspire me to push boundaries and explore new possibilities within the medium.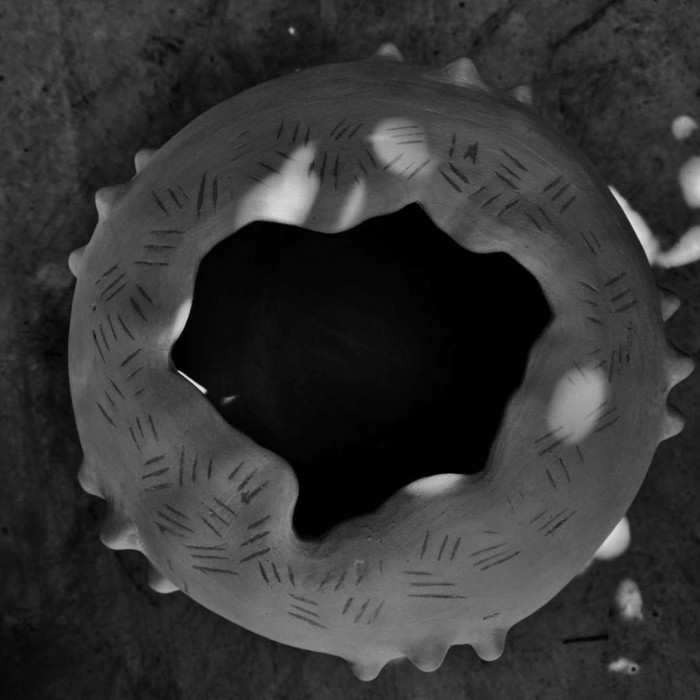 You head up Souled Studios, a brand design studio. How would you describe your design aesthetic?
Souled Studios is a purpose-led multidisciplinary brand design studio that cultivates and entices visual narratives with socially grounded businesses and brands. We believe that the power of design is in its ability to make the world a better place.
As the founder and multidisciplinary designer of Souled Studios, my design aesthetic can be described as a harmonious blend of contemporary minimalism and African cultural elements. It is characterised by clean lines, thoughtful use of colour, and a deep respect for the cultural contexts in which I operate. I strive to create designs that are both visually striking and emotionally resonant. By incorporating elements of African heritage into my design work, I aim to bring a sense of authenticity, cultural richness and storytelling to the brands I collaborate with.
With a mission to create soulful work paired with the fact that we are proud of our heritage, we focus on community, social responsibility and collaboration.
What has been a career highlight for you so far?
This would be how my work has been positively received by many. I had the privilege to share some of my work at [cultural platform] Among the Lilies' 'Ode To The Woman', a market, art exhibition and soiree event held at the Women's Jail at Constitution Hill in early May.
Being affirmed by Design Indaba as one of the Emerging Creatives for 2023 is also a highlight for me.
What's up next for you in 2023?
I am excited to further expand my exploration of African healing and its representation in ceramics. I plan to delve deeper into the intricacies of different healing practices, using the medium of ceramics to create thought-provoking pieces that stimulate conversations around cultural preservation and holistic wellbeing.
Additionally, I aim to collaborate with other artists, researchers and communities to create interdisciplinary projects that promote cultural understanding and celebrate the richness of African traditions.
Ultimately, my goal is to make a meaningful contribution to the art world, and to foster a deeper appreciation for African heritage and its relevance in contemporary society.
Read more
Photographs: Rejoice Kunene.