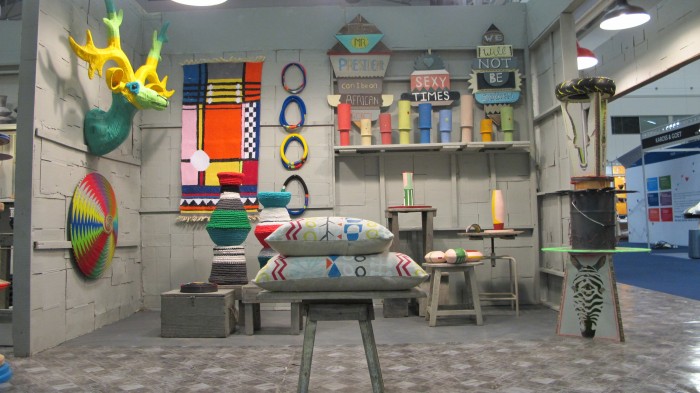 The 2013 edition of the Design Indaba Expo highlighted the work of craftsmen and saw trends that relate to current political, social and economic situations.
Overview
Trends
Authentic: local references and materials
Meticulous: intricate details and high quality
Expressive & playful: lighthearted designs as an antidote to serious concerns
Bold & edgy: confrontational pieces and hardcore aesthetics
Geometric: angular and faceted lines and shapes
Illustration: hand-drawn designs appear as print and pattern
Colours
Earth tones: influenced by the South African landscape
Black & white: classic contrast continues to appear
Brights: always a favourite palette among South African designers
Indigo blue: appearing in decorative accessories
SHOW FACTS
Show dates: March 1-3, 2013
Location: Cape Town International Convention Centre
Market: local and international buyers looking for the best in Southern African design and high-end craft. Also open to the general public
Categories: furniture, product design, craft, ceramics, jewellery, fashion and accessories, graphic design, communication design, industrial design
Mood: playful and expressive with a crossover of high and low tech
Trend direction: attention to detail in craft techniques, finishes and presentation. There was a high presence of illustration and art on product and as product. The technical resolution of both handmade and manufactured product continues to improve. Innovation in design and production processes has resulted in new products available, particularly in the furniture and decorative accessories categories
Exhibitors: mostly from South Africa with the work of some Southern Africa countries also represented, including Zimbabwe, Kenya and Madagascar
Website: www.designindaba.com
Trends
Authentic
South African designers are referencing local material and building on locally developed skills. Creative conversations occur between African and European techniques, colours and aesthetics. Contemporary designers reference local artists
from the past and develop sophisticated product that retains a strong local flavour.
Evolution's textile range references the historic archives of 19th Century Khoisan artists, !nanni and Tamme
Renowned Mohair weaving studio, Hinterveld, have developed a range of blankets with award-winning knitwear designer, Laduma Ngxokolo, under his label, MaXhosa
Ceramic studio, Ardmore, have taken the iconic illustrations created for their ceramics into a textile range produced by Mavromac and the Gatehouse
Mungo, continue to refine the technical resolution of product at their weaving studios, launching woven towels at this year's Expo
Sera Holland of Handmade By Me creates a geometric version of indigenous flora for her textile prints
Photographer Ed Suter has used his photographs of South African life to develop homeware, including placemats and textiles
Meticulous
Attention to detail, technical resolution and innovation, and meticulous finishing all indicate an increase in craftsmen' skills and local manufacture capability.
Appreciation and market place for the work of master craftsmen grows
The quality of handmade goods is raised with refined execution and immaculate finishing
Manufacture techniques become more sophisticated with innovative designs now in production, as seen by the winners of the 2013 Design Indaba Innovation Award, Wintec Innovation
A combination of handcrafted elements made by craftsmen and factory produced parts deliver aesthetically and technically resolved products
Expressive & playful
Designs that are fun, light-hearted, tongue-in-cheek, playful and interactive. These expressive gestures are a response and antidote to the serious political, economic and social issues people are currently experiencing.
Li Edelkoort curated a collection of South African product that reflects a revival in the 1980s Memphis movement in Italy, titled Totemism: Memphis meets Africa. Her collection is expertly displayed with products stacked and layered to create playful totems
Thingking embody the playful spirit at the Expo with their low-tech interactive sign and low-tech/high-tech installation, a mechanical sweet dispenser that is activated by a tweet
A finalist in the 2013 Most Beautiful Object in South Africa, Katherine Mary Pichulik, creates striking jewellery from bright climbing rope and trims
Bold & edgy
Serious issues are raised through edgy and confrontational pieces. Not all work is about social commentary with many designers simply enjoying the braver, more hardcore aesthetic found in punk, counter culture and industrial influences.
Black, grey and yellow colour combinations
Materials – metal, rubber and high-performance plastics
Colours and materials allude to S&M, violence and war, and industrial iconography
Forms are sharp, brutal and threatening
Science borders on medicine with skulls, skeletons and dissection imagery
Weaponry in unexpected mediums, yarn bombing and ceramics, creates surprise and stimulates thinking on issues of violence, and the current hot topic of rhino poaching
Geometric
Organic form gives way to angular, faceted lines. Designers play with expressed joints, sharp corners, geometric graphics and uneven surfaces to create edgy, urban pieces.
Whether flat graphics for prints or 3D elements in product, geometric shapes dominate
Furniture designers use undulating facets to express surface interest or create a structural element in product
Asymmetric shapes are found in light fittings, jewellery and furniture
The innovative use of facetted surfaces on show stands created increased display surface area and high impact at low cost
Illustration
The influence of the artist, and the act of drawing, is evident with line drawings featuring as interior artworks, textile prints and commissioned packaging and branding.
The expressive quality of line drawings is used to create wallpaper, textile and framed prints for interiors
Contemporary illustrators are commissioned to create signature work for the content, packaging and branding of aligned businesses
Illustrators find increasing market space in galleries where their work is received as collectable art
Colours
Earth tones
The natural, raw colours of the South African landscape influence the materials and finishes of product, textiles, weaves and basketry.
Black & white
Reminiscent from last year's edition, striking contrasts created by black and white graphics are still evident in ceramics, textiles and basketry.
Brights
South African designers continue to show their love of bright colours – from intense saturated hues through to ice cream tones.
Indigo blue
Indigo in line work, solid colour and ombré, is highly visible. For more inspiration see our Indigo Colour Analysis.