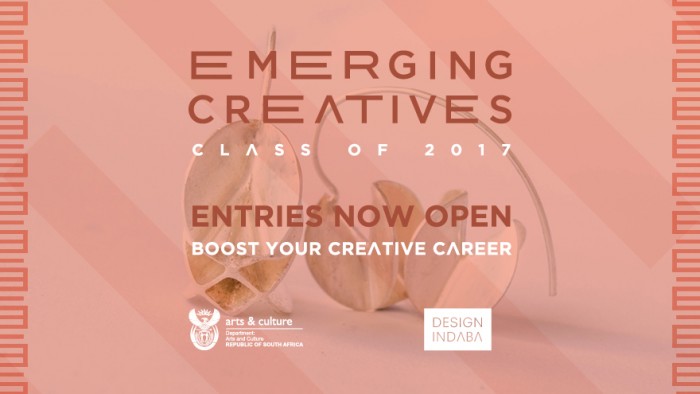 Emerging Creatives 2017: Entries open
With the right support and guidance, you can make even the most challenging creative business work – and what better network of support to tap into than Design Indaba, by applying to be part of the Emerging Creatives programme?
The Emerging Creatives programme is an initiative by Design Indaba and the Department of Arts and Culture to help young South African creatives break into the design world, using the established platform and network of support provided by Design Indaba and our associates.
Every year, 40 creatives with newly-established small businesses are taken under the wing and given access to highly sought-after resources that allow them to cement their footing in the creative world, and give them a platform to grow from. 2017 will also feature a completely new format to the past: an extended class of Emerging Creatives, featuring an extra 40 young designers and artists from Durban and Johannesburg, who will receive the opportunity to exhibit their work in their home town, at the Design Indaba Simulcast.
Past Emerging Creatives include the likes of Julia Anastasopoulos (Suzelle DIY), Thabo Makhetha (Thabo Makhetha Designs), Katherine-Mary Pichulik (PICHULIK) and Andile Dyalvane (Imiso Ceramics).

Criteria for Entry:
Applications are open to current students and recent graduates (you must have graduated from a tertiary institute within the last two years)
Emerging Creatives is primarily a student programme, therefore preference will be given to applicants between the ages of 17 – 30 years old. If, however, you have changed career paths and are a mature student or novice just entering the industry, you are still welcome to apply

If already within the design industry

, applicants must not have had an established business for more than 12 months at the time of applying
Applications are accepted from South African citizens only
Products must be created and manufactured in South Africa
If I am accepted, what is included?
If your application is successful and you are chosen to be a Design Indaba 2017 Emerging Creative, you may receive the following**:

Emerging Creatives: Class of 2017
Applications for the main class of 2017 (which will be hosted in Cape Town) closes at midnight on 31 October 2016. A total of 40 participants will be selected from entries received by this deadline. This group will be subject to the full Emerging Creatives programme**, as outlined below:
Return flights to Cape Town and accommodation for the duration of Design Indaba Festival 2017, with a daily stipend
Tickets to watch Design Indaba Simulcast
Mentorship and support opportunities
Attendance to a physical workshop in February and a second online workshop later in the year
The opportunity to showcase your work at the Design Indaba Conference (T's & C's apply)
An exhibition of your work
A profile on designindaba.com in the Designer Directory
A year of prolonged national and international media exposure including online video, web articles and social media posts
Emerging Creatives: Extended Class of 2017
Applications for the extended class will be sourced until 25 November 2016 and will feature only candidates from Johannesburg and Durban. Successful applicants will attend the Simulcast in their home city, and they will exhibit their work there as well.
A daily stipend (for exhibition days only) at Johannesburg or Durban Venue
Tickets to watch Design Indaba Simulcast in their home city
Mentorship and support opportunities
An exhibition of their work
A profile on designindaba.com in the Designer Directory
** The above benefits are subject to the sponsorship funding received for the programme.