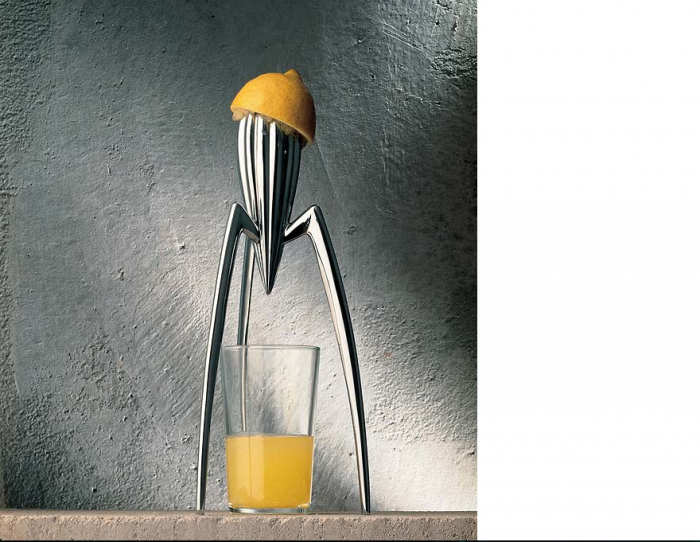 Alessi
Day 2 of the 2011 Design Indaba Conference at the CTICC in Cape Town proved to be a fantastic celebration of creativity, with witty product designer Alberto Alessi being the highlight of the day.
Alberto, president of Alessi Spa, belongs to the third generation of the Alessi family and has been collaborating with architects and designers from all over the world in creating products for the Italian brand since 1970.
A company with a clear sense of humour and the vision to pursue the unexpected, Alessi keeps wowing the world with their kitchenware ranges (locally available via Spilhaus). Design Indaba delegates were treated to the stories behind iconic products such as Alessi's stovetop espresso maker (a standard in many South African homes), Richard Sapper's kettle with its melodic two-tone whistler, and Philippe Starck's three-legged citrus squeezer.
Describing the company as "a mediator between the best expressions of creativity and the market", Alberto explained that much attention is paid to both the functional and the poetic value of their products.
Vice President of Coca-Cola, David Butler, emphasised the importance of taking a systemic approach to design in his talk. He used staggering statistics (did you know that, around the globe, 1 million servings of Coca-Cola are served per minute?) and a few of Coca Cola's billion-dollar brands to explain that good design is also about creating shared value for customers and end users.
Dutch product designer Maarten Baas, now famous for his Smoke series (which involved charring furniture and then coating and re-upholstering them), criticised the design world for its strong focus on what he calls "a Superman aesthetic" – sleek, flawless, perfect designs. Instead, he likes to take inspiration from the organic shapes found in nature and the naivety that epitomises children's drawings.
Design Indaba Expo
Conference delegates also caught a glimpse of the much-anticipated 2011 Expo at the official opening on Thursday evening.
A fresh new layout of the exhibition space and a wide variety of exciting new products by local designers had delegates talking. So far, VISI's favourites include an exquisite new desk that features glass and brass by Anatomy Design, The Summit's fashion collection and leather accessories and the new Tea Cup Collection of cushions by Mingo Lamberti and Pearly Yon.
Of course, VISI is also there with a stand featuring furniture by Pedersen + Lennard. Come and say hello this weekend (stand #2102). And be sure to make use of our subscription offer. Fabulous VISI bookends, a Heath Nash lamp and a bottle of ABSOLUT Vodka form part of the deal!