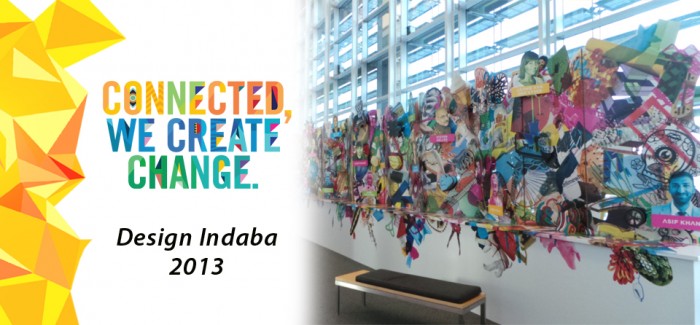 The speakers touched on all elements of design from simple typography when advertising to innovative design which drives home social change and how they are making the environment in which we live a place that is one which inspires change.
Highlights of the talks included inventive music videos, innovative use of typography, redesigning sights and sounds that do not exist anymore, amalgamation of website design, and finally the awe-filled interactivity of the MTN Connector Bot streaming content of the Indaba around the whole of South Africa.
As a thanks from the Design Indaba, each speaker received a gold medal of appreciation to show their gratitude to the knowledge and inspiration bestowed onto all the delegates.
With an amazing lineup of 31 speakers comprising industrial designers, illustrators, artists, digital innovators and social change fanatics kept us captivated as they shared their inspirations and achievements through innovative design.
First day highlights:
Ben Terrett, the head of design at the Government Digital Service, Cabinet Office for the UK Government, shared how they consolidated the entire history and regulations for the UK into one simplified user-focused online space. Their research of their market and constant updating of their platforms not only displays pure transparency and integrity, but is purely focused on the user journey so that they feel like they have a personal friend in the government.
Michael Grigoriev brought an interesting topic to the table where he challenged our thinking around "can design save the world", and his arguments were supported around collaboration and the user of not just one mind to solve a problem but leveraging through knowledge sharing to solve some of the simplest problems faced by communities today.
Masashi Kawamura, the owner of PARTY, is an interactive design agency, entertained the delegates by sharing how he is taking traditional media and communicating traditional messaging through non-traditional media. Where a digital screen could be used for a video he used 1 000 camera flashes to create the same effect but in a more visual and interactive way.
Should you want to read about the speaker insights from day one click here.
Second day highlights:
When you though that you had learnt all you could from the first day, the second day's speakers really took your mind and stretched it further.
Jeanne van Heeswijk lives by what she calls "invisible design", she is an advocate of uplifting communities and using design as a medium in order to inspire a community to work together. She empowers people across all spheres of intellectual properties to work to share expertise and build your community.
Asif Khan works across the fields of architecture, industrial and furniture design, and is dedicated to pushing these disciplines in new and unexpected directions. He explained how design becomes part of the context and how when presented with a project that had obvious restrictions he made sure that through innovative design he was able to create a space that defies those preconceived restrictions.
Lastly Daan Roosegaarde posed questions to us asking "what do we want from technology and what does it want from us?" He believes that the way we use the digital environment to communicate can have a far bigger impact through the use of innovative thinking to make a message not only effective but to integrate it into peoples lives through the technology they interact with daily.
Should you want to read about the speaker insights from day two click here.
Third day highlights:
The last day was the perfect end to the conference, but not really an end to our journey. It drove our thinking towards looking at how we currently use design and communication and how through innovation we are changing the world we live in.
Our top speaker from the day had to be Sir John Hegarty who received a standing ovation for his talk on advertising, design and how they collaborate. He spoke about his creative philosophy where he said: "A creative creator needs fundamental beliefs. We believe in the things we love." He explained how irreverence (cheekiness and disrespect) drives his judgement and philosophy of creativity. His last thought was, "Humour is the enemy of Authority. Tell the truth, express it in an interesting way and capture emotion and imagination. You have to create the debate to make it interesting. You have to have something to believe in to do great work and fight for great ideas. Take responsibility." We left his talk with a great sense of wanting to make a change in our thinking.
Should you want to read about the speaker insights from day three click here.
Leading off from the conference we were treated to the tastes and sights of South African's greatest talents at the Design Indaba Expo, from young and emerging to established designers had a beautiful platform to showcase their work to the world.
Thank you to all that were involved in making Design Indaba an awe-inspiring conference and we know that inspiration bestowed to us will spark new an innovative ways when handling any project in the design world.
Who of you will be attending next year?
Watch the Talk with Sir John Hegarty