A born innovator, Vukheta Mukhari was always going to be at the forefront of human knowledge.
The Masters candidate in civil engineering at the University of Cape Town (UCT) is passionate about greening the economy, and the ground-breaking project he is currently involved with seeks to develop more eco-friendly building materials, such as bricks.
What makes these 'bio-bricks' unique is that they are created from human urine. This is a world first – the US also manufactures bio-bricks from urine, but they use synthetic forms of urine to do so.
The innovative 'bio-bricks' - developed by a team comprising Mukhari and fellow student Suzanne Lambert, working under researcher Dr Dyllon Randall - are produced through a natural process known as microbial carbonate precipitation.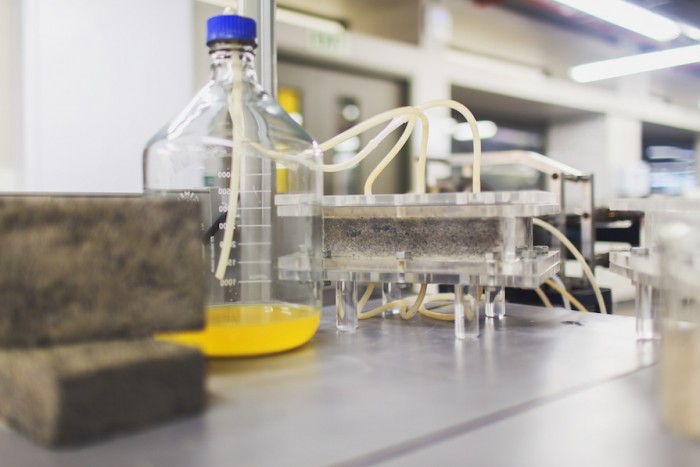 Each brick takes just six to eight days to form. With a grant from the Water Research Council, the team is testing various bio-brick shapes and tensile strengths to see how they might be used for construction.
GreenMatter Fellow Mukhari is most interested in the sustainability of the project, however, and how environmentally friendly it is.
The material can also be used to make fertiliser, which is a solution to the potential problem of running out of natural phosphorous – not to mention the fact that harvesting urine can help to save millions of litres of water.
The ingenious project won silver in the 'Innovation' category of the Eco-logical Awards in 2019.
When not working in the lab, Mukhari drives a plastic pollution awareness campaign and is building smart technology that promises to revolutionise the health and fitness space.
He is also an enthusiastic volunteer – he mentors freshmen at UCT and runs community workshops to assist people who have been through traumatic experiences or who strive for greater mental wellbeing.
He is happiest when collaborating with others and believes EQ is even more vital than IQ. He is being groomed for leadership in the field of biodiversity and science and intends designing for impact for many years to come.
Vukheta Mukhari is part of the Global Graduates class of 2020. Design Indaba curates the selection of global graduates together with the heads of more than 40 design institutes and colleges (and beyond) around the world. Global Gradautes are selected on the basis of their working being a change-maker, demonstrating social or environmental impact, engagement with global challenges, project feasibility, and/or an exceptionally high level of innovation.