China-based landscape architecture firm Turenscape transformed a 51-hectare piece of abused land in Nanchang into a public space that marries a unique landscape with flood-prevention practicality. The team at Turenscape drew inspiration from ancient farming methods and building techniques, converting the site into a series of islands connected by pedestrian paths and bridges.
Nanchang, the capital city of Jiangxi Province, part of which is sited on the Yangtze River, is lacking in public spaces. Faced with chronic flooding issues during monsoon season, this area on the river floodplain – a former fish farm reclaimed from a natural wetland – was also being used as a dumping ground for coal ash by a power plant, so there were high levels of pollution.
Faced with this unique trifecta of issues, Turenscape set out to design an integrated, efficient solution that was both low-cost and replicable at a large scale. The award-winning international landscape architecture and planning firm is known for its innovative and sustainable approach to landscape design, which emphasises the use of natural systems and local materials.
The dumped coal ash was recycled and mixed with dirt from the fishpond dykes to create numerous islets — a method informed by the simple cut-and-fill techniques of Aztec chinampas, or floating gardens. A lake able to accommodate two metres of water-level rise was created, providing a space for up to a million cubic metres of stormwater inflow. Various elements, such as the central forest and boardwalk, are designed to withstand submersion during extreme flooding, while the firm selected tree species that are able to survive fluctuating water levels, and avoided muddy shorelines by populating the island edges with wetland plants.
The result is Fish Tail Park, which now regulates stormwater, is a habitat for wildlife and provides visitors with an array of recreational opportunities - the lake is surrounded by raised public pathways, bridges, bike routes and viewing platforms that link the islands and offer views of the marshy surrounds. Built on a modest budget, the public park offers a recreational model for other regions with monsoons and variable climates to build public spaces that are simultaneously able to connect humans with nature and address issues of flooding, habitat restoration and wildlife conservation.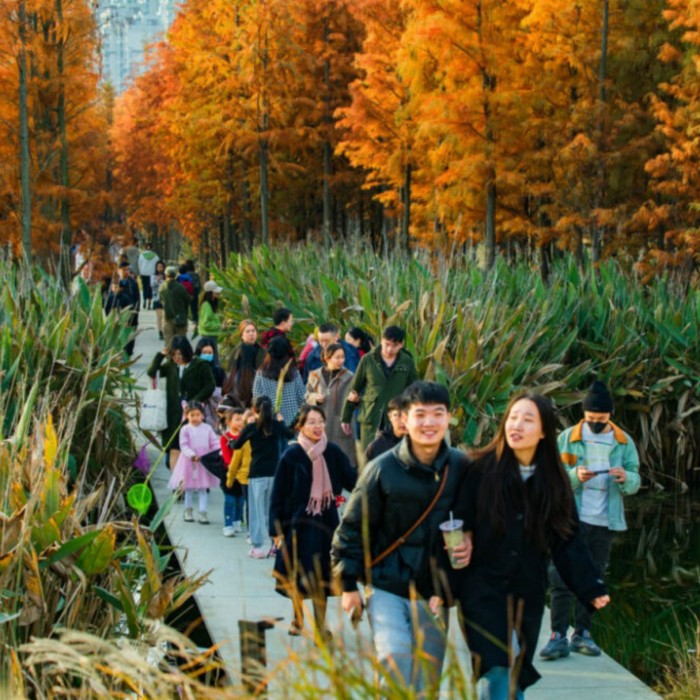 Read more
Low-cost homes for the Kenyan Kalobeyei refugee camp by Shigeru Ban
Photographs: Turenscape.