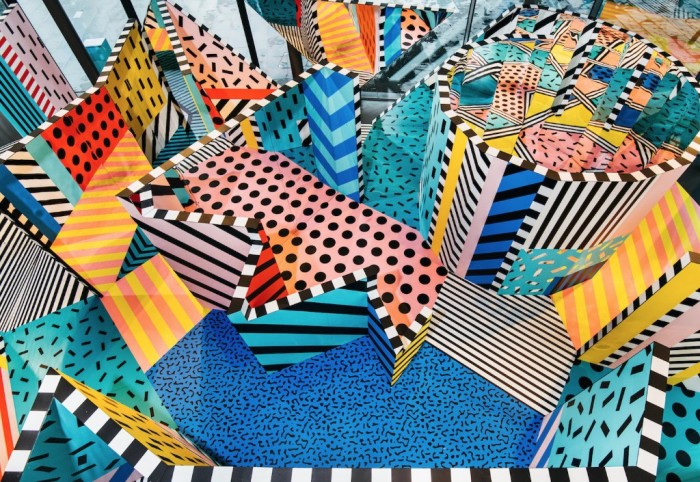 Graphic artist Camille Walala is known for her geometric patterns and vibrant colours. Her latest installation at the NOW Gallery in London, Walala X Play takes her signature style a step further. A labyrinth of zigzag paths, winding walls and suspended shapes is a game as much as it is an art piece.
The puzzle is a three dimensional game of spot-the-difference in which viewers hunt down anomalies in the pattern, with fresh inconsistencies introduced once a month during the installation's run until 24 September. The space is filled with secret spots and broken patterns, encouraging the viewer to explore and investigate.
"The anomalies and asymmetries will generally be discreetly positioned, requiring visitors to engage their bodies and investigate the space from all angles to complete the puzzle," reads the installation's press release.
Walala also designed two ping-pong tables for gallery-goers to play on every day of the installation. The interactive piece allows viewers to unleash their inner child. Beyond that, it foregrounds the idea of human scale, giving visitors both a lasting visual impression and a physical experience of lightness and playful disorientation.
Players will also be invited to share their findings on Instagram, tagged with @nowgalleryse10 and the hashtag #WALALAXPLAY.
The layout of the installation mirrors the building itself and the peninsula around it. "Seen from above, there is a clear, fluid relationship between the walls of the installation and the aerial view of the wider area, making the piece a structural extension of its immediate environment," says the NOW Gallery.
Her work has been in venues and buildings across London, Sydney and New York. She's designed for names like Marie Claire, Converse, Facebook, and Nintendo.