A once-off labour of love, a one-of-a-kind collaboration, a reach across genres or an unlikely tool to address a global problem, beauty is subjective, ever-changing and worth unpacking.
Each year, Design Indaba holds the Most Beautiful Object in the South Africa competition not to imbue the winner with vanity but to ask of the voting public: What does beauty look like this year in our constantly shifting gaze as we grow and adapt to a changing creative landscape?
We ask the people at the height of cultural influence to choose 10 objects that move them. Then we leave it up to the South African public to fill in the blanks. Is beauty today what it was yesterday? What insight does our vote give us into what it is we hold dear?
Meet the 10 nominees of 2019 along with their nominators:
African Bridal Dress by Mzukisi Mbane was nominated by TV presenter Bonnie Mbuli
A former Emerging Creative, class of 2015, fashion designer Mzukisi Mbane's African Bridal Dress is part of a collection that was inspired by "Africa our Queen Mother".
Mzukisi, now the founder of popular lifestyle brand Imprint ZA, wanted to create a piece that personified Africa as the mother who birthed the African identity and celebrates the continent's diversity.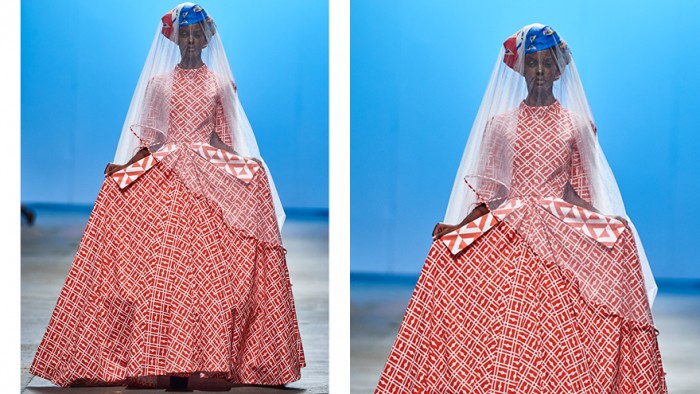 The silhouette of the wedding dress can be traced to the early South African Victorian era and its eclectic print borrows from the rich Asian history on the continent. It's an afro-futuristic aesthetic that screams, "I am African," says Mzukisi.
The wedding dress was nominated by Bonnie Mbuli, a television personality on SABC 3's Afternoon Express show, one of the most watched television shows in South Africa.
"I love that it's an original print, I love the colours, particularly because it breaks the cultural mould of what a traditional wedding dress should look like, it is majestic and cheeky all at the same time," she says of her nomination.
Nenzima Desk by Mpho Vakier was nominated by Interior Designer Donald Nxumalo
Interior Designer Mpho Vakier founded her company TheUrbanative before joining the Emerging Creatives programme in 2017. The programme, which gives young designers a leg-up in the design industry, chose Vakier for her hybrid nature. She's an engineer-turned-designer who has always been inspired by African cultural patterns and motifs.
TheUrbanative's designs aim to tell the stories of African history through furniture and product design. All of their products are designed and manufactured in South Africa.
Interior Designer Donald Nxumalo chose the company's Nenzima Desk, seeing beauty in the way the piece pays homage to history. It was inspired by the fine coiffure/hairstyle of Queen Nenzima of the Mangbetu tribe in the Democratic Republic of Congo during the 1920s.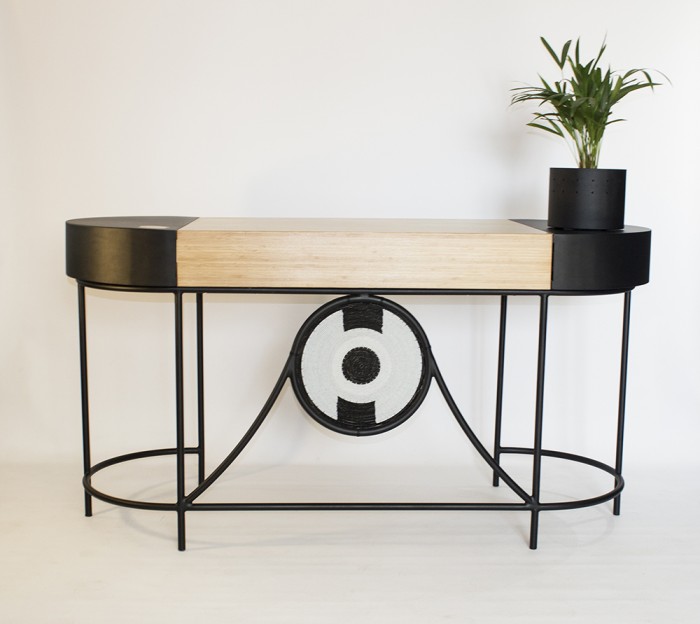 Interdependence II by Houtlander was nominated by local entrepreneur Nandi Dlepu
"The manufacturing ability exhibited with this product is applaud worthy, I really love that it's an abstraction of something familiar. A shakers style love seat with a twist, literally!" says Mamakashaka's Nandi Dlepu on her Most Beautiful Object in South Africa nomination.
Interdependence II is a playful spin on the traditional loveseat. Creators Houtlander paid special attention to movement and colour in the design, lending the furniture piece an organic nature.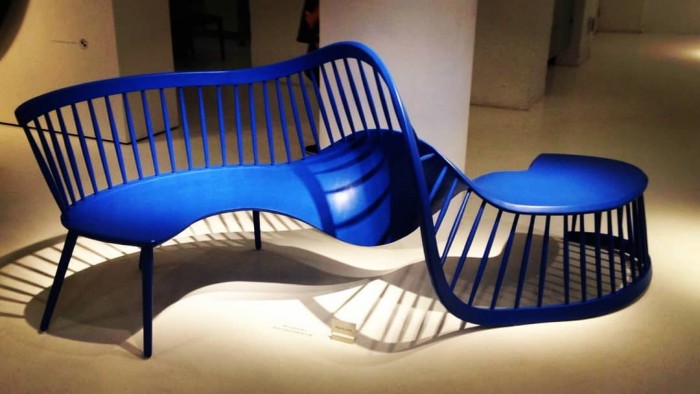 The colour invites the viewer to reflect on the piece as a flowing object, which is not something one would expect from a bench that would traditionally be perceived as motionless.
Stellar Scintillation by Artist Chris Soal was nominated by Kaya FM Radio Presenter Bridget Masinga
Chris Soal's Stellar Scintillation is made up of an object he found strewn across the streets of Johannesburg: beer bottle-tops. The artist found that these bottle-tops were embedded with own innate meaning.
Produced primarily in the colour gold, a marketing ploy to denote the illusion of prestige, the caps became symbolic of the city of Johannesburg - so eloquently dubbed eGoli or City of Gold.
Soal threaded the bottle-tops together to create long ropes. The single tops began to dissolve into the new form created by the act of threading them together. The piece raised questions about value, labour, consumption, and currency.
Stellar Scintillation begins to draw parallels between the macro and the micro, the cosmic and the everyday.
"I found an artist and a piece of work that has absolutely got me skipping in glee," adds nominator and Kaya FM Radio Presenter Bridget Masinga.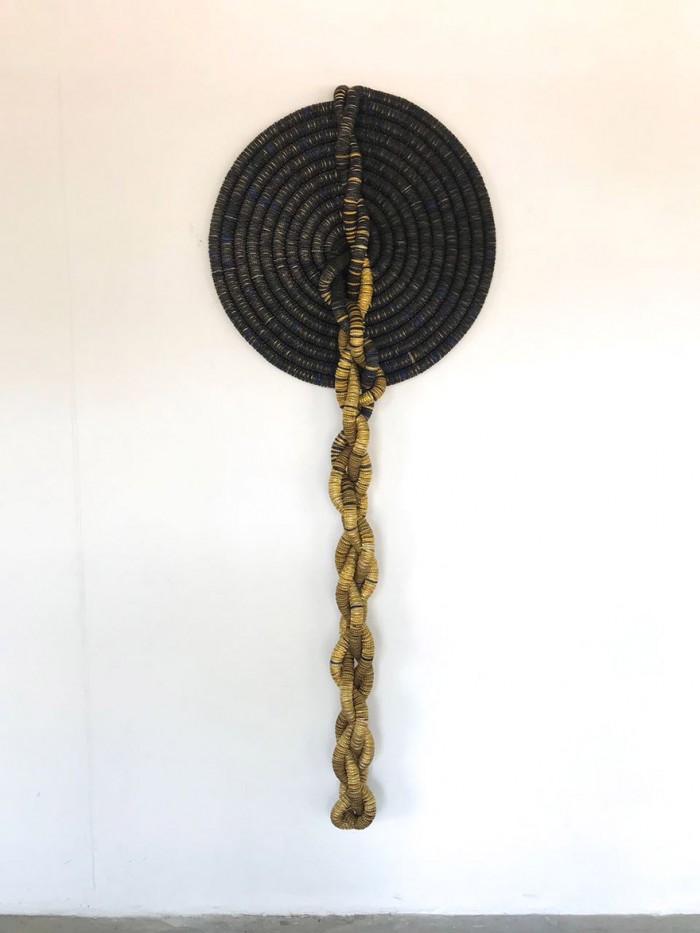 Sounds of Sibikwa by Artist Usha Seejarim was nominated by Market Theatre Foundation CEO Ismail Mahomed
Sounds of Sibikwa depicts a silhouette form of a female dancer in the act of a split stretch. Created by Artist Usha Seejarim, the piece is a site-specific piece commissioned by and for the Sibikwa Arts Center in Benoni. It sits in an awkward or unlikely place which resembles an open attic-like space under the roof.
"The sound element of the artwork can be interactive or incidental (by way of a breeze) – just like a wind chime. The work is further purposefully, light, fun and easy to read and appreciate, yet relevant and meaningful– in line with the ethos and culture of Sibikwa," says Market Theatre Foundation CEO and nominator Ismail Mahomed.
Sounds of Sibikwa is 2 200mm high and 4 600mm wide. It is made from aluminium tubes of various sizes that are suspended from the existing roof structure in the building to create the form of the stretching figure. The tubes are spaced in a kind of gradient where they are closer together on the leaning side of the stretch and further apart toward the end of her far foot, thus accentuating the act of the stretch. Technically this adds to the tonal range of sounds produced by the artwork – in addition to the varying lengths of tubes.
Okapi x Capsule - Yemasa by OKAPI was nominated by Style guru Felipe Mazibuko
Luxury brand OKAPI collaborated with two of South Africa's most prominent artists - famed knitwear designer MAXHOSA BY LADUMA and influential South African music artist RIKY RICK on its first unisex capsule collection, Okapi x Capsule.
This collaboration brings together fashion and the world of music, combining the refined craftsmanship of OKAPI's signature designs whilst taking inspiration from Ricky Rick's fashion-forward and artistic sensibility and the Xhosa inspired aesthetic of MAXHOSA BY LADUMA.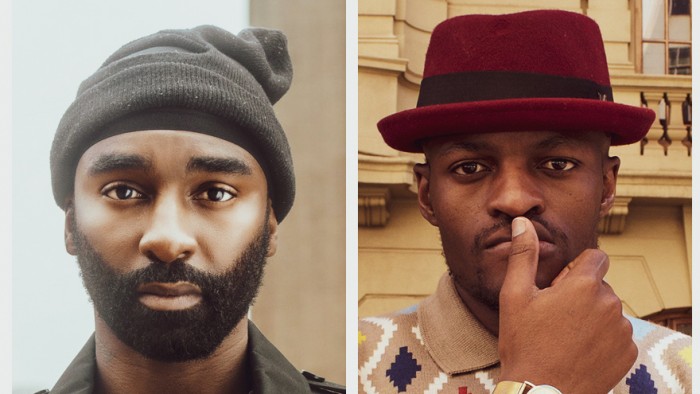 The multi-functional strap allows this unisex piece to be worn around your waist, cross body, on the shoulder or carried as a clutch with the strap removed. The attention to detail comes across in the hand stitching, cross detailing on the sides and unique Springbok horn and chain handles. The interior of features an inscription of each of the designer's signature emblems. Created in genuine ostrich shin.
Style icon Felipe Mazibuko says his nomination is a testament to the fact that collaboration is the future of South African fashion.
"The Okapi brand symbolises African crafted luxury and their collaboration with Laduma and Ricky Rick shows not only their deep-rooted heritage but the authentic infusion of music, fashion and craft. It's a fusion loaded with originality and integrity of the South African design aesthetics"
Copper & Glass Kettle by Ebert Otto was nominated by Sumien Brink, Editor in Chief at Visi Magazine
"It is beautiful. It is ingenious. And it could possibly create quite a number of jobs," says VISI Editor in Chief Sumien Brink on the Copper & Glass Kettle created by Industrial Engineer Ebert Otto.
Funded and supported by Innovus at the University of Stellenbosch, the kettle holds 1300 ml of water and weighs 1020 g. The chimney through the middle is hollow and allows the heat to move through the middle of the kettle out the top.
The spiral increases the contact surface area of the water and promotes desired air flow. In this way, the kettle channel's the heat in a more desirable manner compared to a regular kettle.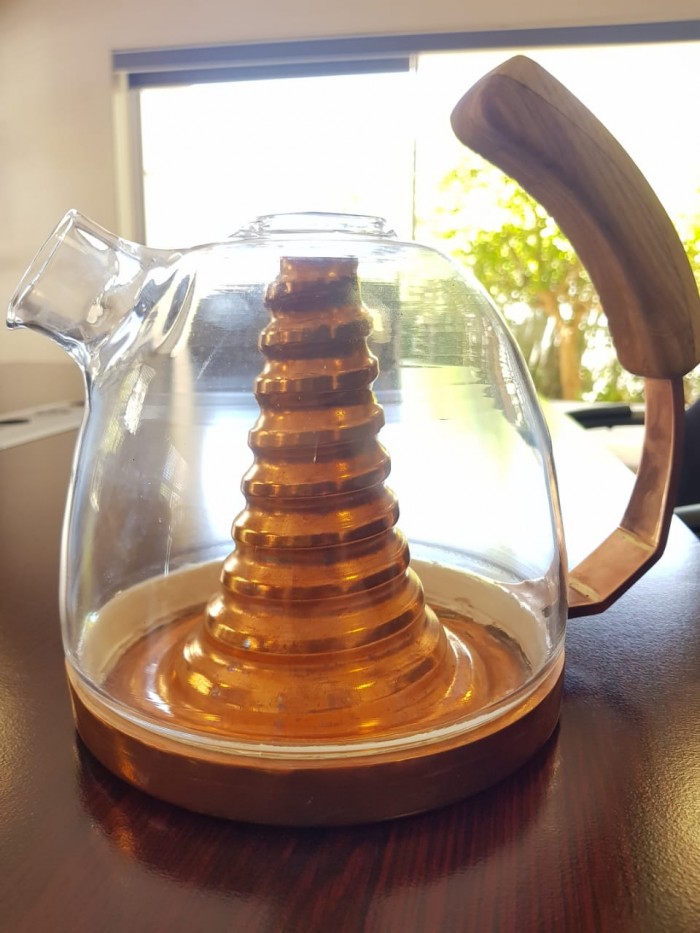 Collective Amnesia by Koleka Putuma nominated by Jay Pather from the Siwela Sonke Dance Theatre
Koleka Putuma is a published author, playwright and the theatre director for Design Conference 2019. Her collection of poetry, Collective Amnesia is an exploration of blackness, womxnhood and history.
Her incendiary poems, published in April 2017, demand justice, insist on visibility and offer healing. In them, Putuma explodes the idea of authority in various spaces – academia, religion, politics, relationships – to ask what has been learnt and what must be unlearnt.
The book is in its 9th print run and has been prescribed for study at tertiary level in South African Universities and Gothenburg University in Sweden. It was recently translated into Spanish and released in Madrid by Flores Rara.
Collective Amnesia was named 2017 book of the year by the City Press, one of the best books of 2017 by The Sunday Times, and named one of ten outstanding African books translated into Spanish by El País in Madrid.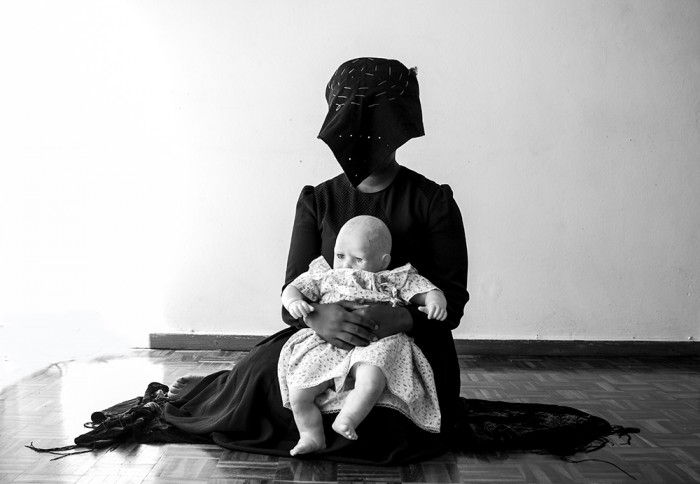 The cover was shot by South African rapper and photographer Andy Mkosi.
"My top nomination in the realm of lateral thinking: Koleka Putuma's landmark Book of Poetry, Collective Amnesia," says Jay Pather. "The beauty and craft in the words, the language, the fierce relevance now and the images recall Keats' words 'truth, beauty, beauty truth'."
Cancer Dojo App by Conn Bertish was nominated by Tabatha King from King James Group
Most, if not all of us, have been affected by cancer. It's a disease that destroys lives, families and futures. Conn Bertish designed an app exclusively for cancer sufferers. The Cancer Dojo App empowers a community of people through technology to fight back.
The app encourages those going through cancer treatment to approach their recovery creatively. It provides a simple, informed, user-friendly journey that teaches patients to actively engage with their chosen treatments, stay motivated, generate their own meditations, learn to visualise, be more mindful, eat better, live better, laugh more and ultimately become happier, healthier and harder to kill. Cancer patients become active participants in their own healing - empowering them to build their resilience and enable a more positive cancer outcome.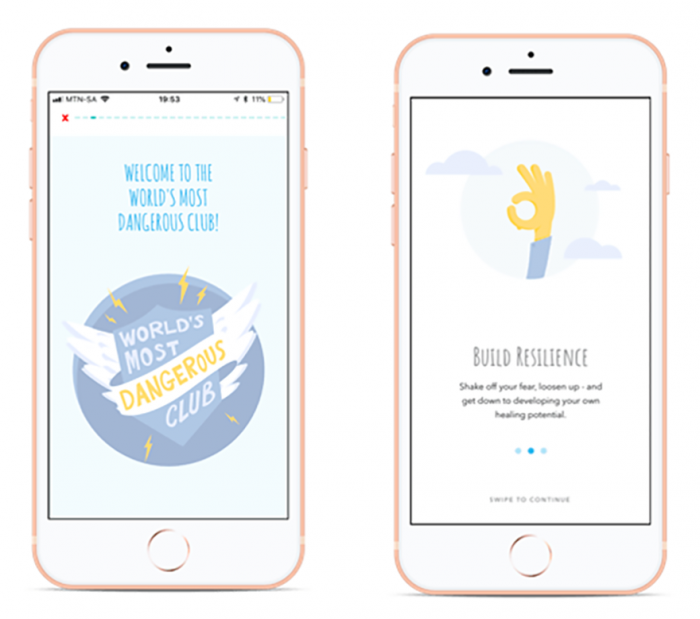 "Cancer does not discriminate. So what could be more beautiful than an object (yes, you can see and touch it) that was created exclusively for cancer sufferers? An app that empowers a community of warriors, through technology, to fight back with one of the most powerful weapons: creativity," writers nominator Tabatha King of the King James Group.
River Love Sofa by Heino Schmitt Design was nominated by television personality Zuraida Jardine
Heino Schmitt Design is a luxury design brand that produces collectable furniture, lighting and functional art pieces. Heino Schmitt Design was drawn to the high quality and playfulness of Ardmore's lush cotton velvet range.
Their collaboration, River Love sofa is a contemporary, collectable piece. Grounded on solid brass and wild pear wood legs, it features a double USB charger, reading lamp, storage drawer, and a hand tooled leather magazine pouch. The armrests were designed to sit on, making it as playful as the colourful Ardmore velvet its covered with. The perfect combination to relax, love, and recharge.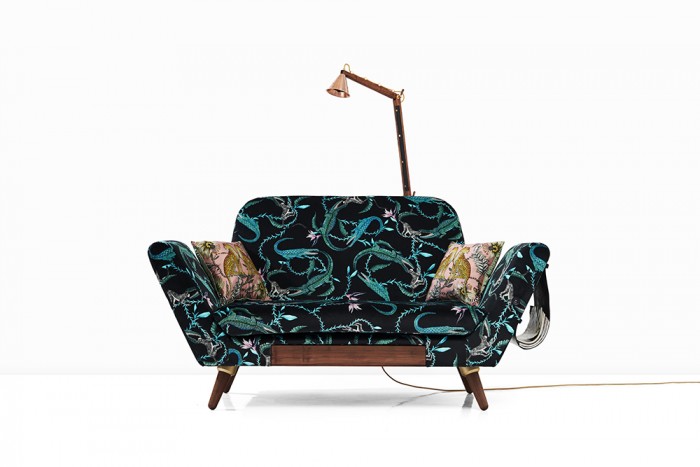 "I admire artists who leave a piece of themselves in their work. I feel this in Heino's work," says nominator and television personality Zuraida Jardine. "His spirit and passion are evident in everything he does. Not to mention that when purchasing a one-off piece you know that you are also purchasing labour of love and knowing this, adds to the energy of the space you place it in."
About Most Beautiful Object in South Africa 2019
The Most Beautiful Object in South Africa exhibition will be held at Design Indaba Festival on 27 February until 1 March. The winner will be announced at the Festival. Last year, nominators like fashion designer Stephania Morland and Magazine Editor Asanda Sizani nominated an art installation by Igshaan Adams and fashion piece by Thebe Magugu respectively. But it was the 2.0 Pendant Light by Thabisa Mjo that took top honours.
The public can view the exhibition as part of the Design Indaba Nightscape programme, from 5pm at the Artscape Theatre Centre each day of the Festival.