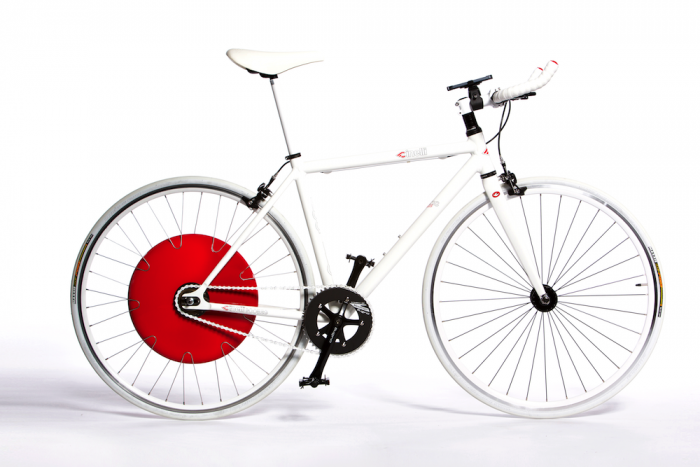 The Copenhagen Wheel
Developed for the Mayor of Copenhagen in the city's bid to become carbon neutral by 2025, the Copenhagen Wheel concept launched at the COP15 Climate Change Conference in 2009. The wheel developed MIT's SENSEable City Lab turns and ordinary bicycle into a smart electric hybrid can means you can cycle easier, farther and faster.
Now finally the wheel is ready for market and customers can pre-order at Superpedestrain, the Massachusetts-based company who will start shipping in mid 2014.
Some of the deceptively simple wheel's features include:
Power assist gives riders a boost as they pedal by measuring their effort, instead of using a throttle. This preserves the normal biking experience while enabling riders to bike faster, farther, and easier.
Regenerative braking captures energy when braking or going down hill that it stores in the integrated lithium battery pack.
Smart control actuation of the wheel happens automatically via the pedals through sensing and control algorithms. When the rider pedals harder, such as when going uphill, the wheel pushes with increasing power. Using your smartphone with the Superpedestrian app, you can 
also vary the level of powered assistance.
The Copenhagen Wheel Software Development Kit (SDK) enables developers to get creative and develop a host of applications ranging from navigation to customising the behavior of the wheel.
The seamless design of the Copenhagen Wheel means it is super easy to install, it is completely wireless and the red hub adds make your bike look even cooler.
The mobile app lets you to get more from your Wheel, which allows you to lock and unlock your wheel, choose among a menu of customisable rides, and track personal usage statistics including time, distance, calories burned, elevation climbed and more.
The nifty wheel will set you back $799, which is little more than a monthly down payment on a used electric car.
You can now pre-order your limited edition, hand-crafted Copenhagen Wheel here.
Watch the Talk with MIT SENSEable City Laboratory
Talks
• Duration: 00:35:18
•
20 Feb 13