The Spanish city of Valentia is known as one of the country's prime locations for art as well as the sciences. The port city is located where the Turia River meets the Mediterranean Sea and boasts stunning beaches, lakes and a vibrant culture.
Every March the city hosts the Fallas Festival, a month-long event in celebration of spring. It is here that visitors can enjoy art, fireworks, parties, food and all that the event has to offer.
At the end of the festival all the installations are burned to celebrate the arrival of spring.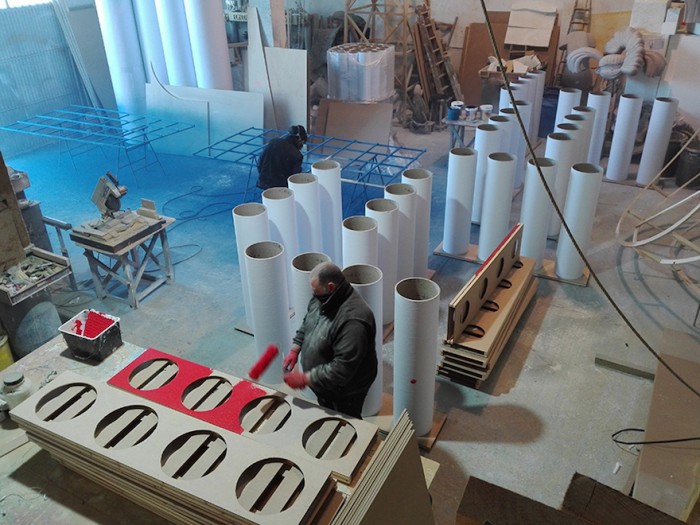 This year Spanish architect Miguel Arraiz García and his team built a makeshift oil rig, using wood and cardboard. The purpose of the art installation was to criticise current affairs, politics and everything that they considered harmful.
García says the oil rig appeared in the middle of the city as a strange object that was trying to get some benefit from being in the city while not being able to achieve it.
It was meant to represent the way citizens feel, as their sense of being masters of their own futures is slowly being eroded.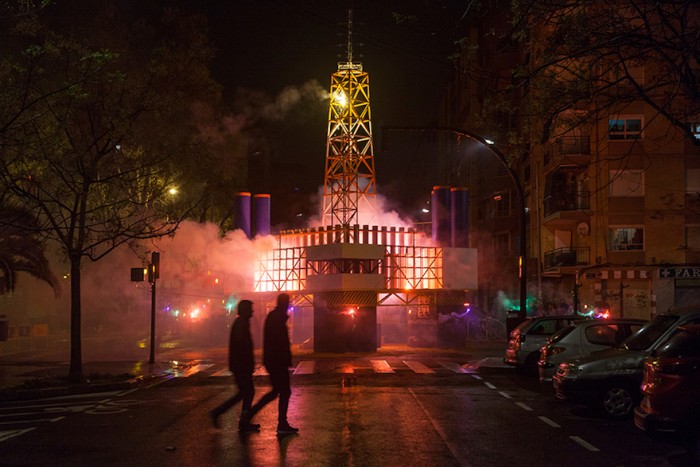 García says: "At the same time it was a criticism of the political class and how their management of citizen resources had ended up in an exploited city that is no longer able to produce benefits."
Running in parallel to the installation, the team also formed a fictitious political party. This party was created with the oil platform being its headquarters and the place where the primaries were to be held to elect a candidate.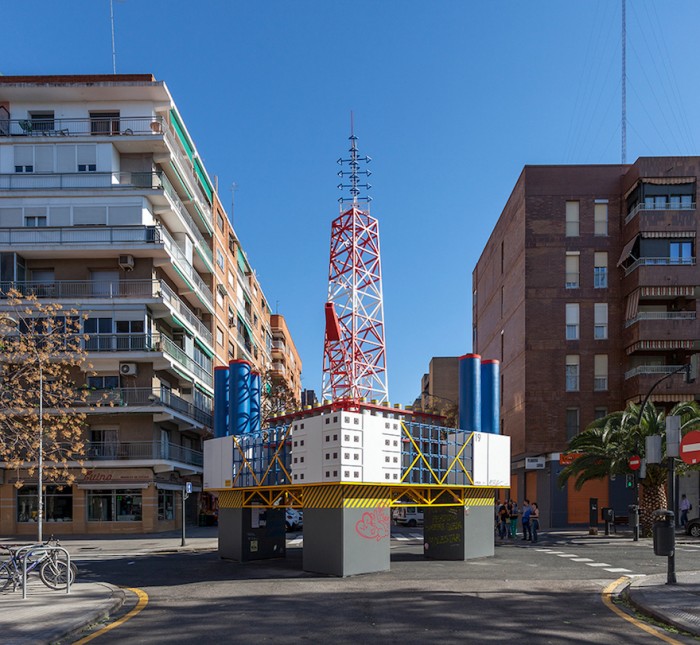 He says the VV – Valentia en Venta's (Valentia for sale) only premise of its political program was to sell Valentia to the highest bidder.
During the two months prior to the festival the city was flooded with 'electoral posters' and 'propaganda', without anyone knowing the relationship between these and the art installation.
More on public art:
Colourful totems in Poland carry a strong message about climate change
Pink Intruder builds cardboard pavilion in Valentia
Les Chaises Koubeyni is an artistic response to the concept of hospitality