What looks like a building skeleton of criss-crossed metal tubing, is actually hundreds of tubes of rolled silver cardboard. The 144 sqm temporary urban intervention represented a modern day temple, and was designed by Spanish architect Miguel Arraiz García of bipolaire arquitectos and David Moreno Terrón of artist collective Pink Intruder.
The purpose was to investigate to what extent we could carry out this type of structure, and also to place in a traditional context a contemporary image to provoke the debate between tradition and modernity.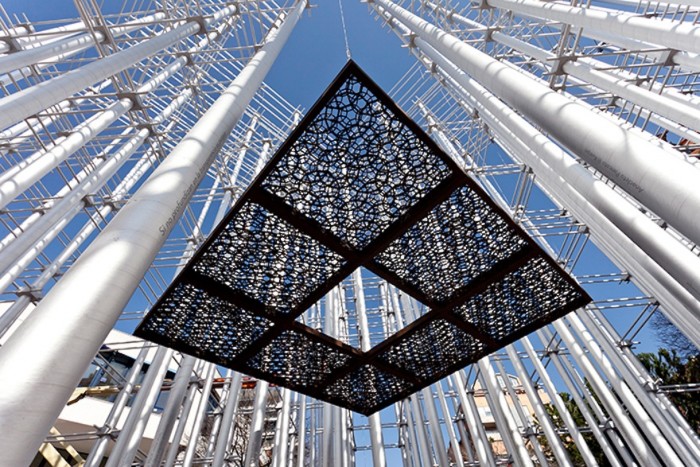 Ekklesia is named after the principal assembly of Athenian democracy in ancient Greece ­­- when townsfolk would gather to discuss the changing world within their own communities, where, it was hoped, they would come together and change the political landscape to one that was better serving of them. They would then individually vote for the ousting from the city of a harmful citizen or someone unworthy rising into political power.
The silver tubes were designed to rest on an intricately patterned mosaic floor built with 96 000 colourful wooden tiles. The aesthetics of the floor was modelled off "Nolla Mosaic", a traditional Valencian ceramic that disappeared around the 1980s.
We wanted the project to be as collaborative as possible, that's why preparing a 96 000-piece mosaic gave us the possibility to involve a lot of people for its construction. On the other hand we wanted to use an item based on tradition, giving visibility to a lost tradition, and using this as the floor from where a contemporary construction was built gave us the possibility of creating the discussion between tradition and contemporary, and the need that contemporary must be always be based on previous knowledge.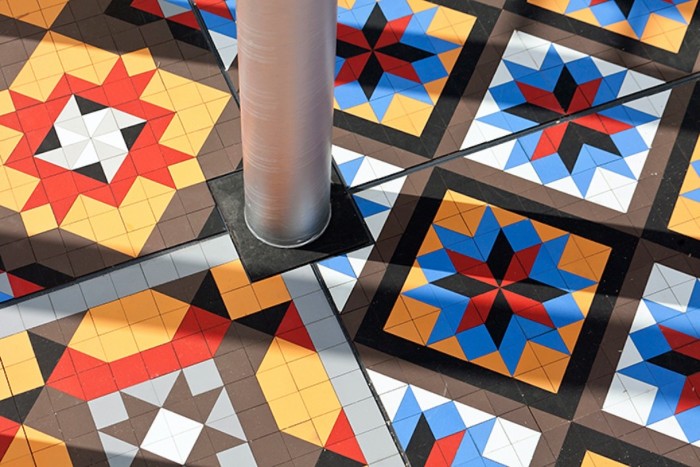 The silver poles are screen-printed with political messages to encourage lively discussion over the state of the current political discourse as well to highlight the assimilation of ancient traditions with modern ideals. When viewed from below looking up through the structure, the poles reveal intricately woven patterns.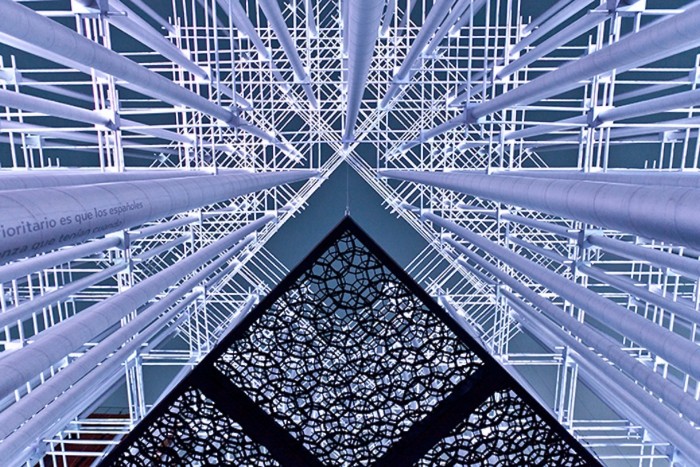 The structure was lit up with an LED light show each night during the five-day annual Fallas Festival, and as is the tradition, was due to be burned to the ground to celebrate the arrival of spring. Unfortunately this year due to heavy rains and winds the Ekklesia structure was dismantled before being set alight and burnt on the ground.